Gasquet Slows Murray's Comeback In Cincy

In Cincinnati, Richard Gasquet beat Andy Murray 6-4, 6-4 in Murray's first singles match since his hip resurfacing surgery.
When Murray walked out on court, he was smiling and filming the moment with his phone. Clearly just being here meant so much to him, and he wanted to document it.
It was a breezy afternoon and that combined with nerves contributed to Murray's double faulting on the first point. He also whiffed a backhand wide and went on to lose his serve in the first game.
The Brit managed to level the set at 2-all and yelled out a familiar "C'mon, let's go." Then he served his way out of trouble to hold for 3-2. Gasquet also held and then broke by crushing a forehand crosscourt for a 4-3 lead.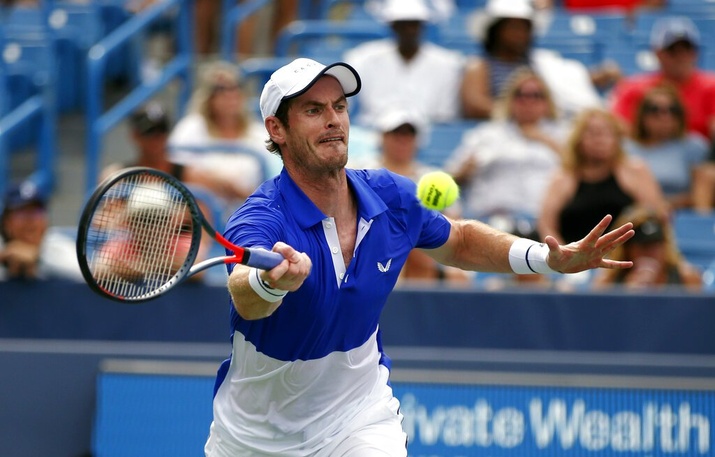 Gasquet served out the set with relative ease, hitting several deft drop shots that Murray didn't attempt to run down.
In the second set, Gasquet broke Murray's serve again in the first game. Murray, though, began playing better, more Andy Murray, with his pace of shot, his angles, his down-the-line passes. Gasquet stayed in front, but it was competitive, with Gasquet having to save two break points.
Afterward, in press, Murray said: "I think physically, you know, my legs were a little bit heavy at the end of the match in comparison to maybe what they normally would be if you played, you know, a bunch.
"You know, Richard, he uses all of the angles on the court. He's one of the best at doing that. So I was having to move quite a lot laterally, and I didn't move forward particularly well. Like when he dropshotted, there was a few times I didn't even run to the ball, didn't react to it, and that's nothing to do with my hip. That's just me not running for a ball, which I did do that better at the end of the match. I reacted and got to a few and won points.
"But when there is like a difference of 12 points in a match and you're giving up, like, four or five points with dropshots that maybe you could have chased down, fewer errors here and there, I think with a few more weeks of practice and hopefully some more matches, then I could do better. But I think it was okay."
Gasquet said in his press conference: "He's a much better player than me. He won Grand Slam. I only did semifinal.
"He's a better player than me, so I just hope he, step after step, day after day, tournament after tournament, he will climb, you know, the matches, the practice, and he will come back strong as before."
Murray, who won the US Open in 2012, confirmed that he would not play singles in New York. He had been offered a wildcard by the USTA and could also have used his injury-protected ranking. "I'm not going to play the US Open singles. You know, we were hoping to maybe hold a wildcard until a little bit close to the time to see how I feel and get some matches hopefully and a bit of practice, but they were announcing the wildcards today and didn't want to wait.
"So, you know, a decision I made with my team, I didn't want to take a wildcard today because I just didn't know how I was going to feel after a match. I felt like I wanted to be fair for me to, you know, maybe try and get a couple of matches in before making a decision like that.
"But I'll maybe play Winston-Salem potentially, but I'll probably look at just playing doubles and mixed doubles. That's what I will do at the US Open."