Gasparyan Continues Impressive Return

"First of all, I'm really happy that I won today because it was a really important victory," said Margarita Gasparyan at the Nature Valley Classic in Birmingham on Monday. "I played against a really great player. I think I'm playing really well. And, yeah, just keep going like this and let's see."
Earlier that day, Gasparyan played a rousing performance to beat Elina Svitolina 6-3 3-6 6-4, earning the biggest victory of her career and the second top 10 win.
It was victory reflected one of the quietly triumphant stories in the sport over the past 52 weeks as the Russian was sidelined for 16 long months filled with complications and doubt, but since returning she has moved up the rankings rapidly, producing some of the best tennis of her career. 14 months ago, in April 2018, the Russian was unranked. This time last year, she was still only just outside of the top 500. Her rise to her current ranking of 61st has been swift and methodical.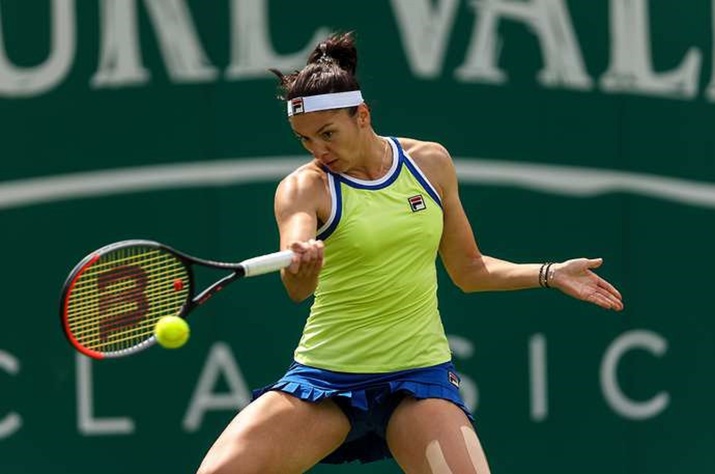 In September she won her first title in Tashkent, ranked 299, and then followed it up in her next tournament with her first win over Kiki Bertens.
"Last year I beat Kiki Bertens and this is my second big victory like this," she said. "Every victory like this you feel more confident in yourself and you just feel like you can beat more and more this kind of player.
The knee injury was only ever supposed to require one surgery, but throughout 2017 and 2018 her woes continued for 16 months, requiring three separate surgeries. Thinking back to that dark period is still a mental burden for the soft-spoken Gasparyan.
"Yeah, it is really, really tough and it's been long for me, almost two years, but I'm happy that I'm here and I can compete," she said. "And honestly I don't want to remind this time because it is really hard for me."
The Russian presents a rarity in women's tennis - a confident, fully formed single handed backhand. Throughout the afternoon, her talisman ran wild, fizzling low across the net and producing countless flat winners. But, like many single-handers before it, it was also a source of variety and invention.
"I don't know why I switch because in the beginning I play with a double backhand, two hands. And then at one point I just decide to switch because I really – I still like the Federer – and it was so quickly and I just switched and that's it and I really enjoy to play the one backhand," she said.
"Not so many girls that are playing one – Carla Suarez," she said. "Not many girls. I mean, it is difficult, it is not easy. But you have your weapons. You can play good slice. You can play good on the net. You can do drop shots, especially on the grass court because the bounce is so not so high."
But the shot that summed up her afternoon was a dropshot on her return, one that she hadn't meant to hit, which was a consequence of a late adjustment but landed as a brutal winner all the same. When asked about her dropshot return winner, the 24-year-old admitted that she had never attempted, let alone pulled off such a shot before. Then she smiled: "I will practice more this kind of shot."