Garcia Striving To Hit New Heights Against Keys In Australia

Caroline Garcia broke into the WTA elite when she won back-to-back titles in Wuhan and Beijing in October 2017. Those results propelled her to World No.9 and earned her a place in the WTA Finals. Now, three months later, she has a chance to reach her second Grand Slam quarter-final at this year's Australian Open.
If it seems like it has been a long road to get to this point for the Frenchwoman, then Andy Murray must take some of the blame for that impression. On May 26, 2011, the four-time Grand Slam winner tweeted: 'The girl sharapova is playing is going to be number one in the world one day caroline garcia, what a player u heard it here first'.
When a high-profile figure in your field tips you for greatness, it is bound to bring you to the attention of many more people, and that is exactly what it did for Garcia, who has had to live with being labeled as a future star ever since. When wtatennis.com asked her about Murray's tweet in 2014, the Frenchwoman said, 'I was so surprised and so happy when he said that about me that I could be the No.1 in the future. That was a great comment to hear from someone like Andy. At the time, I was something like 150 in the world. I was surprised when he said that, but I'm working hard every day for this to happen.'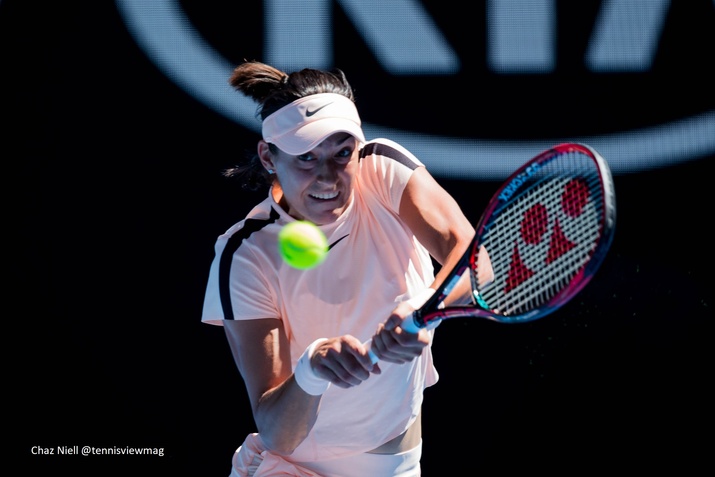 That hard work seems to be paying off for Caroline Garcia, who has risen steadily in the last six-and-a-half years and now deservedly sits inside the world's top ten. After her second-round win, she paid tribute to the person who has helped her most. She tweeted: "Tennis may be considered as an individual sport but without my team I am nothing. Thanks Dad for your patience & your dedication to make me a better player & person."
The Frenchwoman, 24, almost did not make it to this stage in Melbourne, as she overcame a sluggish start to beat Carina Witthoeft in straight sets in round one, then scrapped her way to a 6-7 6-2 8-6 win over talented Czech teenager Marketa Vondrousova in round two. Garcia improved in round three to beat in-form Aliaksandra Sasnovich, although she did have to withstand a spirited second set comeback from the Belarussian which took the match into a decider.
Speaking to wtatennis.com after beating Sasnovich, Garcia said, "It was a battle again - I played better, I think, and I'm happy to be in the second week. I want to keep going with what I'm doing." To advance further in the Australian Open, the Frenchwoman will have to pass what could be one of the sternest tests of her career so far: a mouth-watering last-16 clash with Madison Keys.
The American has breezed through all three of her matches in straight sets and looks to be in excellent form. She dropped six games against Qiang Wang, just one in her victory over Ekaterina Alexandrova and seven when she beat her toughest opponent so far: Ana Bogdan. It is a run of form which definitely seems to justify her decision to take time off to rest her wrist after reaching the US Open Final and then losing in the first round in Wuhan.
After beating Bogdan, Keys explained the situation. She said, "The biggest thing for me, the biggest thing for my team and why we decided to end my season a little bit early, was just to have enough time to dedicate completely to rehabbing my wrist, not hitting tennis balls and not feeling rushed coming back into the new season. So I spent a lot of my time (in) the first couple of weeks just doing forehands and wrist rehab, getting that strong, and feeling like I was fully confident in my left wrist again."
So far Keys has looked confident in everything she does on court, and she can draw on her experience of reaching this stage of a Grand Slam tournament on eight previous occasions when she faces Garcia. These factors are enough to make her the favorite to win the match, but it is unwise to count out the Frenchwoman, particularly after her exploits in the Asian swing in 2017.
In Wuhan during the first week of that magical two-week run, Garcia came from a set down against both Angelique Kerber and Ashleigh Barty. Then, in Beijing, she demonstrated all of her new-found mental strength to battle to victory against current World No.4 Elina Svitolina in an epic three-set quarter-final before going on to beat Petra Kvitova in the last four and World No.1 Simona Halep in the final.
As Murray tweeted when he was asked again about Garcia after her third-round win in Melbourne, "She's doing great… lot of people laughed at me last few years… 8 in the world now and was number 1 in doubles… Let's see." When the World No.8 was asked by the WTA Insider about Murray's latest comments, she said, "Thanks to Andy for keep believing in me." Given her recent performances, Garcia can expect many more believers to be tuning in to find out whether she can beat Keys in the fourth round of the Australian Open. It is a match she is definitely capable of winning. But will she do it?