The Future Is Bright For Carlos Alcaraz

Carlos Alcaraz is made for the big stage.
At 18 years and 11 months, Alcaraz is the youngest men's champion in the 37-year Miami Open history. He is the only Spaniard to ever win the tournament.
Spaniards are 0-8 in Miami Open men's finals. Rafael Nadal is 0-5 (2005, 2008, 2011, 2014, 2017); Sergi Bruguera is 0-1 (1997); Carlos Moya is 0-1 (2003); and David Ferrer is 0-1 (2013).
At Hard Rock Stadium, in the final on Sunday, Alcaraz beat 23-year-old Norwegian Casper Ruud 7-5, 6-4 in one hour and 52 minutes.
It was a nervy start for Alcaraz, who got broken early, with rare misses from his unbelievably good Federer-like forehand. Alcaraz's dropshot, which is normally flowing, in how he takes out all the pace, massaging it, also wasn't working.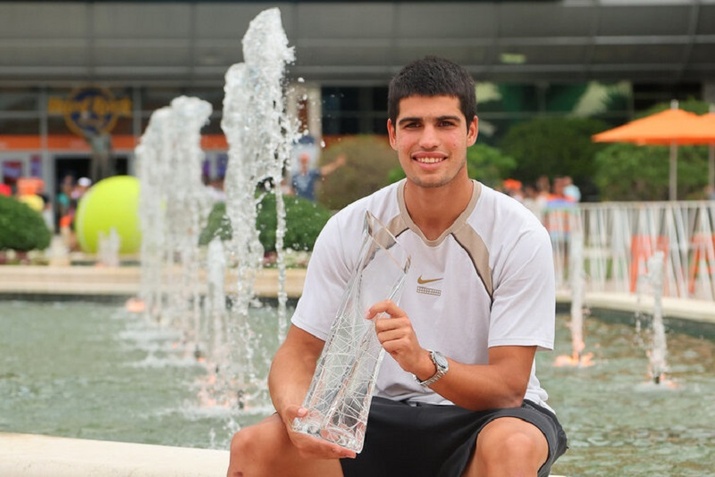 @getty images
But Alcaraz has incredible mental strength. He's a thinker on the court. If he has a dip in his level of play, he stays positive, until he's able to lift his game.
He was down 1-4, but serving well, and held at 15 for 2-4. At 4-5, he held for 5-all, and then broke for 6-5 and held, saving a break point, to take the set.
In the second set, Alcaraz broke early for a 3-love lead. His astonishing power and creative variety were on full display. The talented Norwegian was able to break for 1-3, but the charismatic Spaniard kept his positive energy, winning his final service game at love, with a surprise serve-and-volley on match point.
The atmosphere was electric. Another tremendous strength of the wise-beyond-his-years Spaniard is the way he's able to pull the crowd to his side. He brings them along with him on his passionate journey to victory.
Alcaraz has such a positive vibe. He's a great role model for kids. He's always upbeat. He's humble. He's confident.
He understands the sport of tennis. He has an appreciation for his opponent. He understands that without him, there wouldn't be a match.
In the new ATP rankings, Alcaraz has moved up five spots to world No. 11. Ruud has moved up one spot to world No. 7.
At his post-match press conference, smiling more than I've ever seen anyone smile at a press conference, Alcaraz said: "It feels amazing. I mean, I'm so happy to get the title here in Miami with everyone who was supporting me. I mean, the hard work paid off, you know, and yeah, it's amazing to get my first Masters 1000."
After his win, Alcaraz got a call from the King of Spain. When asked what that was like, Alcaraz said with an even bigger smile: "So it's pretty amazing to get the call from the Spanish king. I was more nervous to that call than the match.
"But, yeah, it's pretty amazing that the Spanish king congratulate you on the hard work that you put every day and your win. Yeah, it's something that you never thought you were gonna receive a Spanish king call. It's amazing."
Like the king, and I imagine everyone who's watched him play our great sport, I believe Alcaraz has a dazzling future. With the wave he's riding, and with his immense energy and positiveness and confidence, it's only a matter of time until he's Top 5 and winning Slams.
The French Open is in May. I know three-out-of-five sets is different. But before the Miami Open, everyone thought his best surface was clay. Alcaraz says: "I don't know. All I can say is I got two titles on clay and one on hard court. Yeah, I feel very comfortable in both surface, so I don't mind playing on clay or on hard court. But I feel comfortable on both."