A Frustrated, Yet Determined Sharapova Looks Towards Clay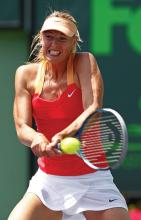 By most accounts, world No. 2 Maria Sharapova experienced great hard court results in the States, advancing to the finals of both Premier tour events, the BNP Paribas Open in Indian Wells and the Sony Ericsson Open in Miami. But failing to deliver a champi- onship trophy in either stop left the Russian frustrated.
The powerful Azarenka played with resolve in the arid California desert, beat- ing Sharapova in quick order, 6-2, 6-3. Maria says unforced errors, inconsis- tency and passive play were to blame.
Two weeks later, Sharapova found herself on the Florida island of Key Biscayne facing humid conditions and a wily opponent in counterpuncher Agi Radwanska. The Pole says she played outstanding, toppling Maria, 7-5, 6-4. Maria, conversely, regrets not returning well and playing reac- tively. "She hit a lot of good balls on the run, and they were deep. She didn't just bring them back, she had something on them," says Sharapova, who adds that she is determined to finding solutions to beating her rivals and welcomes the transition onto clay courts.
This article is from the May / June 2012 issue

SOLD OUT

Subscribe now and you'll never miss an issue!