French Open: Kokkinakis Defeats Wawrinka In Five-Setter

On Wednesday, at Roland-Garros, as evening shadows fell on Court Simonne-Mathieu, Thanasi Kokkinakis defeated Stan Wawrinka 3-6, 7-5, 6-3, 6-7(4), 6-3 in a marathon lasting four hours and 38 minutes.
It was an incredible atmosphere, a packed stadium with rollicking cheering and chanting, glimpses of Swiss and Australian flags.
After his victory, 27-year-old Kokkinakis fell back on the red clay in celebratory relief.
Wawrinka, age 38 and the 2015 French Open champion, walked to the other side of the net, and the two shook hands and embraced, in a wonderful show of sportsmanship.
In January, at the Australian Open, Kokkinakis lost in another marathon five-setter to three-time major champion Andy Murray.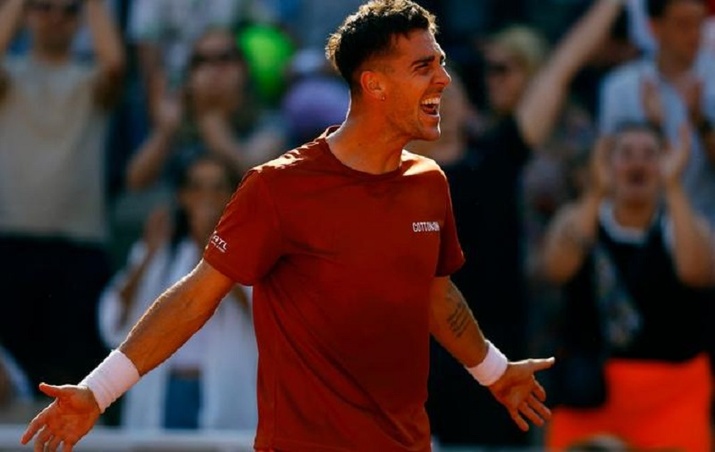 "Yeah, definitely feels better when you come on the winning end of those, "Kokkinakis said. "Had a heartbreaker against Andy earlier in the year and not many moral victories. Yeah, it was a tough one to take.
"Yeah, you can't count these guys out no matter how old they are. They just play. They get better and better, and you can see why they are multiple Grand Slam champions.
"Stan is a legend. Still is, obviously, but he was a legend out on court today. He was very nice, very respectful. Yeah, hats off to him.
"The crowd was going nuts for him, but it's a fun atmosphere. I love playing against that, so it was awesome."
For the match, the Australian hit 51 winners, with 12 aces. He converted five of 14 break points.
"The first set and a half he was playing I think the best tennis he can play. I was just trying to hang in there. I lost a match in a Grand Slam earlier this year against Murray from two sets to love. I didn't want to do it against another legend.
"Having 40-love [in the last game], you can imagine the things coming into my mind. He never went away. It seemed like when he was down, he was playing better tennis, but I just trusted myself and I'm so happy."
In his press conference, he made more comparisons to the Murray match and talked about how it helped him in this match:
"Yeah, I definitely thought about that one for a while. There's a lot of matches you can look back on in your career and say I should have had that. But I'm sure all these guys, these players, there's so many opportunities.
"Tennis, the margins are so fine and so small, so you can play an incredible match and just come up short, and you feel like it's a disappointment and a failure.
"But I think that match, although it was super hard to take and kind of made me kind of know what to expect on a day like today and kind of try and look back on those moments and try not to dwell on it too much, as tough as that was, and try and use that as fuel and try and realize what I did wrong there and try and correct those mistakes here."
Next up for the Australian, in the third round, is the eleventh seed Karen Khachanov.