French Open: Kenin Through To Second Round

In the first round of Roland Garros, American Sofia Kenin, the fourth seed, world No. 6, and defending Australian Open champion, defeated Russian Ludmilla Samsonova in a hard-fought match 6-4, 3-6, 6-3 that lasted one hour and 58 minutes.
The pair are both 21 years old, born three days apart in Russia, though Kenin's family immigrated to America. Kenin now lives and trains in Florida.
The 5'11" Samsonova, ranked world No. 125, has never won a match at a Grand Slam, but she certainly made things tough for Kenin with her powerful serve and scorching groundstrokes. Samsonova seemed to dictate the rallies. The harder Kenin hit, the harder it came back.
In the first set, the 5'7" Kenin, wearing her trademark low visor over her dark blonde braided ponytail, got down 4-3, but remained focused, reeling off three straight games, taking the set.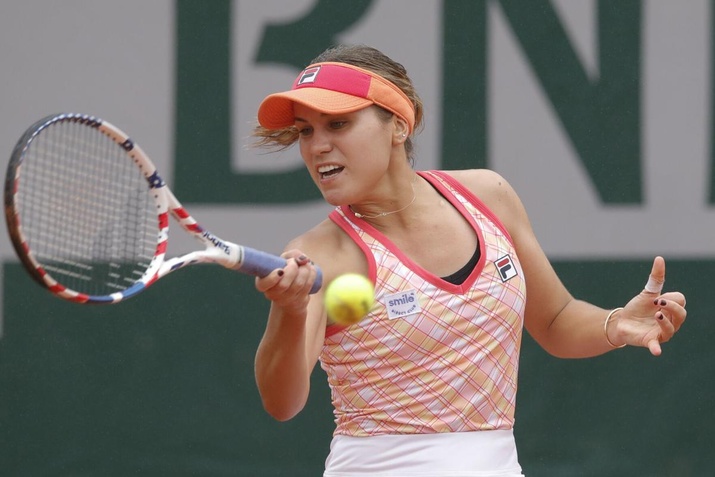 After a lengthy rain delay, in the second set, Kenin looked lackluster. Serving at 1-4, she double-faulted and got broken at love to go down 5-1. In the next game, Samsonova double-faulted, and Kenin was able to break back. Kenin gained her focus again, hitting a precision forehand down the line. But Samsonova was still able to close with a crushing forehand crosscourt.
In the third set, Samsonova broke in the first game and held for 2-love. Kenin then broke, but appeared unhappy, still upset with her haphazard second set. Kenin, then with intensity and confidence, won six of the last seven games, aggressively hitting backhands up the line and feathering delicate drop shots.
After the match, in her on-court interview, Kenin said: "She's obviously really tough. She played really well. So I knew I had to fight for every point, and that's about it.
"I just started putting the balls in the court, just fighting for every point. When things weren't going my way, I'm just really happy to have found a way to win. She was really tough and playing aggressive.
"Everyone's playing really well here, so I feel like everyone's playing the best tennis, so one match at a time for me."
Next up for Kenin is Romanian Ana Bogdan, who is ranked world No. 93.
Bogdan beat Kenin the only time that they have played, in the qualifying in the Canadian Open in August 2018.
But Kenin is a different player now. She said it best in her on-court interview: "I know how to win a Grand Slam."