French Open: Anisimova Blasts Halep To Reach Semis

Seventeen-year-old American Amanda Anisimova knocked out defending champion Simona Halep 6-2, 6-4 in 68 minutes in the French Open quarterfinals. She will face Australian Ashleigh Barty, the eighth seed, who plays with great creative variety—her signature shot is her one-handed backhand slice—on Friday for a place in the final.
The American got off to a brilliant start with her attacking style, blasting on-the-rise groundstrokes, stepping into midcourt hitting two sensational swinging forehand volleys. She hit an ace to win her second service game at love. At 2-all, she showed finesse with a delicate backhand dropshot, then flicked a backhand cross for a winner. She hit a big serve, big forehand combo, and a piercing down-the-line backhand to go up 3-2. She broke Halep for 4-2 and held for 5-2 with another sublime backhand.
Halep was serving to stay in the set, but Anisimova remained poised and broke with a well-disguised backhand-slice drop and then a blistering forehand to the open court, screaming, "Come on!"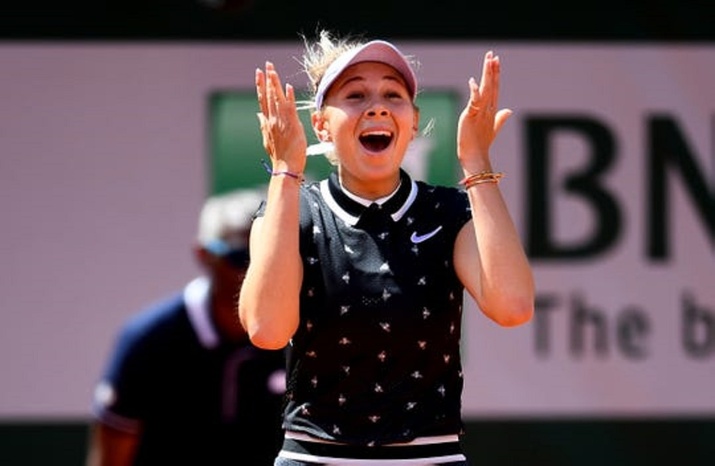 In the second set, the American stayed aggressive, winning her first service game at love, then breaking Halep with a stunning inside-out forehand. Anisimova's timing was incredible. With her lightning-quick footwork, she was able to change directions and play with a lot of margin off both wings.
Halep, like the champion that she is, fought back. She was down 4-1 but leveled the score to 4-all. The American, though, showed amazing composure for a teenager and continued going for her shots, hitting breathtaking two-handed backhands, powerful forehands, and dropshots to perfection.
With Halep serving at 4-5, Anisimova ended the match with a clean backhand winner, then let her racquet fall on the red clay in victory, with a somewhat stunned but serene expression. In her on-court interview, she said, "I've been working so hard, but I didn't think it would pay off like this. This is honestly more than I could ask for."
The 5'11" American, the daughter of Russian immigrants, was born in Freehold, New Jersey, and now lives in Aventura, Florida. She wears her long blonde hair in a ponytail, held in place by a visor, reminiscent of Maria Sharapova, who won her first Grand Slam, Wimbledon, at seventeen.
Sharapova is one of her idols, but so is Serena Williams.
In a press conference earlier in the tournament, Anisimova told about a special moment she shared with Serena in the locker room. It was after a three-set heartbreaking loss to Anett Kontaveit at the Miami Open. "I was super upset in the locker room. Serena actually came up to me and we shared a little bit of a chat. That was really nice of her, and I'll remember it forever."
Serena remembered the chat and said, "I just needed to do that, and I know she's super young. I really love all the new young players. Like, it's just so exciting. I feel like tennis has done so much for me, and to see a new generation come through is great. I was like, I gotta like, I can't sit here, I can't sit here, I can't, I can't, I gotta make a move. I wanted to."
Anisimova shares the mental toughness and ambition of Williams and Sharapova. When asked about her long-term goals, Anisimova has said, "I hope to be No. 1 and win every Grand Slam."
(Photo: Christophe Ena/Associated Press)