French Open: Anisimova Battles Into Round-Of-16

In a topsy-turvy match, American Amanda Anisimova edged out Romanian Irina-Camelia Begu 7-6 (6), 6-4. The 17-year-old Anisimova moves up 12 spots to world No. 39 on the live rankings.
Anisimova served well, winning 73% of her first serve points. She was aggressive off both wings, stepping in, hitting her shots on the rise.
In the first set, Anisimova got off to a quick start, holding her serve at fifteen, with a piercing backhand down the line.
In Begu's first serving game, she got down 15-40, but was able to fight back to deuce with a big serve, big backhand combo. She saved two break points, but Anisimova was able to break on the third, smacking a forehand winner down the line off a second serve.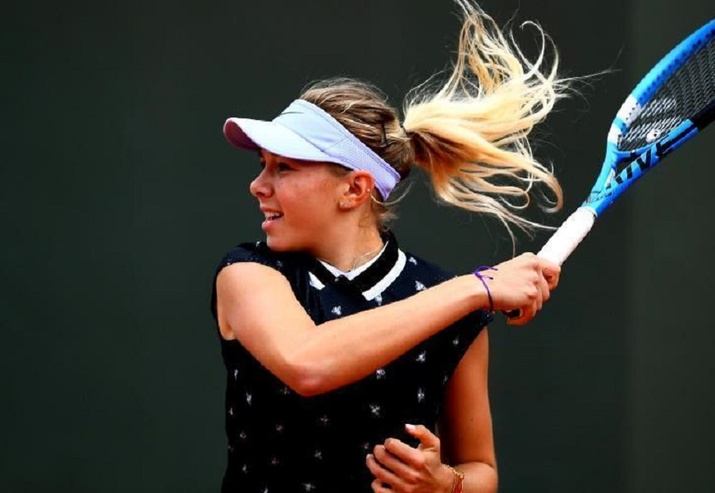 At two-love, Anisimova hit another down-the-line backhand winner to lead three-love. But Begu was able to get on the board and hold serve for 1-3. She then broke for 2-3 and held serve at love. The momentum had changed.
But Anisimova is a terrific competitor—it's one reason she's so fun to watch. She got her energy back and held at love, hitting a backhand winner cross and a backhand winner down the line.
In Begu's next service game, Anisimova stepped into midcourt and hit a tremendous forehand inside-out. Begu stayed aggressive, pushing Anisimova deep in the backcourt with long, heavy rallies and held for 4-all. Anisimova held at love for 5-4. Begu held for 5-all, but her service game was close. Anismova held, Begu held, and it was time for the tiebreak.
Anisimova got up quickly 3-1 with a blasting forehand return winner down the line and an on-the-rise backhand pass. She pumped her fist and screamed, "Come on!"
Begu, though, was able to fight back to 3-all and take the lead to 4-3, then 5-3, with a couple of errors from Anisimova.
It was a riveting tiebreak with Begu having the momentum when she led 6-4, but then double-faulting and allowing Anisimova back in.
When they switched sides at 6-all, Anisimova hopped up and down, took shadow swings, reminiscent of Maria Sharapova, who is her idol.
Receiving serve, Anisimova stepped inside out and hit a huge forehand return, then a swinging volley to win the breaker.
The second set was uncannily like the first: Anisimova got up 3-love, Begu fought back to 3-all. Anisimova continued playing fearless tennis. Begu stayed aggressive, too, even taking the lead at 4-3, but Anisimova was able to reel off the next three games for the win.
In victory, Anisimova dropped her racquet on the red clay. Looking serene, she shook hands, gave kisses to the crowd, signed autographs, and posed for selfies. The young American has arrived to the Round of 16 at Roland-Garros.