Fox Trumps Hedgehog: Dolgopolov Halts Raonic in Desert

Among the most influential essays by the philosopher Isaiah Berlin is his parable of the fox and the hedgehog. Adapting an ancient Greek proverb, Berlin contrasted a fox who knows how to do many things with a hedgehog who knows how to do one big thing. At Indian Wells on Thursday, Alexandr Dolgopolov assumed the role of the fox, while Milos Raonic took the hedgehog's part.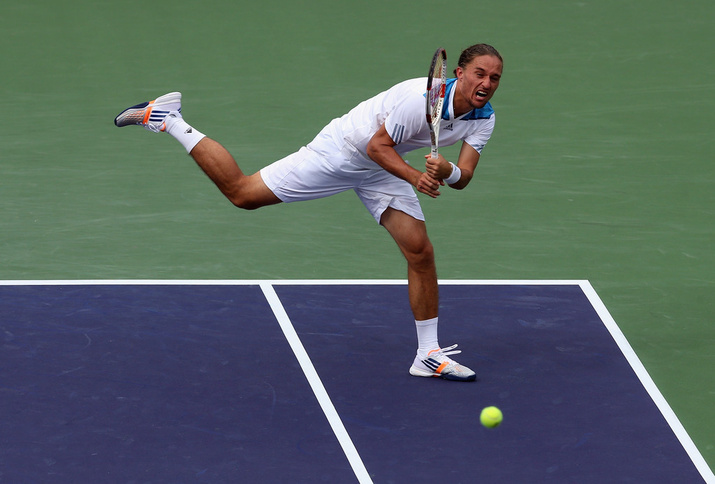 It would be difficult to find two playing styles more divergent than those of Dolgopolov and Raonic. The Ukrainian throws the kitchen sink (if not the bathtub) at opponents in the form of endlessly varied spins, slices, and angles that keep them off balance. Not known for versatility or craftiness, the Canadian giant simply hurls thunderbolts at his victims in the form of a massive serve. This weapon may be less aesthetically appealing or thrilling to watch than Dolgopolov's artistry, but an opponent can do nothing to disrupt it. That makes Raonic's strength uniquely valuable, no matter the situation.
Despite the contrast between their styles, parallels linked these two quarterfinalists at the BNP Paribas Open. Dolgopolov and Raonic each had upset one of the ATP Big Four en route to this stage. While Dolgopolov had ended the title defense of world No. 1 Rafael Nadal, Raonic had halted the campaign of Wimbledon champion Andy Murray. Dolgopolov's fearless shot-making had defined his upset of Nadal in the thriller of the tournament so far, and Raonic's resilience in rallying from early adversity had shaped his upset of Murray. Each man now aimed to build on his breakthrough by reaching his first Indian Wells semifinal.
The fox took control at the outset of this quarterfinal, befuddling the hedgehog into a break in his first service game. Once again, iRaonic would need to come from behind. Dolgopolov donated a drizzle of unforced errors in his service games, but not nearly enough to offer his opponent hope. The insouciance oozing from the Ukrainian's body language between points contrasted with Raonic's businesslike, tightly focused demeanor. After Dolgopolov had flustered him at first, the Canadian began to recapture his rhythm on serve from his victory over Murray. But his meager return game ensured that the early break translated into a one-set deficit for the second straight day.
At just 29 minutes, the deceptively short first set failed to capture how narrow Dolgopolov's margin of victory was. Both men struggled to find their first serves throughout the set, yet they combined for just a single break point. Dolgopolov took his chance, to his credit, but Raonic knew that a few small adjustments could swing the match in his favor. The Canadian profited when his opponent's focus dipped at the start of the second set, earning an early break in a mirror image of the first set.
So mercurial is Dolgopolov's shot-making that he sometimes fails to tighten the screws on opponents when opportunity knocks. Raonic would save six break points over his next two service games, not all of which did he erase with massive serves. Dolgopolov earned looks at second serves, worked his way into rallies, and found openings for makeable passing shots on some of those break points. To his frustration, his timing and placement proved lacking when he most needed them. But the seventh time proved the charm when a deep approach by Raonic did not forestall a neatly threaded pass down the line.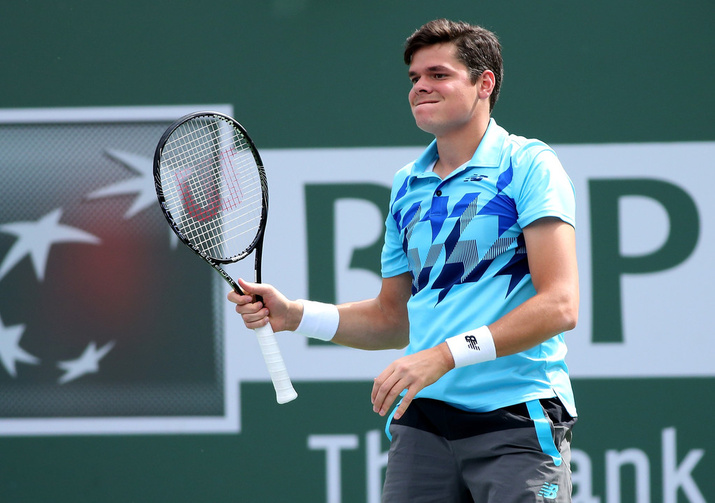 Having worked to turn the tide, Raonic looked deflated when his lead slipped away so swiftly. He squandered a 40-0 lead in his next service game to hand Dolgopolov the only remaining break that he would need. The Ukrainian closed out a surprisingly routine victory in under an hour and a half, setting up a likely semifinal battle with Roger Federer. No matter his result in that match, Dolgopolov will feel proud to have reached his first career semifinal at a Masters 1000 tournament. Whereas Raonic could not consolidate his triumph over Murray, the 28th seed successfully built on his victory over Nadal.
After his latest upset, Dolgopolov declared that he believes in his ability to win this prestigious tournament. While he will aim to improve his first-serve percentage in the semifinal, he felt satisfied with his serving on clutch points and his anticipation on return. Dolgopolov noted that he always has believed in his unconventional game against the Big Four, as he proved against Nadal in the third round. He should have another chance to make that case against Federer, the only man who did not drop a set en route to the quarterfinals at the BNP Paribas Open.
If Federer does reach that semifinal against Dolgopolov on Saturday, he may find this fox of many talents difficult to outflank.