Florida Defeats Virginia to Capture USTA Tennis On Campus Fall Invitational

HILTON HEAD ISLAND, S. C., Oct. 13, 2013 – The University of Florida Tennis Club made the most of the their first trip to the USTA Tennis On Campus Fall Invitational as the Gators beat the University of Virginia on Sunday, 23-18, at the Palmetto Dunes Tennis Center.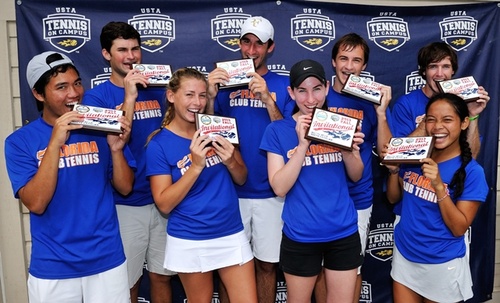 Both Florida and Virginia qualify for an automatic bid to compete for the national title at the 2014 USTA Tennis On Campus National Championship in Surprise, Ariz., April 10-12, 2014.
In the semifinals, Florida defeated North Carolina State, 30-14, and Virginia squeaked past North Carolina-Chapel Hill, 23-20. In the third-place match, N. C. State needed a super tiebreaker to beat UNC, 25-24.
"This is our first time here but we've been to Nationals and we are used to playing in these high-pressure matches," Florida captain Adam Decker said. "In this format every game counts and we knew Virginia was going to be very tough to beat."
Decker sat and watched doubles teams Stephanie Cruz and Barrie Eisenburg and Alex Peckham and Stephen Ireland win their matches 6-4 and 6-1, respectively, before Virginia's Taylor Wingo downed Florida's Barrie Eisenberg in singles, 6-1, to make the score 13-11 in favor of Florida. But Decker beat Aaron Paul, 6-1, for the 19-12 lead heading into the final mixed doubles match won by Wingo and Roseblum over Decker and Cruz, 6-3. That sent the match into overtime with Florida leading 22-18, but Decker and Cruz took the next game to clinch the match.
"It feels great," said Cruz, the vice president of the Florida club team. "We are a close team and we had so much fun, just winning it with your friends. We're on Hilton Head Island so we just hung out and went to the beach and bonded. Now our focus turns to the Nationals."
The Cavaliers advanced to the final at the Fall Invite for the third straight year.
"It seems like we know what it takes to get to the final here," Virginia captain Derek Gale, who along with doubles player Marina Hehenwarter has been on all three Fall Invitational finalist teams. "It's figuring out how to win it all that has proved a little tougher. It really was a great weekend. We're excited to get the Nationals bid out of the way."
Auburn was given the Sportsmanship Award at the player party on Saturday night. The award is voted on by all the teams, according to USTA Tennis On Campus Coordinator Kelly Goodhart. "There is just something about the Auburn team that everyone loves," Goodhart said. "They just have that great spirit that embodies what this event is all about."
To view all the scores and draws from the event, go to:
http://tennislink. usta.com/Tournaments/TournamentHome/Tournament.aspx?T=142 802
ABOUT USTA TENNIS ON CAMPUS: The USTA TOC program features more than 35,000  college students competing nationwide in intramural coed club play. Developed by the USTA in partnership with the National Intramural Recreational Sports Association, World TeamTennis and the Intercollegiate Tennis Association the program gives college students the opportunity to build leadership skills, network in a coed sports environment and compete on a college team without the rigors of playing in a varsity program. With year-round match play, and sectional and national championship competition, students maintain active and healthy lifestyles through their college years. Since its inception in 2000, Tennis On Campus has grown significantly and today has programs on more than 600 college campuses across the country.
Sunday's Results
GOLD BRACKET
Championship: Florida def. Virginia, 23-18
Semifinals: Florida def. NC State, 30-14
Virginia def. UNC-Chapel Hill, 23-20
3rd-4th Place: NC State def. UNC-Chapel Hill 25-24
5th-6th Place: Georgia Tech def. Arizona, 26-20
5th-6th Place Semifinal: Georgia Tech def. James Madison, 23-15
Arizona def. Georgia, 24-23
Consolation Final: Duke def. USC, 24-19
Consolation Semifinal Match: Duke def. Auburn, 26-22
USC def. William & Mary, 24-16
SILVER BRACKET
Championship: Tennessee def. Minnesota, 26-25
3rd-4th Place: Georgia State def. Kentucky, 26-25
5th-6th Place: Villanova def. UNC-Greensboro, 24-15
BRONZE BRACKET
Championship: Vanderbilt def. Wisconsin, 24-15
3rd-4th Place: Dayton def. Ferris State, 24-20
5th-6th Place: Ohio def. Pennsylvania, 26-20
Sportsmanship Award (voted on by the teams)
Auburn University
Past USTA Tennis On Campus Fall Invitational Champions
2010 – University of Alabama
2011– University of Virginia
2012 – Duke University
2013 – Florida University
(Photo Credit: Peter Staples / USTA Tennis On Campus)