Five Memorable Roland Garros ATP Matches

After two weeks of upsets, erratic periods of rain, and difficult conditions, a match-up between the No. 1 and No. 2 seeds, Novak Djokovic and Andy Murray, became highly likely as Roland Garros progressed. Djokovic made history last Sunday by capturing the elusive French Open crown and his 12th Grand Slam overall in a dramatic final after dropping the first set. He became the first man since 1969 (Rod Laver) to hold all four major titles at once, as well as the eighth man ever to win a career Grand Slam. However, the build-up to this final featured five excellent matches. Let's take a look.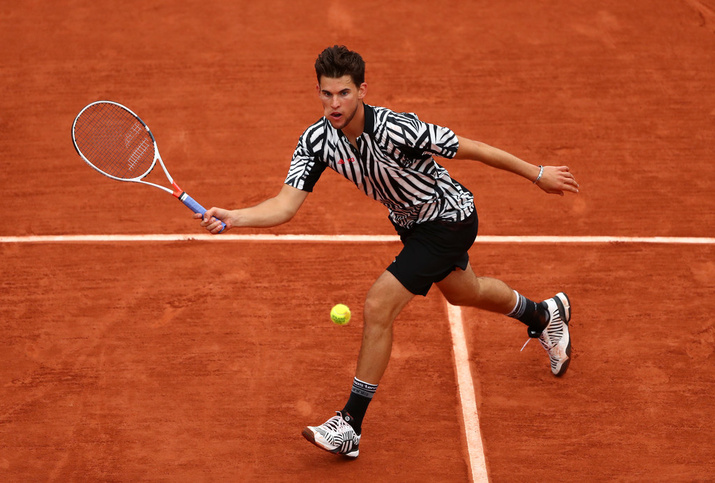 5) Dominic Thiem def. Alexander Zverev 6-7 6-3 6-3 6-3
This match-up is one that we will be seeing a lot more of. Alexander Zverev, 19, from Germany is one of the Tour's biggest young guns with a massive game and flawless technique, resembling a future Tomas Berdych but with a better backhand. The pair met twice previously in the clay-court season, with Thiem getting the better of Zverev in three sets both times, in Nice and in Munich. Both men played an unbelievably high-quality first set, with Zverev stepping it up in the tiebreak. However, Thiem prevailed as the player with more experience and won the next three sets 6-3. The match served as a reminder of just how good these guys are. They are closing the gap pretty quickly, playing mature tennis for their age on the biggest stages. They have big games and great technique, as well as plenty of attitude. We could be seeing many more of these matches and a riveting rivalry like what we have today with the Big Four. Add Borna Coric and Nick Kyrgios to the mix, and we have a whole new generation, making for exciting times in tennis.
4) Dominic Thiem def. David Goffin 4-6 7-6 6-4 6-1
Both these men were having the best seasons of their careers. Thiem, age 22, is considered the most accomplished and most promising of all the young guns. He was coming in with a glistening 41-10 record for the year, with four finals and three titles. Thiem has an excellent one-handed backhand and an ability to generate a lot of topspin, and he hits some of the heaviest groundstrokes in the game. His game is also well disguised, and he has one of the best kick serves in the game as well. His all-round movement on clay helps him construct points well.
However, Goffin was having a great year too. He reached back to back semi-finals in Indian Wells and Miami, beating Stan Wawrinka along the way. With a 6-0 6-0 rout of Tomas Berdych in Rome, he scored only his second top-10 victory ever. His patient but frustrating game makes him incredibly tough to beat. Goffin is very solid from the back of the court and doesn't give his opponent anything. Both of these players were in the Roland Garros quarterfinals for the first time, and a top-10 ranking was on the line for both. Thiem was the better player in the early stages, but as Goffin found his rhythm, Thiem began to go for the lines, while Goffin came back from 2-4 down to win the next four games and the set.
Much of the same approach continued in the second set, with occasional brilliance from Thiem. With Goffin serving for a two set lead at 5-3, however, he blinked, and Thiem pounced on the return, breaking back to force a tiebreak. Although Goffin, was the more solid player thus far, there was no denying how boldly his opponent was playing. Serving at 5-6 in the tiebreak, Thiem's heavy strokes opened up the court as he blasted a forehand down the line. After saving another set point at 6-7 in the same way, a stunning backhand winner gave him the tiebreak 9-7 to level the match.
The third set was a little back and forth as breaks were exchanged. Thiem's effective second serve and his relentless attack gave him the edge in a close set, as he won it 6-4. In the fourth set, Thiem was inspired, and Goffin was running out of solutions. This win propelled the youngster to a career high ranking of No. 7 in the world. This was a reminder to the top players how quickly Thiem is taking their place. The young gun is now fifth in the race to London.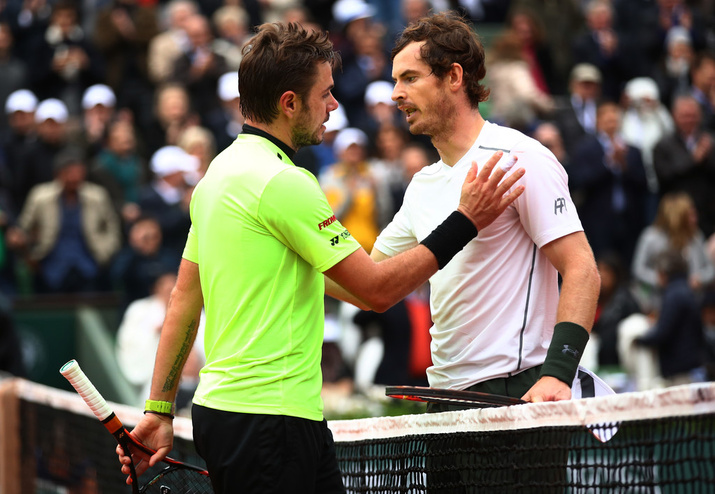 3) Andy Murray def. Stan Wawrinka 6-4 6-2 4-6 6-2
This match-up of the two-time major champions is often overlooked in tennis. Going into the match, Wawrinka had won his last three meetings with the Scot on clay. However, Stan was not playing at the same level as he did last year in the final, when he stunned Djokovic and played the match of his life to win the title. The Swiss No. 2 looked to serve really well and play excellent first-strike tennis. He was well aware of the fact that Murray's retrieving skills and anticipation, combined with his ability to blunt anyone's game, could be the deciding factor. And that is just what happened.
In the first set, Wawrinka came out sloppy and gifted Murray an early break. Murray's all-court game and intelligent shot-making neutralized rallies, and the longer the rally went, the better he matched up to Wawrinka. Returning serve at 4-5 in the first set, Stan began to find some of those monstrous forehands that allowed him to win here last year. He was able to create three break chances to level the set, However, the Scotsman didn't panic, and his much improved first serve got him out of trouble.
Murray played exceptional tennis in the second set and began to build confidence, and Wawrinka seemed to fade as an exceptional backhand winner from Murray gave him a double break advantage. This was by far the best tennis from Murray in the tournament, as his controlled aggression was able to blunt Wawrinka's offense on the biggest points. However, Stan wasn't going away that easily, and a bad service game from Murray at 4-5 after being up 40-15 gave the Swiss the third set. Murray, despite being frustrated, was still positive. This positive energy gave him a good start to the fourth set, when he played aggressively with his forehand to Wawrinka's backhand and secured a break. The Swiss appeared to lose belief, and a double break gave Murray the match. Wawrinka's 43 unforced errors to Murray's 22 were the difference, since those errors were a by-product of Murray's ability get Stan behind the baseline. Murray did what he does best, and that is blunt his opponent's game.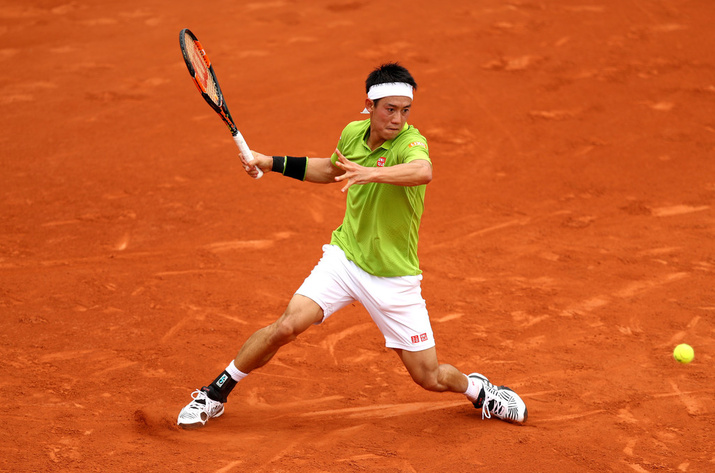 2) Kei Nishikori def. Fernando Verdasco 6-3 6-4 3-6 2-6 6-4
This third-round match-up featured some excellent all-round clay-court tennis. The always dangerous and streaky Verdasco came to play against one of the best players this season. Nishikori was the fourth-best player this year on clay and has had consistent results before. In the first two sets, Nishikori's relentless anticipation and defense, combined with his ability to generate pace off both wings, allowed him to play the brand of tennis he likes.
However, Verdasco was hitting the ball harder and harder as the match went on. Something else was different from usual for him today, as he began to use the drop shot exceptionally well. He was able to amplify his intensity on his forehand in each rally, taking big cuts on the run and then using his power to push Nishikori around. After Nishikori won the first two sets, this tactic from Verdasco made all the difference. Verdasco is one of the few players who have the ability to overpower any opponent through taking huge risks and going for broke. In the third set, Verdasco hit 14 winners to Nishikori's five.
Errors began to creep into Nishikori's game as Verdasco was amping up the pressure by using the drop shot even more effectively. Although Verdasco was still making more errors, this go-for-broke tactic and an incredibly high first-serve percentage gave him the fourth set 6-2. In the fifth set, Nishikori began to be the more patient player, who was able to withstand the wrath of Verdasco's streaky but deadly groundstrokes. He began to carve out some special shots to get the break in the fifth game. It would be enough as the two players played a high-quality match from start to finish, and Nishikori survived a real test. Amazingly, Verdasco was able to hit 53 winners to Nishikori's 29, and he actually won more points than the world No. 6. Fatigue became a factor later as Nishikori didn't look as sharp in his next match, losing to Richard Gasquet.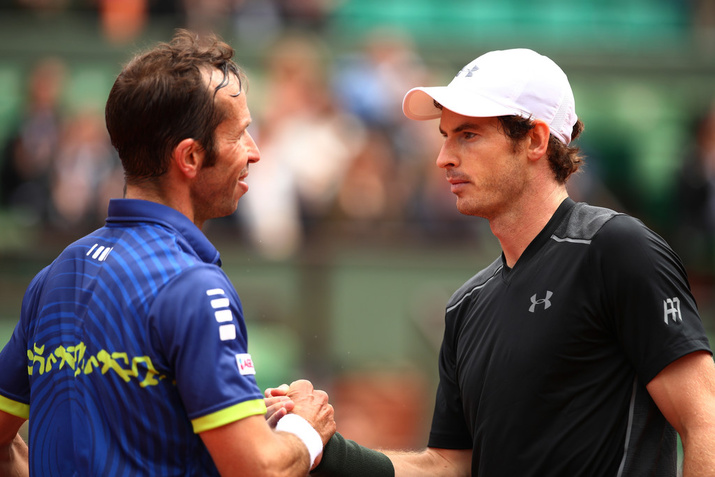 1) Andy Murray def. Radek Stepanek 3-6 3-6 6-0 6-3 7-5
This match caused all sorts of problems for the Scot's campaign. The two had met in Madrid three weeks before with Murray prevailing in three close sets. During the first two sets at Roland Garros, Murray looked a little flat, and he struggled with the conditions and his timing from the back of the court. Stepanek took advantage of that and played an outstanding first two sets. He continued to attack Murray's second serve and was able to dictate points from the middle of the court with his forehand.
Stepanek engaged with the Scot in cat and mouse tennis at the net. The 37-year-old Czech was able to win 41 of 60 points there. However, ultimately Murray was able to raise his level as he broke his opponent three times to claim the third set 6-0 and played much the same in the fourth set, with the help of some key mistakes from his opponent. To add to the drama, bad lighting postponed the match to the next day with the world No. 2 leading 4-2 in the fourth. On the next day, Murray was able to push the match to a decider, where Stepanek raised his level, and the pair made this a breathtaking encounter.
Stepanek was playing inspired tennis once again, and Murray was under pressure at 4-5 40-40 in the fifth set, but excellent serving helped him win the game and stay in the tournament. As well as Stepanek was playing, ultimately Murray carried the momentum to break in the next game and win the match after nearly four hours. This was a huge sigh of relief for Murray. He said afterwards of his opponent, "It's unbelievable what he has been able to do, after being out with a serious injury all of last year. At 37 years of age, to play the way he is playing is remarkable." Stepanek may not have won the match, but he definitely gave the French crowd the match of the tournament. Murray's next match was a tussle as well, also going the distance. This match, however, set the tone for him to produce some of his best tennis to eventually reach the final.