First All-Canadian ATP Final Ends in Triumph for Raonic

WASHINGTON, DC. – The District of Columbia transformed into the "District of Canada" on Sunday at the Citi Open as Milos Raonic defeated fellow Canadian Vasek Pospisil for his sixth career title, 6-1, 6-4. (Photos at bottom)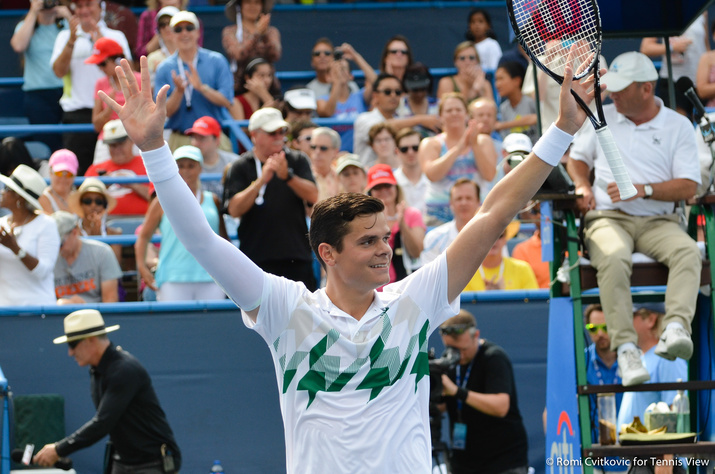 "It's an important moment for me," said a happy and relieved Raonic. "I have a flight in a few hours. Actually, funny thing is, every single time I have won the tournament it's because I had a flight in a few hours after. And I've never won when I flew the next day. So I'm going to start booking flights for right away after," joked the 23-year-old.
In a week filled with memorable pressers, fan engagements and lightening speed serves, comrades Raonic and Pospisil showed just how good the next generation of men's tennis could be, both on and off the court.
In press, each was personable, tackling questions that ranged from their hair and each other's personalities to dissecting their opponent's strengths and weaknesses. On the grounds, fans scurried behind the tall Canadians asking for selfies and autographs, to which each obliged with friendly smiles.
On court, a similar story unfolded. Thriving off the energy of playing on a center court, Pospisil stunned top seed Tomas Berdych in the third round, dropping only six games. He then defeated No. 10 seed Santiago Giraldo, before coming back from a set down to defeat 6th-seeded Richard Gasquet in an enthralling night match on Saturday. Meanwhile, No. 2 seed Raonic took out rising Americans Jack Sock and Steve Johnson, No. 14 seed Lleyton Hewitt and surprise semifinalist Donald Young.
Now, one day after Dominic Thiem, 20, and David Goffin, 23, contested the first ATP final between players born in the 1990's in Kitzbuhel, Raonic and Pospisil, 24, contested the second. Raonic actually became the first player born in the 90s to win a tour-level crown in San Jose in 2011, and was also the first to crack into the top 10 in August of last year.
When asked what his ultimate goal was, Raonic replied simply: "To be the best player in the world." There was no sense of cockiness, rather just a foundation of belief in his own strengths.
"I think I'm playing at a high level. I think the number that I have beside my name is not a coincidence and I don't think it would be a coincidence if it that were to get lower," stated Raonic.
"It gives me a lot of confidence, a lot of understanding," Raonic stated, referring to not having dropped a set all week. "I've always said hard court is by far my favorite. And having done as well as I did on clay and grass, it got me really excited about this. And for that to be showing right away in my first week [back], it was great."
So how is this win in Washington, DC different than his previous five titles?
"This one is different in the sense that now I go into every tournament for the last few weeks, maybe even months, believing I can win each tournament," Raonic stated after thoughtful contemplation. "Whereas in 2011, 2012, 2013, it sort of had to be the right tournament for me. Now I believe I can get myself a chance to win any and every tournament."
Raonic and Pospisil will next play in Toronto at the Rogers Cup.
(Full gallery from the final and trophy ceremony here.)