Fields of Glory (IV): Wimbledon Day 4 Recap

As so often happens, a tempestuous day filled with upsets yielded to relatively smooth sailing for the remaining contenders a day later. Wimbledon featured few surprises on Thursday, dominated by impressive performances from the favorites.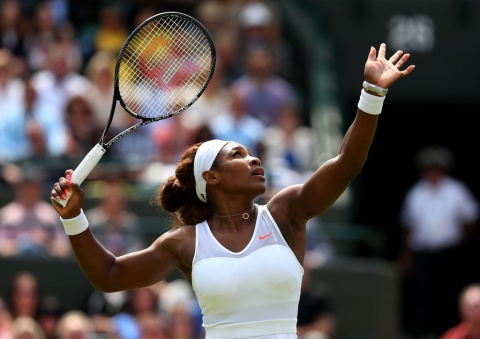 World No. 1s: Promising French youngster Caroline Garcia surely wishes to land further from Serena Williams in the draw than she has recently. But Wimbledon marked a sort of progress for Garcia, who won five games from Serena here after garnering just three in the second round at Roland Garros. With her two main rivals gone, the defending champion must resist the temptation to shift into cruise control. She stayed generally alert and purposeful against an overmatched opponent today, a promising sign for the future.
A little less impressive than Serena, fellow top seed Novak Djokovic toyed for longer than expected with Bobby Reynolds. The last American man left in singles forced a first-set tiebreak before the Serb settled down to business and rolled through the next two sets more convincingly. Djokovic's odds against third-round opponent Jeremy Chardy grew even stronger when rain postponed the Frenchman's second-round match to Friday.
Tomas Berdych: Playing Daniel Brands might be a good-luck charm for Berdych at Wimbledon. He defeated this unheralded but dangerous opponent en route to the 2010 final, and he repeated that result today. Berdych would crack the top five for the first time if he wins the tournament, but a quarterfinal against Djokovic looms large. His commanding form through two rounds suggests that he might harbor some hopes of repeating his upset over the Serb at Wimbledon three years ago.
Li Na: Frustrated recently in early rounds at Wimbledon, Li has positioned herself to escape that trap this year. She dominated Simona Halep in the first set, collapsed in the second, and dominated all over again in the third. Facing an opponent who had won consecutive titles in June, Li responded to adversity much more convincingly than she did in a similar situation at Roland Garros.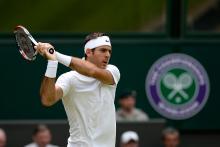 Juan Martin Del Potro: In a rare Centre Court appearance, the eighth seed did not disappoint in a businesslike dismissal of Jesse Levine. Del Potro perhaps should have overwhelmed the small Canadian lefty even more resoundingly than he did, but his career-long woes on grass make any straight-sets victory there a fine accomplishment.
Kei Nishikori: Fortunate to finish just before the rain began, Nishikori recorded a second straight comfortable victory. He moves within one round of a likely Monday clash with David Ferrer, whom he defeated on grass last year. The top-ranked Japanese man could make a move in a quarter where question marks hover over many of the seeds.
Sabine Lisicki: Her match against Eastbourne champion Elena Vesnina stood out as one of the potential thrillers of the day. It did not turn out that way as Lisicki dominated from start to finish in an uncharacteristically efficient effort. Considering Vesnina's current form, this performance should garner Lisicki some attention as one of the draw's leading dark horses. Clearly a grass specialist, the three-time Wimbledon quarterfinalist can serve her way past nearly anyone on these courts.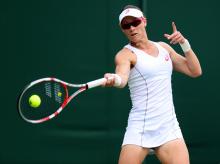 Samantha Stosur: Like Del Potro, she has struggled on grass throughout her career and never has reached the second week of Wimbledon. Two swift demolitions have moved Stosur within a round of exorcising that curse, although she will face a true test of her mettle against Lisicki. The two massive servers will not play many long rallies in that tantalizing Saturday encounter.
Igor Sijsling: The only true surprise of the day came courtesy of this powerful Dutchman, who reached the Australian Open doubles final and upset Jo-Wilfried Tsonga on an indoor hard court this year. Sijsling ushered the Canadian tower of power Milos Raonic out of Wimbledon in straight sets. In the midst of coaching uncertainty, Raonic has stagnated in 2013 with a few strong runs at small tournaments but little of note on larger stages.
Kimiko Date-Krumm: Turning 43 later this year, the perpetually smiling Japanese mother of two has reached the third round of a major for the second time this year. She knows how to pick her spots, for Date-Krumm has won more main-draw matches at the Australian Open and Wimbledon than at all of her other tournaments combined. The bad news is that she faces Serena on Saturday. The good news is that she should have the opportunity to showcase her talents on Centre Court at Wimbledon, or at least Court 1. Date-Krumm made the most of a similar opportunity at this tournament two years ago, forcing Venus Williams to the brink of elimination in a true David-vs. Goliath matchup.