Fields of Glory (III): Wimbledon Day 3 Recap

Despite his stellar record at Wimbledon, where has won seven titles, Roger Federer is no stranger to first-week drama there. He lost the first two sets to Alejandro Falla in the first round three years ago and lost the first two sets to Julien Benneteau in the third round last year. Federer used clutch fourth-set tiebreaks to regain control in both of those matches, and he faced the same situation again trailing Sergei Stakhovsky today by two sets to one.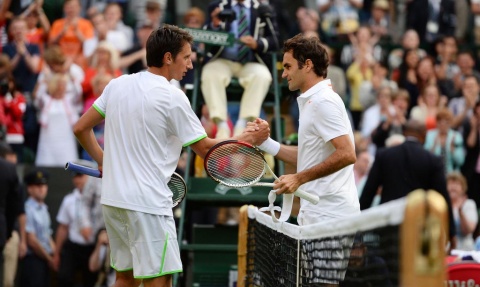 Everyone watching, Stakhovsky surely included, knew that he needed to finish the match in the fourth-set tiebreak rather than pinning his hopes on a fifth set. The world No. 116 showed no fear in its early stages, hitting the corners of the service box and rifling a clean winner for a minibreak. Two points from the upset at 5-2, though, Stakhovsky showed the inevitable nerves by shanking two groundstrokes that allowed Federer to close within 4-5.
The underdog played the next point as though he rather than his opponent was fighting for his life, stabbing one desperate volley after another to earn double match point. When Federer struck back to punish Stakhovsky for a tentative approach, only one match point remained—and, crucially, it was on Federer's serve. But no ace or sparkling winner saved the defending champion this time. Stakhovsky patiently stayed in the rally with penetrating groundstrokes until Federer sliced a tepid backhand into the doubles alley. The loss marked his earliest at a major in ten years and shattered a section of the draw that also had included Rafael Nadal, downed by Steve Darcis on Monday.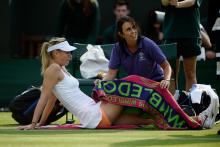 Such seismic shocks battered both draws at Wimbledon on Wednesday, as eleven other seeds and five other top-ten seeds fell. The second round claimed two of the top three women in the world, Victoria Azarenka via walkover with a leg injury and Maria Sharapova in a straight-sets loss to qualifier Michelle Larcher de Brito. Jarring her hip midway through that match, Sharapova never found her footing on the grass against an opponent determined to take all possible risks. Always most dangerous with her back to the wall, the 2004 champion sank her teeth into the final game, a miniature epic of multiple deuces as five match points and two break points rushed past. When Larcher de Brito converted her sixth opportunity, Sharapova had lost in the second round of Wimbledon for the third time in six years.
Three former women's No. 1s followed the example of Sharapova and Azarenka in starting their summer vacation early. Caroline Wozniacki has won just seven of sixteen matches since reaching the Indian Wells final this spring, a drought that continued with a second-round rout by qualifier Petra Cetkovska. The Dane had just reached the Eastbourne semifinals on grass, so she had accumulated more practice on grass than the two Serbs, Ana Ivanovic and Jelena Jankovic. Ivanovic had lost in the first round of Eastbourne, albeit to eventual champion Elena Vesnina, and Jankovic had signaled her lack of interest in Wimbledon by choosing to play on clay rather than grass after Roland Garros. Both paid the price in routine losses that left Serena Williams the only former No. 1 in the women's draw.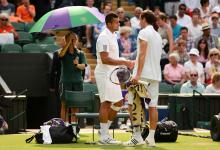 A deluge of retirements, continuing a trend from Tuesday, supported Azarenka's criticism of the surface as too dangerous to play. World No. 8 Jo-Wilfried Tsonga retired against Ernests Gulbis trailing two sets to one, while tenth seed Marin Cilic and Nadal-killer Steve Darcis never even took the court. American giant John Isner found discretion the better part of valor just one game into his second-round match, and retirements by Radek Stepanek and Yaroslava Shvedova forestalled intriguing encounters.
All of this turmoil might have left fans searching for reasons to continue watching each round of Wimbledon with the same avid interest as before. Nevertheless, plenty of reasons remain to keep your eyeballs trained on what usually is a bastion of tradition and the elite—but not this year.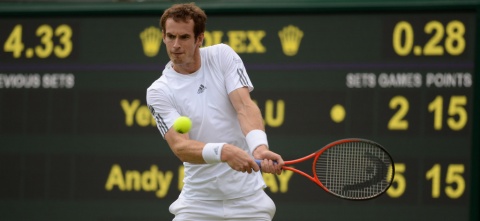 Murray's quest: As every dedicated tennis fan knows, no British man has won Wimbledon since the Second World War. World No. 2 Andy Murray reached the final last year, falling to Federer, and now his route to another final lies wide open. Murray will face Tommy Robredo on Friday, followed perhaps by Mikhail Youzhny, Gulbis in the quarterfinals, and Benoit Paire, Nicolas Almagro, or Jerzy Janowicz in the semifinals. Two commanding straight-sets victories have left him looking bulletproof so far, although Federer also started impressively before Stakhovsky ambushed him.
The Djokovic-Murray rivalry: If Murray meets Novak Djokovic a week from Sunday, as expected, these two will have contested three of the last four major finals. They split those two previous matches, Murray winning at the US Open and Djokovic at the Australian Open. Until now, their rivalry rarely has extended beyond hard courts and has not quite captured the imagination. The successor to the Federer-Nadal rivalry would take another step forward toward dominating the ATP if Wimbledon features its next chapter.
Serena's brilliance: Even if most of her matches are a foregone conclusion, the spectacle of Serena Williams on grass is worth watching. No woman ever has served like Serena, who should be favored against the field from here as she aims to tie Federer with 17 major titles. On the other hand, her history suggests that we should take nothing for granted but instead expect the unexpected.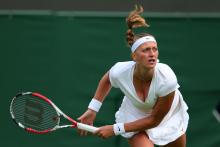 Kvitova's opportunity: The only remaining top-eight woman in the bottom half, Petra Kvitova eyes the opportunity of reaching a second Wimbledon final in three years. Her recent form offers little cause for confidence, for she has won just one title in 2013 and lost in the first week of both previous majors. Perhaps fortunate to receive a second-round walkover from Yaroslava Shvedova, Kvitova flirted with disaster in the first round against the unheralded Coco Vandeweghe. Her quick-strike style fits grass better than any other surface, but another challenging test awaits on Friday against Ekaterina Makarova.
The future of the ATP: Hardly rising stars themselves, Steve Darcis and Sergei Stakhovsky might have emboldened some of the underdogs around them by knocking off Nadal and Federer, respectively. That emptied quarter will produce a surprise semifinalist, possibly one of two men who could reach the top 10 someday. The explosive serves of Benoit Paire and Jerzy Janowicz might propel them into a quarterfinal clash that could mark the start of a future rivalry. In Murray's quarter, the resurgent Ernests Gulbis must fancy his chances to reach his first major quarterfinal in over five years.
The future of the WTA: Some of the young women who delivered early upsets rank among the rising talents expected to shine in the future. The future might come a little earlier than expected for players like Eugenie Bouchard (d. Ivanovic), Laura Robson (d. Kirilenko), and Monica Puig (d. Errani). And the future might be brighter than anticipated for Sharapova's conqueror, Larcher de Brito, although only time will tell in the case of a 20-year-old with stronger lungs than serve. Spearheading the charge of Generation Next is Sloane Stephens, who needed to battle through an epic third set to survive Andrea Petkovic. Few would have thought when the season began that Stephens could reach two major semifinals in 2013, but she will face no obstacle more dangerous than Marion Bartoli before that round at Wimbledon.
The surface: So littered with injuries is this tournament that its management felt compelled to issue a statement on Wednesday, claiming that it had done nothing different to prepare the courts this year. Many notable players would disagree, from Azarenka (knee) and Sharapova (hip) to Wozniacki (foot), and plenty of lesser players would echo the first two of those women in calling the surface "dangerous." No matter what the All England Club says, the staggering casualty rate and the widespread slipping of uninjured players suggest that something unusual is—literally—afoot. More twists, turns, and tumbles might continue the chaos as the tournament unfolds.