Fields of Glory (I): Wimbledon Day 1 Recap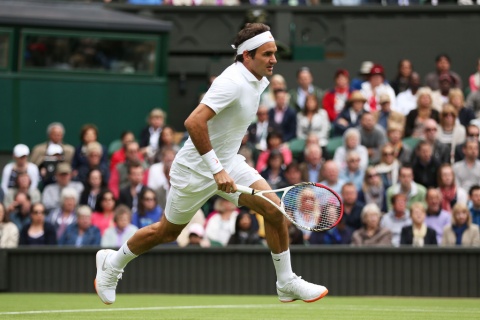 During the Wimbledon fortnight, a series of articles on this site will highlight the players who excelled the most in each day's action. The structure parallels the daily articles on Roland Garros last month.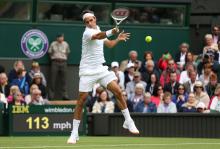 Top-four seeds: While several notable upsets unfolded on Day 1, the men's defending champion never faced a tremor of trouble. Roger Federer strode onto Centre Court to open the fortnight's play for the eighth time, a record, but he did not stay there long. Dropping just five games in a 68-minute rout, Federer sent a message to rivals such as Andy Murray. Quick to respond, the British hope also advanced in straight sets.
Between them on Centre Court towered 2004 champion Maria Sharapova, who found Kristina Mladenovic all that she could handle throughout a tense first set. Sharapova never surrendered her serve despite a sprinkle of double faults, though, and she eked out a tiebreak before controlling the second set. The scare that she experienced paled in comparison to the injury scare that befell world No. 2 Victoria Azarenka in the second set of her opener. Falling awkwardly onto her leg behind the baseline, Azarenka showed visible signs of pain before recovering to win comfortably.
Monica Puig: The intriguing new talent from Puerto Rico notched her first victory over a top-five opponent when she dominated Sara Errani. Following fellow fifth seed Nadal to the exit, Errani never harbored real hopes to contend on grass. All the same, Puig should take pride from her accomplishment at this most prestigious of tournaments and confidence that she can advance further into the draw.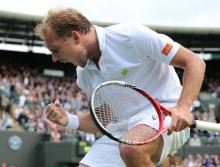 Steve Darcis: A blueprint for the type of dark horse who can threaten Rafael Nadal has emerged over the years, illustrated by Robin Soderling and Lukas Rosol. These men usually stand much taller than Rafa, wield wicked two-handed backhands, and confront their seemingly impossible mission with a defiant swagger. The 135th-ranked Steve Darcis fits none of those categories, yet he stunned a sluggish Nadal in straight sets with inspired bursts of shot-making. Late in the second set, the Spaniard threatened to wrest away the momentum, as he had when trailing early in his first match at Roland Garros. Standing tall at just 5'10", Darcis denied him the breathing room to recover and became the first man to halt Nadal in the first round of a major.
Sloane Stephens: Few bright spots emerged from a 2-7 opening day for American women, but the 17th seed started her campaign convincingly at the expense of a compatriot. That compatriot, Jamie Hampton, had just upset two top-ten opponents en route to the Eastbourne final. But Stephens stopped her in straight sets as she pursues a third straight second-week appearance at a major.
Lleyton Hewitt: Before the current Big Four burst upon us, Hewitt stood on the verge of becoming his generation's defining player. The Aussie won Wimbledon in 2002 for his second major title, but eleven long years have passed since then as injuries have taken their toll on his grinding game. Hewitt turned back the clock on Monday to upset the 11th-seeded Stanislas Wawrinka, a player enjoying the best year of his career. In the section of the draw vacated by Nadal, this fierce competitor has a real chance to string together a deep run.
Andrea Petkovic: Rare are the Wimbledon main draw wildcards granted to women who are neither British nor former contenders there. Andrea Petkovic must have felt grateful to receive that gift, and she rewarded tournament organizers with a comfortable victory. The entertaining, often injured German may have started to reverse her recent string of bad luck.
American men: Toppled by Evgeny Donskoy in Eastbourne the week before, John Isner avenged that loss on a much more significant stage by defeating Donskoy at Wimbledon. Doubles specialist Rajeev Ram also showed why grass is his most dangerous surface in a four-set win.
Serbian women: All four of them advanced on the first day of a tournament where they usually struggle. While Ana Ivanovic and Jelena Jankovic cruised, Vesna Dolonc and Bojana Jovanovski needed to battle through three-setters. Especially notable was Jovanovski's victory over Ajla Tomljanovic, a young talent from Croatia. That match became the first of Wimbledon 2013 to extend past 6-6 in the final set, lasting 16 games before Jovanovski struck a blow for Serbia in a long-standing Balkans rivalry.