Fernando Gonzalez, Tim Henman Discuss Decline of Serve and Volley

Fernando Gonzalez ended the home interest at the Statoil Masters this week by bludgeoning his way past Tim Henman 6-4, 2-6, 10-6 to set up a clash against either Andy Roddick or Xavier Malisse in Sunday's final.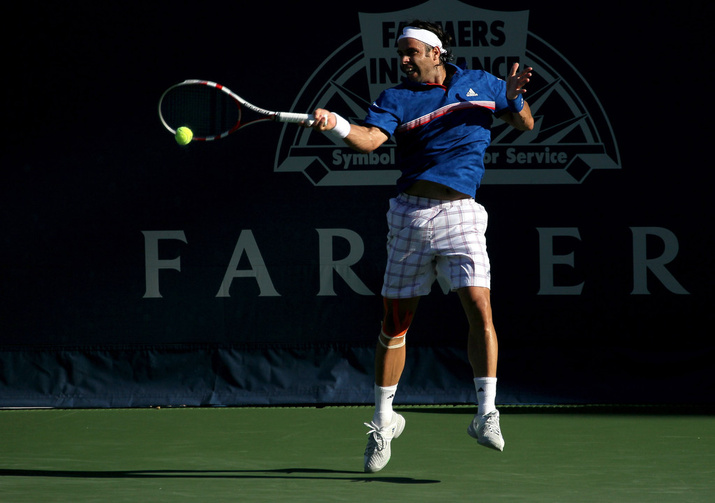 Henman often had the measure of the Chilean when they met on the professional tour, winning three of their five encounters, but Gonzalez's lethal forehand gave him the edge on the super-quick indoor court at London's Royal Albert Hall.
It's the sort of surface that used to be commonplace when Henman was a fixture in the top 10 in the late 1990s, but it's rarely seen nowadays at the top end of men's tennis. Henman believes it won't be long before we see serve-volley disappear for good from the professional game.
"I think it's difficult," he said. "This is a great surface for trying to get forward because it's a little bit quicker and you can keep the ball down a little bit. Whereas, I think a lot of the surfaces that the main tour is played on, it's more abrasive, the ball bounces higher. The way the guys move, they hit the ball so aggressively from the baseline and then their technique is not so good at the net, so it's sort of a double negative. I'm not sure we'll see so much volleying anymore."
Even with the abundance of raw power Gonzalez is capable of generating off the ground, he was consistently troubled when Henman attacked the net, and he agreed that it remains a difficult tactic to deal with, on the right surface.
"It was really tough to play against," he said. "It was tough and at the same time fun, because he's a very classic player and he comes into the net. He's got a great slice and gave me a lot of trouble. His return, chip and charge, serve and volley…it was very fun, but at the same time very tough."
Gonzalez says he enjoys watching the younger players who show a little more variety from the stereotypical baseline ball-basher. "(Grigor) Dimitrov, he's a great player and he's improving. He has great shots and he's very good at the net. I haven't watched (Dominic) Thiem that much but he's another one."
And while Dimitrov in particular has made rapid progress over the past year, Gonzalez says he expects the same collection of players to continue reaching the latter stages of the Grand Slams.
"I think it's going to stay like this for a couple of more years maybe. We have to see for how long Roger (Federer) can play, I think he can play at least three more years and he'll always be dangerous.I enjoyed being part of this era, because this era made me improve, made me a better tennis later, but maybe took away my best results. But I'm happy because sometimes I played really good tennis… well for sure I could have done much better if I didn't play Roger many times or Rafa (Nadal)."