Fernando Gonzalez Content in Retirement

It's now seven years since Fernando Gonzalez bludgeoned his way to the final of the Australian Open, leaving Rafael Nadal and others trailing in his wake, but at the age of 34 the Chilean's forehand has lost none of its legendary venom.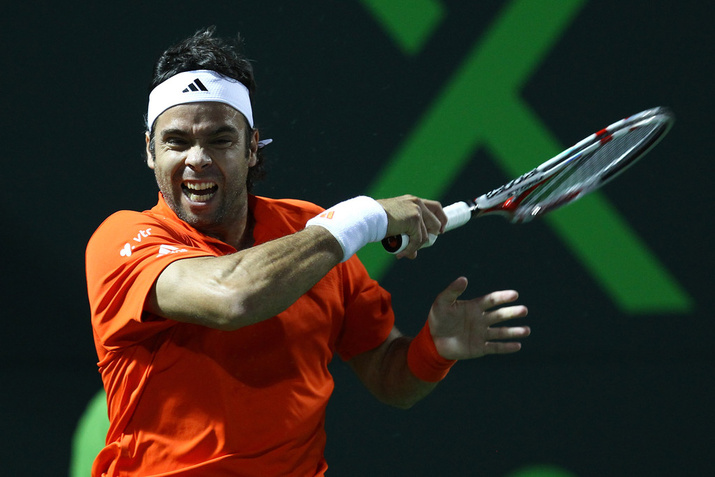 Gonzalez retired in 2012 following a career thathad seen him win three Olympic medals (including a doubles gold in Athens) as well as that final in Melbourne and a semifinal showing on the clay of Roland Garros. One of the great entertainers of his generation, Gonzalez remains a popular figure with crowds around the world on the Champions Tour.
Gonzalez isn't especially well known to British crowds. After all, the best he ever managed at Wimbledon was the quarterfinals, but his brand of athleticism and brute force proved an enthralling mix on Thursday afternoon as he saw off Thomas Enqvist 6-4, 6-3 in his opening match of this week's Statoil Masters at the Royal Albert Hall.
Enqvist, who reached his peak back in 1999 when he made the final of the Australian Open, held his own admirably well for a man six years Gonzalez's senior, but ultimately the Chilean's piercing blows from the back of the court were too much to handle. Gonzalez will be a firm favorite against Britain's Tim Henman on Saturday afternoon with the winner likely to face Andy Roddick in Sunday's final.
Gonzalez continues to regularly pop up at Tour events around the world in his new role as coach to Columbia's Santiago Giraldo. While still competing, Gonzalez always insisted he would never coach, but it only took a couple of years for an offer to come along that tempted him.
"I said I would never do it because I traveled too much and I played too much and I pushed my body to the limit," he said. "But now I'm really happy I'm working with Santiago. It's interesting because you realise how much you've learned during your career. Maybe sometimes when you're playing you know a lot about the game but you don't realize it. It used to be about you and now it's about the game."
Gonzalez accompanies Giraldo to around 10 tournaments a year and even competes against his protégée in the occasional exhibition, but he insists there's no way he could still be playing professionally himself, unlike fellow thirty-somethings like Roger Federer, David Ferrer, and Lleyton Hewitt.
"I have too many hours playing, my body didn't respond like I wanted," he said. "It was a really nice part of my life and now I have different goals. Of course I would love to play the Grand Slams again. But what do I have to do to play the tournament? I have to train and I have to do many things and I don't feel like doing it 100 per cent again so it's better to stay away."