Fernandez Advances After Thrilling Comeback At Indian Wells

On Sunday night, US Open finalist and Canadian teenage sensation Leylah Fernandez was the headliner for the night match on the main stadium at Indian Wells.
In their first meeting, world No. 28 Fernandez defeated world No. 13 Anastasia Pavlyuchenkova of Russia 5-7, 6-3, 6-4 in two hours and 42 minutes.
The Russian plays an aggressive game with crushing groundstrokes. She has a serve that combines power and placement.
Fernandez, a lefty with a slight frame, resembles a ballerina with her light steps, hair pulled back in a bun, and white flowing skirt. She is easy to cheer for with her sparkling shot-making and scrappy resolve.
In her post-match press conference, Fernandez said: "I did not play my best tennis, made a few mistakes here and there, and she took advantage of it. I was glad I was able to fight back in the second set and figure a way to get the ball back in one more time, take my chances when I got them."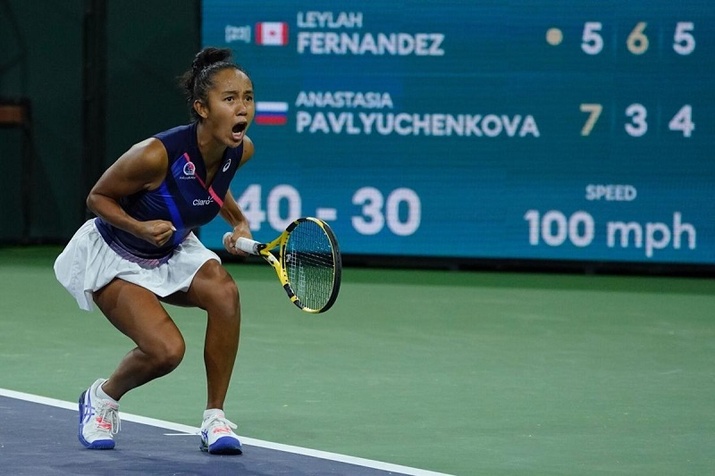 (AP Photo/Mark J. Terrill)
But to me as a spectator, she played enthralling tennis. She stayed positive and seemed to always be figuring things out.
Fernandez said: "I think the whole game maybe technically I was a little uncomfortable. Tonight wasn't the best feeling ball-wise. She was hitting well her targets. I was missing them by maybe an inch or two. That definitely made a difference in the first set.
"I'm not going to be playing my best tennis all the time. I know where my level is at during trainings, I know what I can produce on court. I'm always hard on myself, which is good and bad. I'm learning to kind of accept the good and the bad, seeing what I can improve on.
That's what's important right now, that I know I can do a lot better, and I know tomorrow is going to be a new day, a new match, new training session, so I can get better for my next match."
Fernandez's next match will be against American Shelby Rogers.
Fernandez said of Rogers: "I've played against her last year. It was definitely a good match. I had a lot to learn from that loss. The few days that we're going to play, it's going to be a tough battle. Tomorrow I'm just going to talk with my coach, with my dad, to see what I can improve, what I can do, what will be the game plan, just try to execute it from there."
Many players have been talking about the slow conditions of the courts at Indian Wells, how it is hard to hit a winner or an ace.
Fernandez spoke about how she's been adjusting: "I would say staying a little bit more patient. It is definitely slower than New York. I'm adjusting pretty well. I know that the ball is going to come back one way or another, so I just got to be ready for the ball to bounce in. I have to be patient, have to fight to get that ball inside the court to make my opponents uncomfortable. Just being patient and wait for the right moment to hit a winner or be aggressive."