Federer Defeats Wawrinka For Fifth Indian Wells Title
When Roger Federer took a leave of absence from the sport last summer after Wimbledon, some wondered if he would return or whether it was the beginning of the end of his iconic career. He not only returned to the sport but did so at an extraordinarily high level, winning the Australian Open. On Sunday, he added the BNP Paribas Open title to his stellar comeback with a 6-4, 7-5 win against Stan Wawrinka.
In the first set, it was business as usual for Federer as he kept his compatriot off-balance and on the defensive with laser-like, precision groundstrokes. Playing with a quick pace and mixing his tactics, including implementing his sneak attack return of serve strategy, he took the set in just 29 minutes.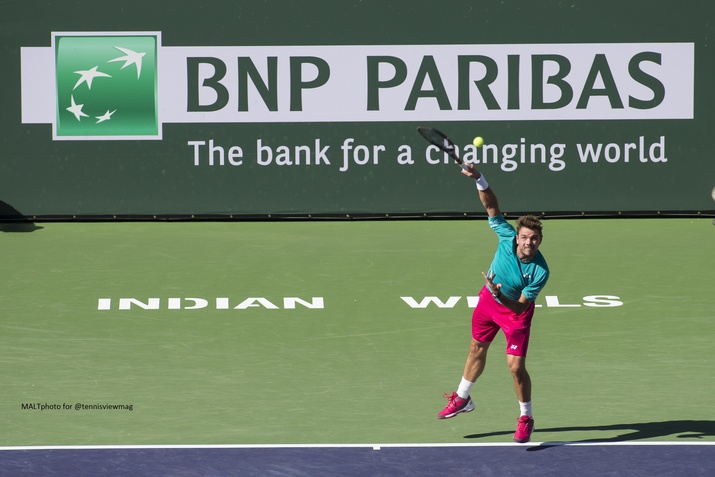 Wawrinka settled down at the beginning of the second set and quickly gained a service break. He would consolidate it to gain a 2-0 advantage as his confidence began to grow. However, it was short-lived as the 35-year-old broke back to even the set at 2-2. Neither player could find inroads into their opponent's serve again until late in the set with Wawrinka serving to stay in the match at 5-6. Sensing the finish line was near, Federer won the last three points of the match to earn the victory on a service break.
Federer extended his dominant head-to-head record against Wawrinka to 20-3 and has now won their last four meetings. With the win, he became the oldest player to win a Masters 1000 tournament. It was his fifth Indian Wells title.
Federer moves to 14-1 in 2017 and continues his string of exceptional play. Both players exhibited a lot of emotion during the match. The champ addressed that afterward, "Yeah, I mean, look, sports is emotional. So, when you win or when you lose, sometimes it's stronger than you. I like to see it. I think fans like to see it, too, seeing that players actually care a lot about winning and losing," he said.
"At the same time, I think Stan can be very proud of his efforts here and the start to the year. And the tournament he played here was great for him. He's always struggled in the past in the desert. And then, for me, the dream run continues."
Speaking during the trophy presentation, a teary-eyed Wawrinka used an expletive in a brotherly way to describe his friend. Later, asked why he was so emotional, Wawrinka responded. "Well, I don't know (smiling). You know, it's a tough loss. Probably a bit of everything, you know, but some tough match. In a way, I'm really happy to make the final. It's a great result on that, but you always want more," he said. "And to lose a final, it's never easy. Had some really tough weeks, also, after Australian Open. I was injured. It was really tough for me. Anyway, I'm really happy to be that quick at that level but still lost the final. So, it wasn't easy."
Federer is scheduled for the Miami Masters next week where he hopes to continue his run. He won the title in south Florida in 2005 and 2006. Meanwhile, Wawrinka will look to regroup and bounce back there.