Federer Avenges Australian Loss to Seppi

Before 2015, a third-round match pitting the legendary Roger Federer against the unassuming Andreas Seppi would not have drawn many eyeballs. Federer had won all 10 of their meetings, exploiting his distinct superiority as a server and overall shot-maker. While Seppi defended and competed well, he seemed to have no real answers for the Swiss—until this year.
At the Australian Open, the Italian stunned Federer in a four-set encounter during which he took more chances and showed more confidence than ever before in their matches. The 18-time major champion suffers a few more unexpected stumbles now than at his peak, but the result still stunned because of their history and his seemingly insurmountable advantages in the matchup. Just two months later, Federer had his chance for revenge under the lights of the BNP Paribas Open.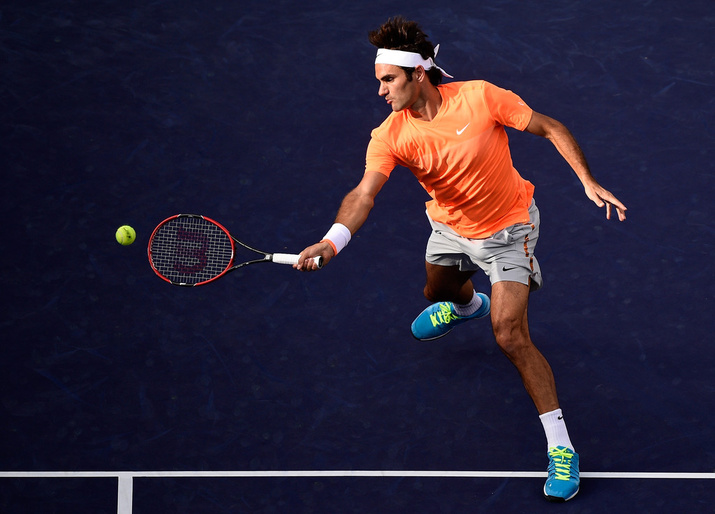 The slow, gritty hard court seemed likely to favor the clay-loving Italian, and the upset bug was in the air after his countrywoman had toppled world No. 2 Maria Sharapova just before the two men took the court. Unlike Flavia Pennetta, however, Seppi did not wear the look of someone who believed that he could play the role of a giant-killer. He stayed even with Federer through the first several games but always seemed under the greater pressure of the pair. As with most of their pre-2015 clashes, the disparity between their serves loomed large. Federer served himself out of the occasional adversity that he faced in the first set, while Seppi needed to methodically work through rallies. This subjected him to much more pressure, and it told soon enough. Although Federer squandered his first few opportunities to break serve, a series of mishits by the Italian allowed a 40-15 lead to slip away when he served at 3-4. One last framed groundstroke gave Federer the chance to close out the first set.
It was easier said than done, for Seppi bravely carved out two break points. Undaunted by the unexpected turn of events, Federer collected himself and constructed two tactically crisp rallies. He then slammed the door on the first set with an ace, serving notice that he was in no mood to let lightning strike twice.
Seppi faced an uphill battle at this stage, for Federer had not lost after winning the first set since the Wimbledon final last summer, a span of 39 matches. The underdog gamely fought off a break point early in the second set and battled back from an early deficit by securing a break of his own. His swing of good fortune was short-lived. Federer regained the break advantage immediately with a vicious cross-court forehand winner off a return of serve, and he never looked back from there. Although Seppi saved several match points on his own serve at 3-5, Federer closed out their encounter on his own serve a game later for a straightforward 6-3 6-4 victory in just 82 minutes.
Reading too much into an early-round match is a dangerous thing to do, even in the context of an opponent who had won his last meeting with Federer. Still, the 18-time major champion showed that he could play his first-strike, forwardly mobile brand of tennis with success even on one of the slowest hard courts in the world. His backhand slice had plenty of bite, while his footwork and his touch at the net were generally crisp. He also took a few more chances on the return of serve, rather than simply chipping it back into play. Federer's efficiency in this match, as in his opener, should help him conserve energy for later in the tournament in more arduous encounters.
Up next for the world No. 2 is bold young American Jack Sock, who will be playing with nothing to lose. A free-swinging big server playing on home soil is often a challenge in those situations, as Federer shuold know after falling to Mardy Fish at indian Wells in 2008. But the authority with which the Swiss star has advanced so far invites fans to look ahead toward a quarterfinal against Tomas Berdych. Considering Berdych's strong recent form, that match would be a true measuring stick of whether last year's Indian Wells finalist can go one step further in 2015.