Feats of Clay (VIII): Roland Garros Day 8 Recap

As remarkable as it seems, half of the Roland Garros quarterfinal lineup has emerged. Here's a glance across who shone at the start of the second week.
---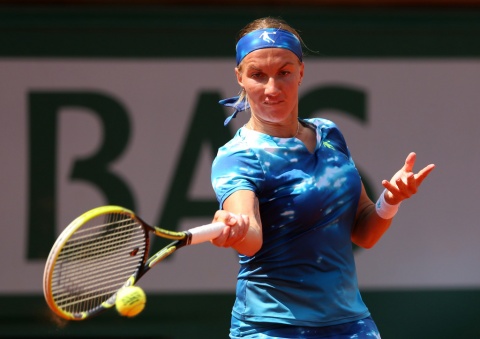 Svetlana Kuznetsova: For the second straight major, the unseeded Russian upset a top-ten woman in three scintillating sets to reach the quarterfinals. Kuznetsova pounded nearly fifty winners at world No. 8 Angelique Kerber, an excellent defender but unable to cope with her opponent's forehand and athleticism. Up next for the resurgent Russian is a rematch of a 2009 quarterfinal here with Serena Williams, whom she ousted in a classic thriller en route to the title that year.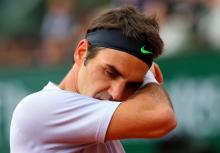 Roger Federer: Vastly different from his first three romps in the Paris sun was Federer's fourth-round match against Gilles Simon. A second-set stumble threated to derail him completely as the tenacious Frenchman bounced back from losing the first set to sweep the next two. With his back against the wall in the fourth set, though, Federer mustered his experience and will to reel off seven straight games and turn the match around. He now has reached the quarterfinals or better at every major since Wimbledon 2004, a nine-year span of brilliance unthinkable for most players.
Serena Williams: Her opponent actually made things interesting for half a set after the usual first-set stroll for the world No. 1. Serena has not played a competitive match for so long that Roberta Vinci might have expected to catch her off guard when she claimed a 3-3, 30-15 lead in the second set. Not to worry; the 15-time major champion moved ever closer to No. 16 by sweeping the next three games.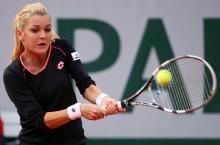 Fourth seeds: Much higher expectations attended David Ferrer entering this tournament than Agnieszka Radwanska, but both have flown under the radar as usual. Maybe we should start adjusting our radar, now that Ferrer and Radwanska have reached the quarterfinals without dropping a set. Granted, both received easy draws. Still, both made easy draws look easy as Ferrer utterly annihilated South African giant Kevin Anderson and Radwanska never looked in danger of losing to 2008 champion Ana Ivanovic.
Sara Errani: Like Federer, she raced through her first three opponents in bulletproof mode before confronting some unexpectedly intense resistance when the second week began. Also like Federer, Errani dug out of an early deficit against Carla Suarez Navarro to notch her tenth victory at Roland Garros of the last two years. An intriguing quarterfinal of two top-five women awaits when she meets Radwanska. While she has struggled against the Pole in the past, Errani will hold the surface edge and the Italian voodoo spell over Paris that Schiavone seems to have bequeathed to her.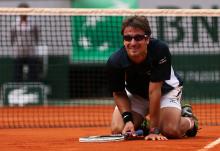 Tommy Robredo: The Spanish veteran ended the story of the tournament in Gael Monfils but has created a new story of the tournament. Robredo's three consecutive comebacks from that situation have set an Open era record, marking the most of any man since 1927. Battered by injury, Robredo looked certain to sink into an irreversible decline two months ago. Now, he has reached his first major quarterfinal in four years and should see his ranking climb sharply after the tournament.
Jo-Wilfried Tsonga: Twelve sets played, twelve sets won en route to a second straight quarterfinal here. French fans need little reminder of what Tsonga did against Novak Djokovic in last year's quarterfinal. Will he serve them a similarly bittersweet potion when he faces Federer on Tuesday?