The Fab Five: US Open Men's Contenders Capsules

Ranking the men's favorites for the 2013 US Open grew easier in some ways and harder in others over the last few weeks. Nevertheless, we present a hierarchy of their title hopes based on a mixture of factors, combining long-range history with recent trends.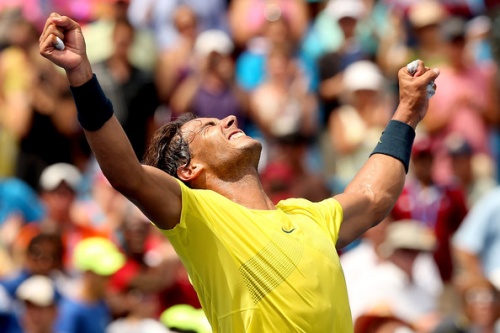 1) Rafael Nadal: Raise your hand if you thought that the 2010 US Open champion would arrive in New York undefeated on hard courts this season. For the first time in his career, Nadal has won three Masters 1000 titles on hard courts in one year, and he became just the fourth man to complete the Canada/Cincinnati summer double. Two of the previous three men raised the trophy in New York. Thwarted by Djokovic at non-clay majors in 2011-12, Nadal reversed the trajectory of that rivalry by sweeping two thrilling meetings with the world No. 1 at Roland Garros and the Rogers Cup. He has swept his three matches against Federer this year as well, one of them on a fast court in Cincinnati. As healthy and hungry as ever, Nadal must continue the aggressive court positioning and shot-making that he displayed over the last two weeks. His Achilles heel, as usual, remains a serve less impressive than in his 2010 title run.
2) Andy Murray: The US Open defending champion has reached the final at each of the last five majors that he has played. Murray's desultory efforts in Canada and Cincinnati do not differ strikingly from his results at those tournaments last year, so they should count for little in forecasting his prospects. Cracking the Wimbledon code will have liberated Murray from a burden that he shouldered for much of his career, assuming that he can avoid an understandable hangover. He holds the momentum in his rivalry with Novak Djokovic after defeating the Serb in the Wimbledon final. The best-of-five format also should help him outlast the ebbs and flows in Roger Federer's aging game. More intriguing is the possibility of a clash with Nadal, whom Murray has not faced this year. They have split their two previous US Open meetings, although the Spaniard has held a clear advantage over the Scot in general.
3) Novak Djokovic: The body language of the world No. 1 left much to be desired in his losses at Wimbledon, the Rogers Cup, and Cincinnati. With the notable exception of Monte Carlo, Djokovic has won no title of note since he started the season with a 17-match winning streak at the Australian Open and Dubai. Together with depleted confidence, frustration and anger have begun to simmer in a man moody even at his best. But, while Djokovic has won four of his six majors in Melbourne, he has recorded his most consistent results in New York. The Serb has reached at least the semifinals at the US Open in each of his appearances since 2007, which also include four finals and the 2011 title. He has reached the final at the last five hard-court majors, and memories of his victory over Nadal two years ago might ease more recent scars inflicted by that rival. Djokovic's convincing victory over Murray in Australia could serve the same purpose.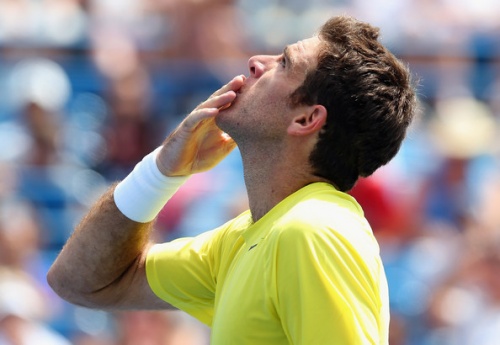 4) Juan Martin Del Potro: A champion in New York four years ago, Del Potro has shown glimmers of his former self over the ensuing years without quite bursting back into glory. A five-set Wimbledon semifinal against Djokovic suggested that something special might lie just around the corner for the Tower of Tandil. Del Potro also won the Washington title this summer, as he did when he claimed the US Open in 2009. The wrist injury that has troubled him since then resurfaced at Cincinnati, though, hampering his backhand in particular. Del Potro needs full health to unleash his fearsome groundstrokes effectively, so his wrist will merit watching as the fortnight unfolds. He scored key hard-court wins over Murray and Djokovic at Indian Wells this spring, and he recaptured the momentum from Federer last fall. Nadal remains the thorn in Del Potro's side, having won their last four meetings.
5) Roger Federer: From his first title there in 2004 through 2011, Federer either reached the final or held match points in the semifinal of the US Open each year. A quarterfinal loss to Tomas Berdych may have signaled a regression in 2012, but a far more striking regression has occurred in 2013. Federer has won only one title in the last 12 months, and that at the lowly 250 level, while he has recorded just one victory this year over a top-10 opponent (Jo-Wilfried Tsonga at the Australian Open). The Swiss star did recapture some of his vintage brilliance in a three-setter with Nadal in Cincinnati, only to drop outside the top five for the first time in over a decade when he lost it. Federer holds the momentum in none of his key rivalries against Nadal, Djokovic, and Murray, although he has not faced the Serb this year. He likely will need to defeat at least two and perhaps all three of those men to win his 18th major.
Left off this list are two top-eight men who cannot challenge for the title but might have a say in who does. New world No. 5 Tomas Berdych has defeated both Djokovic and Murray at Masters 1000 tournaments over the last few months, including a Cincinnati win over the Scot. As mentioned above, Berdych also stunned Federer at last year's US Open, and his successes against the Swiss have multiplied with time. Probably less of a threat is world No. 4 David Ferrer, who exited in his opening round at both of the Masters 1000 hard-court tournaments this summer. Ferrer has accomplished little against any of the Big Four on hard courts since a victory over an injured Nadal at the 2011 Australian Open. Still, he has recorded some of his best career results on this surface with finals at Miami and the year-end championships. Anyone who faces him will have to work hard before securing the victory.
Return later for a look at the US Open women's contenders, and tomorrow for a look at the dark horses. Those are players outside each top 10 who could mount a run or score an upset more impressive than their ranking s suggest.