Examining The Impact Of Coaches Who Are Former Champions

Last week Novak Djokovic parted ways with his double-headed coaching team of Andre Agassi and Radek Stepanek. Students of tennis history will have foregone surprise at the news. It is common for players to cut loose their coaches after a period of bad form - presumably the person instructing a player is symbolic of losing ways and ditching them would feel like a fresh start. The importance of a coach in victory or defeat should not be overstated. Tennis is, after all, an individual sport (no one can swing the racket for you).
Nonetheless, in recent years, the top players on the men's tour have had great success by seeking the aid of former champions of the sport. Indeed, the correlation between the prestige of the coach and the success of the player is uncanny. A prime example of such a partnership was Ivan Lendl's coaching of Andy Murray. Lendl guided Murray through the greatest successes of his career including but not limited to his Wimbledon titles (ironically, the only major that eluded the great baseliner himself), his Olympic gold medal, and his achieving the pinnacle of the men's game by becoming world number 1. A less well-documented success story in the collaboration between Federer and his childhood idol and all-time great Stefan Edberg.
After exactly two years (late 2013 to late 2015) working together, Federer and Edberg had no Grand Slam titles to show for it, but the change in Federer's game - increased aggression and a focus on volleying - and the steady resurrection of his confidence undeniably enabled his late career resurgence that continues to this day under esteemed former player Ivan Ljubicic. More recently, former world number one Carlos Moya taking a co-coaching role with Rafael Nadal's long-time mentor and uncle (Toni) - which was later revealed to be a transitional period - meant for a fantastic 2017 season in which Nadal achieved the accolade of the oldest ever year-end world number one.
Statistically speaking, the most successful of these partnerships was that of Djokovic himself and Boris Becker. After taking Becker on as coach, Djokovic's Grand Slam count accelerated as he claimed 6 of a possible 12 slams during their 3 years together. A dip in Djokovic's form in late 2016 which saw him forfeit the number 1 spot preceded his eventual split with Becker. In hindsight, this set the precedent for his split with Agassi and Stepanek following a 3-match losing streak. His last 2 losses came in the 'Sunshine Double' of Indian Wells and Miami where he lost to Taro Daniel (ranked 111) and Benoit Paire (ranked 47) respectively. A crowning glory of his reign at the top with Becker was Djokovic's ability to shrug off low ranked opponents - seemingly suffering fewer losses to unseeded opponents than Federer or Nadal had in their heyday. This feature of Djokovic's tenure as number 1 gives some pundits cause to declare him as a more dominant force in tennis than Federer or Nadal ever were. These shock exits from two tournaments that have seen him victorious on many occasions in the past called for some revision of his game and Djokovic started with his coaching staff.
Stepanek was no slouch on the court, achieving a career-high of world number 8, but the main talking point of Djokovic's former coaching team was the fact that it included a legend of the game in Agassi. There were reports that the partnership was troubled from the outset lending to Agassi's failure to show up during the early rounds of tournaments with less prestige, if at all. Agassi and Djokovic are both well known as fiery characters on the court and this perhaps made for a less than harmonious combination. Evidence that the relationship grew colder over its course exists in Djokovic's public statement announcing his recent decision in which Stepanek is afforded all the praise and Agassi is a mere footnote.
It could be argued that players with more modest success make for better coaches. Tony Roche is a former world number 2 and winner of the French Open. He was an exceptional player in singles and doubles (winning 12 Grand Slams with fellow Aussie John Newcombe) but will not be looked back on as an all-time great. His coaching career, however, will certainly be remembered for centuries to come as he has led Ivan Lendl, Pat Rafter, and Roger Federer all to the top of the men's game. Roche's understanding of the sport seems to be impeccable. Indeed, after his time coaching Federer had come to an end, he predicted the great Swiss' longevity and, when all around him doubted, spoke out about his belief that Federer would win more majors due his mental fortitude and natural agility.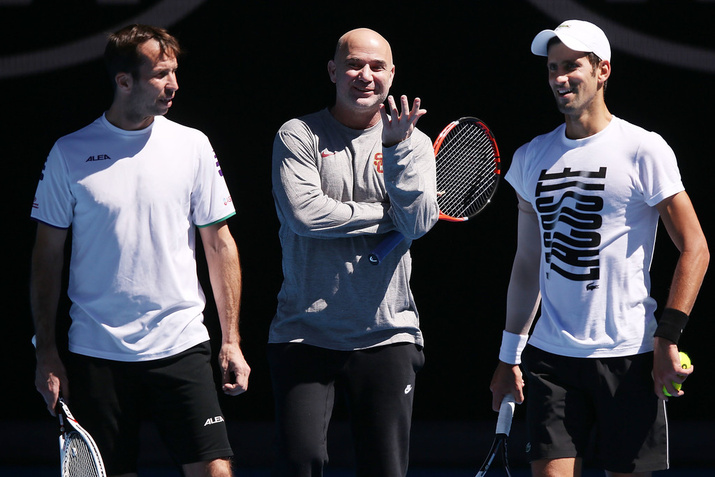 Another venerated coach Brad Gilbert was a world number 4 in his time but has had a far more successful career in the coach's box. He took Andy Murray to a career-high ranking from 2006 to 2007 and helped Andy Roddick regain his number 1 spot and win the US Open. Gilbert also coached Agassi himself to 6 grand slam titles, who described him as the greatest coach of all time - an accolade that Agassi will surely not give himself after his time with Djokovic.
It's impossible to predict how the split with his coaching team will affect Djokovic's game. He might welcome some time to fly solo - a decision which Federer made in 2004 which led to one of his most successful seasons, in which he won 3 Grand Slams without a coach. This seems an unlikely route for the Serb however as, in the past couple of days, it has become apparent that Djokovic will be rejoined by his former coach Marian Vajda for the upcoming Masters tournament in Monte Carlo. However he decides to proceed, fans of the game will be unanimously hoping for Djokovic to emulate his great rivals Federer and Nadal and return to the top of the rankings. It's not quite the same without him.