Event Recap

At Long Last Verdasco Victory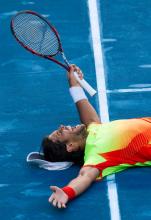 After 7 years of losing to fellow countryman Rafael Nadal, Fernando Verdasco finally broke the cycle when he triumphed 6-3, 3-6, 7-5 at the Madrid Open. Nadal, who was unable to close out a 5-2 lead in the third set, said the new blue clay surface destabilized the game. "Being able to move is very important for me and if I can't move well, I can't hit the ball well either," complained Nadal. The victory, which Verdasco says is the happiest day in his career, improved his record to 1-13. "After losing so many times against honestly the best player on clay ever, to beat him on clay is the maximum. I don't have words. I am happy for the win, although it is difficult to hold myself together now."
Serena Shifts Into High Gear
With the power of a Mack Truck, Serena Williams recently rolled past top rivals Caroline Wozniacki, Maria Sharapova and Victoria Azarenka with ease. Before winning the Madrid Open, it had been almost a decade since she earned a European clay court title. With the victory, she rose to No. 6, her highest ranking since January 2011. In addition, the 41st WTA title ties her with Kim Clijsters for 13th-most of the Open Era. "I belong on a tennis court. That's where I feel amazing," says the No. 1 American.
Top-Form Tomas
World No. 7 Tomas Berdych is playing top-form tennis and looking to climb further up the rankings. The Czech, who has one of the most effective forehands on tour, gave Roger Federer a run for his money during the final of Madrid. In what was perhaps his greatest performance under pressure, Berdych excited a packed stadium of fans until the last deciding point. "I would just say that it was a very close game. You sometimes need to make those small adjustments to win a match like this," said the composed Berdych, losing 3-6, 7-5, 7-5.
Federer One Closer to One
For the first time since March 14, 2011, Roger Federer returned to world No. 2. The bump in ranking followed theMadrid victory in the final against Berdych, a win that also gave him a record-equalling 20th ATP World Tour Masters 1000 titles tied with Nadal. "It's always an ideal scenario for what's to come," said the 30-year-old Federer, who looks beyond clay toWimbledon and the Olympics to validate his prestige and place in history. Look for the Swiss to bring his best as the summer tournaments unfold.
Tipsarevic Points for Posture
While a disgruntled Djokovic – disturbed with the new surface at Madrid – kicked clay and shook his head, Janko Tipsarevic stayed on task until dismissing the world No. 1, 7-6[2], 6-3 in the quarterfinal. Tipsarevic proves that a positive attitude, along with one of the best backhands on tour, can topple even the best.
This article is from the July / August 2012 issue

SOLD OUT

Subscribe now and you'll never miss an issue!