An Even Dozen! Nadal Wins Another French Title

"You can't be frustrated all the time because the neighbor has a bigger house than you (smiling) or a bigger TV or better garden," said Rafael Nadal, shaking his head. "That's not the way that I see the life, you know."
Rafael Nadal was speaking hours after he had defeated Dominic Thiem 6-3 5-7 6-1 6-1 to win his record-extending 12th Roland Garros title and 18th overall. The debate over the greatest of all time is reaching its apex and Nadal's victory pushed him to within two slams of Roger Federer, the closest he has ever been in his career. As he bathed in his success, Nadal said that his greatest rival was far from his mind.
"I just try to do my way. I feel very lucky about all the things that are happening to me. And if, at the end of my career, I am able to win a couple of more Grand Slams and be closer to Roger, will be unbelievable. If not, for me, still unbelievable, no? And today, the last thing that I thought before you ask me that is about this thing."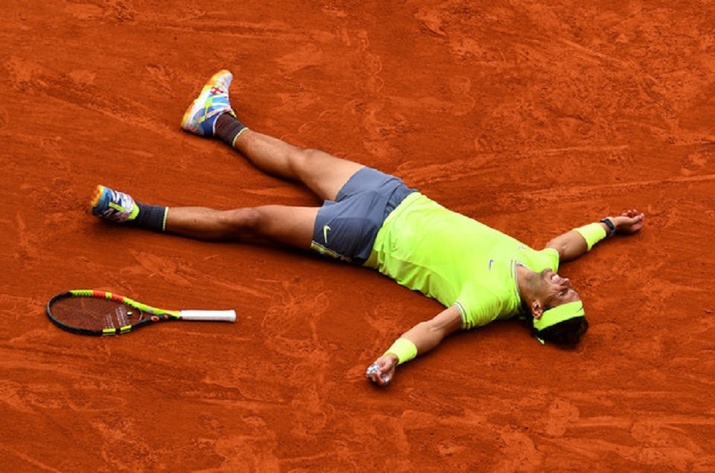 "For me, Roland Garros, feel myself enjoying again on court. That's the main thing, no? Then what can happen in the future, we will see. I gonna try my best to keep enjoying tennis, giving myself chances to compete at the highest level, and we will see what's going on."
The match itself started with blistering intensity as Thiem roared into the battle, firing winners and defending shots from Nadal that seemed destined for winners, too. The Austrian forced Nadal around the baseline with power and touch and he seemed to be making progress when he broke for *3-2. It turns out that he only poked the beast. A couple of loose errors from Thiem and Nadal broke back to love, snatching the set 6-3 in the blink of an eye.
After both men spent much of the first set barely surviving their service games, by the second set both had settled into slick service winners. As Thiem held comprehensively, Nadal served even greater and after 5 service games, he had lost only one point on his serve. A tiebreak seemed certain, but then Nadal blinked at the final hurdle and Thiem pounced to smash and grab the set with a break. The Austrian won four times as many return points in the final game compared with the previous 5 return games.
But just as the match seemed level, Nadal pounced. He won 11 points in a row and broke for a *3-0 double break with a whistling forehand down the line pass. Against many other players, Thiem would have had a chance to turn the match around again, but the challenger gave Nadal an inch and the Spaniard took the entire match. There would be no more chances and only two more games for Thiem.
"The beginning was unbelievable intense of the match," said Thiem. "And I dropped a little bit towards the end of the first set. Then I played the way I should play in the second set, very aggressive. But still, I mean, I didn't make – I think I made only five points in the return games, and, I mean, four of them obviously at 6-5. After these two sets, I dropped a little bit my level. I mean, then Rafa, who won this tournament 12 times, he stepped on me. Afterwards, it got really tough for me."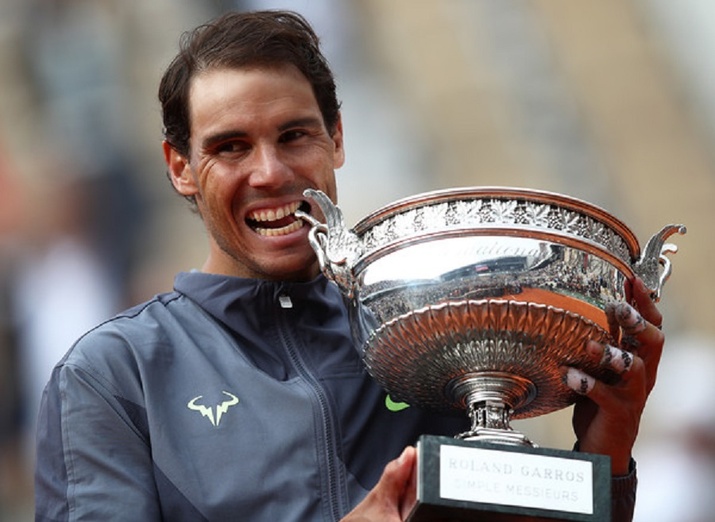 For Nadal, the victory was a relief not because of the mere fact of winning, but because after a difficult year on the clay, he was finally able to enjoy himself again.
"Last year have been a tough year, too," he said. "It have been a great year in terms of level of tennis because I played nine events. And I was only able to finish seven tournaments during the whole year and finish, like, World No. 1. Give me a chance to win here last year and in Wimbledon very close. The US Open I had to retire, too.
"So a lot of issues, and then at the end of the season with the knee. Then I had to do surgery on my foot. And this beginning of the season in terms of level of tennis have been positive, but again, some issues, no? Like Indian Wells, like Brisbane, like Acapulco, too. Too many issues the last 18 months. So that's makes these last few weeks very, very special. "
As Nadal won, he reflected on the feat of winning slams as a teenager and doing so again as an adult, particularly as people constantly said that his style of play would never last.
"The thing is people likes to predict the future, and I don't pretend that, never," he said. "So when I hear that, I always said, Maybe. I was not sad to hear that. I said, Okay, maybe yes and maybe not.
And that's all. The positive thing is – I had issues, of course, but I always find a way to keep going, you know, and to do my route. And here I am at the age of 33, enjoying, playing good tennis, and let's see for how long I am able to manage and to hold this."