Evans Upsets Tiafoe To Advance At Delray Beach

Great Britain's Dan Evans, world No. 148, who qualified into the Delray Beach Open, defeated the defending champion, world No. 29 American Frances Tiafoe, 3-6, 7-6 (1), 7-5 in two hours and 16 minutes. This was the biggest win for Evans since returning to the sport after a drug ban.
Tiafoe, age 21, and Evans, age 28, were both creative and dynamic, mixing up their shots, and had incredible footspeed. They both served aggressively. Tiafoe hit seven aces and six double faults, and Evans hit four aces with four double faults.
Tiafoe has a different style on his forehand with an extreme grip, where he drops his hand and whips through the ball with a lot of wrist. When he had time and the ball fell in his strike zone, it was very effective. But he had a tougher time on high balls to his forehand. His two-handed backhand is efficient with a short backswing and rarely failed him.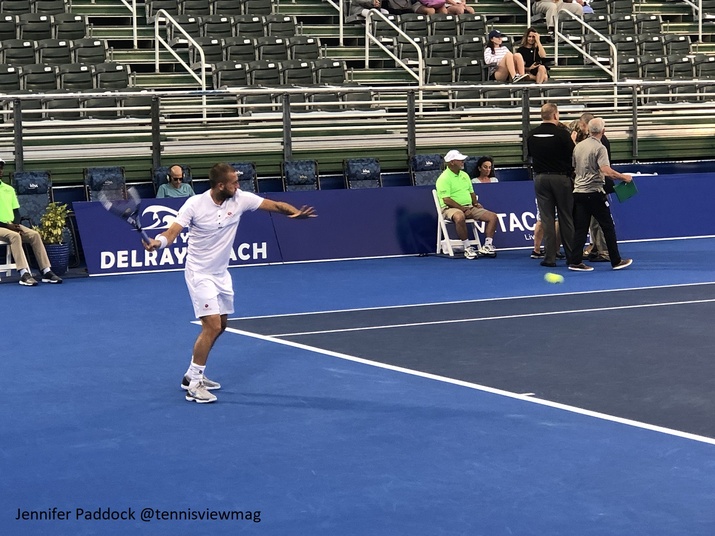 Evans's backhand slice, which he hits hard and low, was his greatest strength. He was also able to take pace off the ball and hit many backspin-heavy dropshot winners. His volley was strong as well. He was always looking to come in and finish points at the net.
Evans has more of an old-school, all-court game. He is light-footed and a pleasure to watch. At this year's Australian Open, he lost in the second round to Roger Federer in a close battle. After the match, Federer paid Evans a great compliment, saying, "It feels like playing a mirror a little bit. I maybe just have a little bit more size and a bit more on my serve and maybe that was the difference."
Tiafoe got off to a dominant start with aggressive baseline play and good volleys, winning five straight games. But Evans stayed positive and raised his level and was able to get the score back to 5-3. On the first point of that critical game, with Tiafoe serving, Evans, in a flash of genius, hit an incredible defensive lob and ran down a dropshot to hit an amazing down-the-line pass. At 30-all, Tiafoe hit a big serve and a big forehand winner. On set point, it was exhibition tennis for both players. Evans hit a dropshot, then Tiafoe hit a dropshot back. Both players were at the net, and Evans hit an around-the-back-half-volley. Tiafoe then hit a monstrous crosscourt forehand pass to take the set. But, still, you felt like the momentum was shifting to Evans.
In the second set, there were no breaks of serve until 5-all, when Evans was serving. Evans hit an exquisite drop backhand volley and got up 30-love. But then Tiafoe, hitting a great stab passing shot off his backhand, got it back to 30-all. And then he was able to break and had the lead 6-5. He started out the next game with an ace out wide, and then led 30-love. But Evans, with his amazing footspeed and exceptional hands was able to get to a dropshot for a winner and even the score to 30-all. Tiafoe netted a ball, giving Evans a break point. Tiafoe came in on a second serve, and Evans passed him with an incredible inside-out forehand. In the tiebreaker, Evans dominated with aggressive baseline play and excellent anticipation, reading and retrieving Tiafoe's drop volleys with ease.
In the third set, Evans got down 3-love. Tiafoe was playing with focus and intensity again, serving well and closing on his volley with exceptional angles. But Evans stayed positive and was able to get on the board by holding serve. Tiafoe held serve in the next game with an ace down the T and led 4-1. Evans seemed to be getting frustrated with movement from the crowd, but he channeled that frustration and held at love for 4-2. Evans then won the next six points, changing the momentum again in his favor. He continued to play excellent tennis and served for the match, holding at love. On the final point, he won when Tiafoe hit a backhand that hit the net cord and fell back on his own side. After shaking hands, the American broke his racquet against the court, clearly frustrated after crashing out of the tournament in the opening round.