Eugenie Bouchard: Where Bold Meets Brash

In many ways, Canada's Eugenie Bouchard has grown up in a little less than a year. After a solid WTA debut where she showed steady progress, Bouchard has attacked this season with gusto, ratcheting up her aggression and exuding plenty of belief honed from her junior days.
On the court, Bouchard's attitude manifests as a quiet confidence. She showed wisdom beyond her years as she took advantage of an upset-riddled draw en route to her first major semifinal at the Australian Open.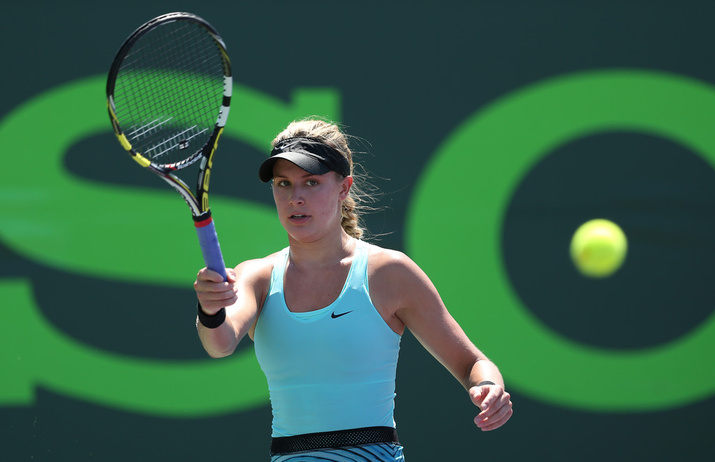 Off the court, it comes across much louder.
To be sure, Bouchard has been talking the talk far longer than she's walked the walk. "I like to be aggressive, and I try and use my serve to control points from the start," she said not long after a three-set loss to Bojana Jovanovski in Eastbourne. Throughout that match, Jovanovski had routinely stepped within inches of the service line to return the Canadian's delivery. Rounding off this quote in Washington D. C., Bouchard clarified, "I don't have any weaknesses."
It can't be argued that Bouchard hasn't backed up the talk, making those heretofore-exaggerated strengths a reality. Still, while confidence is appropriate for a young player, a lack of humility might not be.
Playing a Fed Cup tie last weekend against a severely weakened Slovakian team, Bouchard was drawn against Kristina Kucova. This junior Grand Slam titlist is best known for her elder sister's win over Julia Goerges at last year's French Open. Traditionally, Fed Cup formalities dictate numerous photo opportunities, including snapshots taken of the opponents shaking hands. Asked to shake Kucova's hand for the photo, Bouchard scrunched her face and declared the process "lame," musing aloud why it was necessary to wish her opponent good luck.
The moment was captured by a surprised press core and disseminated to social media. On one hand (no pun intended), the move is very much in line with Bouchard's youthful swagger. Faced with the opportunity to lead her country into Fed Cup's World Group for the first time against a beatable team, the Canadian was clearly aware of the chance in front of her. On the other hand, the question remained: had it been the hand of Serena Williams and not that of Kristina Kucova, would Bouchard been so cavalier? Would there even been a discussion had she snubbed the world No. 1 rather than No. 141?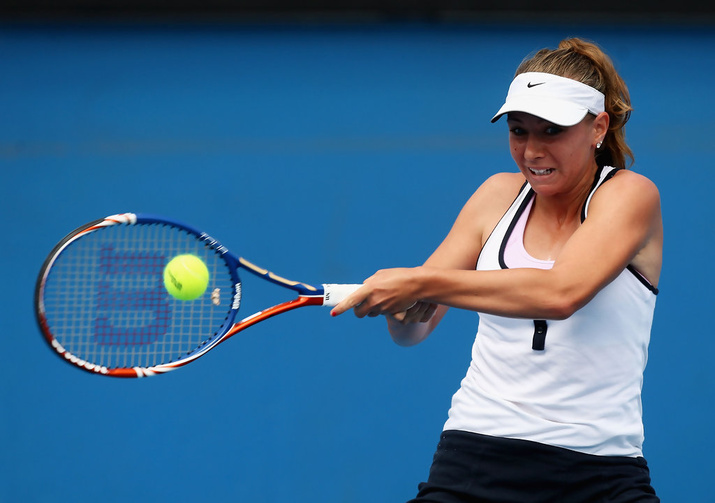 Wherever one fell on the question, all eyes were suddenly on the Canadian Play-off tie. Kucova, against the odds, did not disappoint. The Slovakian underdog perceived a snub in the handshake moment and played inspired tennis as a result. Despite fading in a first-set tiebreak, Kucova came on just as strong in the second set, taking advantage of the Canadian's erratic play to even the match.
In what could have been a disastrous evening for Bouchard, her quiet confidence re-emerged in the third set. Whereas peer and rival Sloane Stephens tends to shy away from pressure situations, preferring to reject the moment before it rejects her, Bouchard is a game competitor. At times, there was even a sense that she enjoyed the challenge of outthinking a motivated opponent. Her maple leaf tattoo was in tatters on her face, but she waved the flag high at the end of the weekend.
It was an unfortunate gaffe for one of the game's fast-rising stars, but did she learn anything from the incident? Is she aware that what she did was perceived as crude at best, and disrespectful at worst? There is something to be said about Bouchard's wholly Canadian approach to competition. The young woman wants to win, gentility be damned. But, as players as prominent as Victoria Azarenka have learned, gentility is an unavoidable attribute of a beloved champion.
Bouchard must be ready to deal with backlash to her brashness if she hopes to be looked back on as bold.