Emancipated Thiem and Zverev Move On In Hamburg

On Tuesday afternoon, Dominic Thiem returned to his beloved clay courts with a strong 6-3 7-6(3) win over Pablo Cuevas in a victory that marked the beginning of the end. After a wildly successful clay season in which he downed Rafael Nadal, Roger Federer and Novak Djokovic before reaching a second Roland Garros final, the last next two weeks will be one final, fleeting spell before the tour heads to hardcourts until the end.
"It was obvious for me that I would have to work very hard for the moment that the draw came out, because with Pablo I had a 4-2 head to head and every match was very tough. Also, the match we had at the French Open some weeks ago was 7-5 in the fourth. I expected a tough one and that's what happened."
Surprisingly though, as Thiem reclined in his press conference seat after wrestling his way through a tough, high-quality second set tiebreak, it was actually the grass court season, in which his sole match was a first-round loss to Sam Querrey at Wimbledon, that was on his mind.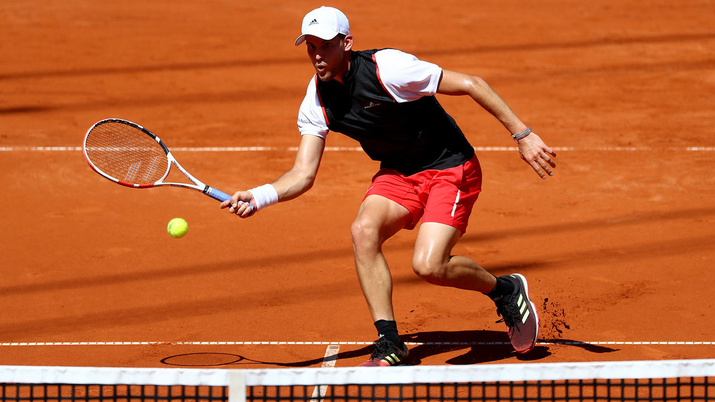 "I wish that the grass court season would have been longer," he said. "I also love this surface, but it was only one match unfortunately. So, I hope that I can do it better next year. But you know I'm back on clay for two weeks and the two last weeks of the year.
"So, I'll try to enjoy them as much as possible. And as I always said Hamburg here and next week of course are very special, they mean a lot to me. So, I'm happy that I got off to a great start."
The match itself was partitioned by two clear halves. As Cuevas' backhand leaked errors, Austrian broke early and convincingly, rolling through the first set without facing a single break point.
Early in the second set, at deuce in the opening game, Cuevas went for an absurd attempt that failed spectacularly - a tweener from the net that ended up in the net. It seemed utterly reckless at that time, but as the second set wore on, it turned out to be a stroke of genius.
The Uruguayan played the second set with far more composure, breaking Thiem's serve once and driving him to frustration in the long, angular clay rallies that covered the entire court. The second set in the balance throughout and it was only decided when the top seed shuffled to the baseline and fired a flat, ballistic backhand down the line for a clean winner at 5-3 in the tiebreak after a long rally. After the match, Thiem noted that he felt he could attempt it more often.
"The best point of the match I played at 5-3 in the tiebreak with the backhand down the line. "hat was really important," said Thiem. "Probably, I should have done it more often throughout the whole match. But, all in all, it's good. I haven't played on clay in the last six weeks, only one match in the six weeks so I'm very happy."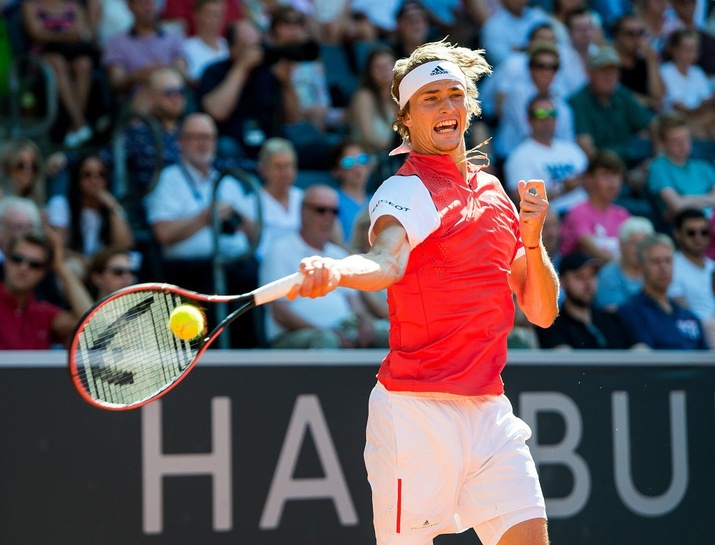 Instead, Thiem rested more on variety with his backhand wing, which still served him well throughout the match. It is also a reflection of one of his clear objectives of the year - the decision to hire Nicolas Massu has elicited clear results, with exemplary clay season complimented with his first ever Masters 1000 title, somewhat surprisingly on the hardcourts of Indian Wells after a brilliant finals performance.
"It was a pretty bit change how the practice and everything is going but I think the main thing we changed that my game gets more unpredictable again," he said. "I think it was once when I was younger and it got lost a little bit this part of my game. So, slowly it's getting back. Of course, I hope it's getting even stronger than before but I think it's pretty fine now."
Thiem is not the only player in Hamburg chasing back his childhood. The big event of the day, and what the public hopes will repeat until the final, was his friend Alexander Zverev making a triumphant return to his hometown with a 6-4 6-2 win over Nicolas Jarry. Not only was it his first time back at the Hamburg European Open since 2016, but it marked his first time back in his hometown since that event.
Though both have been defined by breakups with their management - Thiem finally emancipating himself from coach and manager Gunther Bresnik and reaping only benefits, Zverev's 2019 has been directed by his breakup with agent Patricio Apey.
Although he has noted various times that the messy separation and the legal action that has ensured has affected his tennis, it has been an unmitigated success for German fans who have now seen him at Munich, Stuttgart, Halle and now the biggest event of the German calendar in Hamburg.