The Elements Have Made Play Tricky At Indian Wells

On Monday at Indian Wells, wind, wind, lots of wind, was the story.
In mid-afternoon, the wind really started picking up, and then it also became a bit cold.
Late afternoon, it was quite cold and windy, and you could feel desert sand flying onto your face and into your eyes.
It was tough just being in the stands watching, but it must have been awful for the players.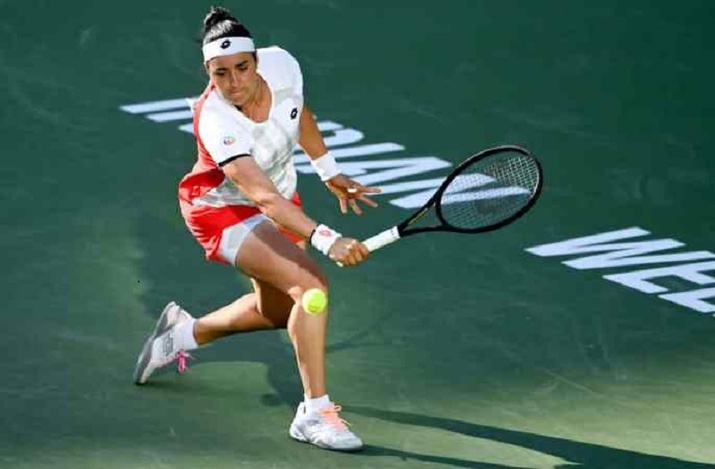 Photo Credit: Icon Sport
In her press conference, Ons Jabeur of Tunisia, who beat frustrated American Danielle Collins, 6-1, 6-3, talked about the keys to handling the wind: "It's good to have good hands today. It helped me a lot. I'm glad that I was really relaxed and trying to enjoy the slices, the dropshots that I was doing.
"It was very tricky when you don't know where the ball is going to bounce, if it's going to end up somewhere else, not the impact you want to hit in.
"I think I managed pretty well to keep the ball on the court. That was the key today. That was change it up kind of with the slices, with high balls sometimes. It was very tricky.
"She didn't adapt very well at the beginning, but then started to play much better the second set. But, yeah, I'm glad that I kept my nerves and was really kind of stress-free at the end of the second set."
In the evening, it rained. Play was suspended. Then resumed that night.
There was a long break because of the rain in the Gauff/Badosa match, and American Coco Gauff did not seem to adjust. Paula Badosa won in straight sets: 6-2, 6-2.
After the match, in her press conference, Spaniard Badosa said: "Well, the conditions were tough today. It was a tough day. A lot of wind. I knew I had to stay very solid. That's what I did. Try not to, like, go for it like that much on the lines. I started to play more in the middle, quite hard there.
"I think I did it and it went quite well."
The wind did not seem to bother the top seed Daniil Medvedev. The Russian is such an intelligent player. He used the wind to his advantage, coming up closer to return, taking time away.
Medvedev played beautifully, finishing with a forehand dropshot to take the first set 6-2.
In the second set, his opponent, Filip Krajinovic of Serbia, raised his level with terrific ball striking and depth of shot, and forced a tiebreak. In the breaker, though, Medvedev showed what a great player he is, playing his best in the biggest moments. He won it easily 7-1.
Meanwhile, American Tommy Paul got a huge upset by beating the 4th seed Russian Andrey Rublev, 6-4, 3-6, 7-5.