An Edgy Thiem Dominates Monfils In Paris

Austrian Dominic Thiem, the 2018 finalist, fourth-seed, and seen by many as the second-best man on clay, dominated Gael Monfils, the shot-making, stylish Frenchman, 6-4, 6-4, 6-2 on Monday.
Monfils got off to a poor start, getting broken at love, and then got broken again to go down four-love. Monfils, a streaky player, whose strategy seemed to be hitting the ball as hard as he could, then broke at love and held at love. Thiem, though, held his serve at love and took the set.
In the second set, Monfils was holding serve easily, while Thiem was struggling on his serve. But at four-all, Thiem got the break and served it out at love.
Monfils is normally the man with a highlight reel after every match, but at the beginning of the third set, Thiem hit an unbelievably hard tweener. Monfils even applauded the shot, and Thiem gave himself a thumbs-up.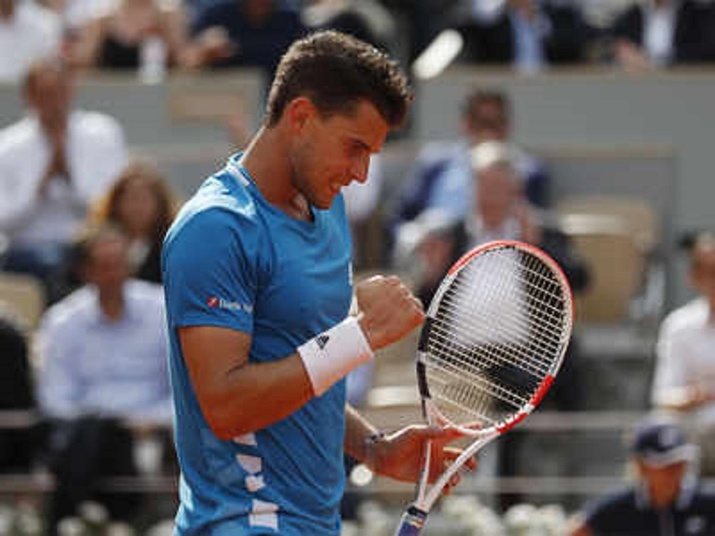 Thiem was in complete control, holding at love to go up 4-2. He had one tough return game, where he finally won on his fourth break point for 5-2 and then served out the match.
Thiem, a polite, mild-mannered man, who says thank you to ball kids almost every time they hand him a towel, has had an edge about him lately.
At a press conference at the Italian Open a fortnight ago, after his second-round loss to Fernando Verdasco, he said, "Yeah, I mean, one thing is I lost today. The second thing which comes along with that is I really dislike how we players get treated at this tournament because yesterday was, in my opinion, not acceptable.
"Every single guy knew that it's going to rain the whole day, and they hold us here until 7:00, 7:30. They also know since, I don't know how long, that there's going to be the football match yesterday night. The ride back from here to the hotel took like one and a half hours.
"I mean, I was having dinner. I couldn't even have treatment, otherwise I wouldn't get enough sleep. Then they schedule me at 10:00 today. I don't think that's acceptable.
"Then there are also few other things. I mean, I'm coming Sunday midnight from Madrid. I have to do Monday so many things for the tournament. Ahead of that, I don't even get more than one hour of practice court alone.
"There are many things which are not acceptable. Of course, it's one of the reasons why I lost today. I'm quite pissed about it."
When asked what should have been done, he said, "Well, I mean, if everybody knows that it's going to rain all day, then let the players leave at 2:00 or 3:00 when there's no traffic, when there are no guys beating each other up on the street."
When Serena Williams lost her third-round match here at Roland-Garros, she headed straight to the main interview room where Thiem was in mid-interview after his third-round win over Pablo Cuevas. Thiem was not happy. "I don't really get it, seriously. I mean, what the hell? No, but it's a joke really. I have to leave the room because she's coming?"
Thiem decided he'd end his press conference early. "I leave also then. I'm not standing around. I can also do what I want."
Thiem certainly did what he wanted today, beating Monfils, a man with the crowd on his side and who has multiple wins over Nadal and Federer. And he did so with ease, and, maybe, also with the help of his newfound I'm-as-important-as-anyone confident edge.