Drawn and Quartered: Novak Djokovic Routs Marcel Granollers to Reach Quarterfinals

Spanish journeyman Marcel Granollers had earned his berth in the second week the hard way, and now it was about to get even harder. Granollers had survived five-setters in all three of his previous matches at the US Open, rallying from a two-set deficit on one occasion and from a two-sets-to-one deficit on the other two. Part of the third-ranked doubles team in the world, he never had reached a major quarterfinal in singles. To achieve that feat, he would need to upset world No. 1 Novak Djokovic.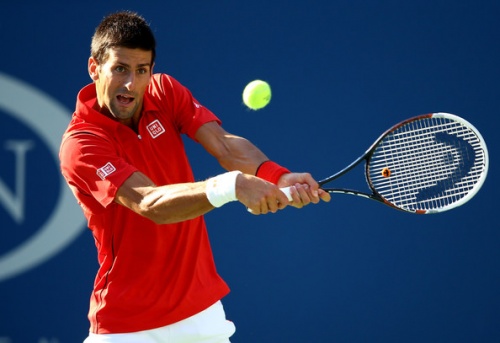 The 2011 US Open champion had raised his level significantly from the first two rounds into the third. Despite a few patches of frailty, especially on his serve, none of his opponents had the weapons to threaten him. Djokovic nevertheless had pronounced himself dissatisfied with his performance in the second round against Benjamin Becker. He delivered on his statement of intent to improve by demolishing the overmatched Joao Sousa. Granollers, although unseeded, marked a step upward in the quality of competition.
Still, Djokovic had crushed the Spaniard en route to the 2011 Australian Open title for the loss of only five games across three sets. That match represented their only previous meeting, and it cannot have given Granollers much confidence as he aimed to overcome not only his opponent but the accumulated fatigue from the first week. His doubles expertise has enabled him to hone strong forecourt skills, which would be tested by the passing shots of the world No. 1.
As breezes swirled around Arthur Ashe Stadium, the superior weight of Djokovic's shots from the baseline put pressure on Granollers but did not earn an early break. Alert net approaches and well-placed serves kept the Spaniard even, although he could not make any inroads on the Serb's serve. Djokovic also struck volleys with crispness to finish points, a less typical tactic from him.
A few more backhand errors than usual leaked from the Serb's racket as he spurned more early break points. Granollers could not count on constantly extricating himself from one tight service game after another, though, and he crumbled in his third. Opening the match with five consecutive love holds, Djokovic never gave the Spaniard an ounce of hope as he raced through the first set without losing a point on his serve.
Granollers had shown steely resolve throughout the tournament in adversity, and that trait now would be tested again. He had moved well for most of the first set despite the mileage already stored in his legs during both singles and doubles matches. Entering the day, Granollers had spent nearly 13 hours on court at this US Open, Djokovic less than five. Some stiffness slipped into his legs early in the second set, costing him errors in the forecourt and contributing to a crucial double fault as Djokovic secured a stranglehold over the match.
Granollers never held a game point in the second set, the ninth bagel recorded by the world No. 1 in 2013. Content to extend rallies until his opponent donated errors, Djokovic played relatively high-percentage tennis while shifting among the wide range of options at his disposal. After 58 minutes, he stood with one foot in the quarterfinals, a two-set lead in hand.
No plot twist awaited in the third set, essentially a formality to which neither man brought much intensity. Djokovic ended the match by winning the last 13 games and 16 of the last 17. He faced one total break point and converted 28 of 30 net approaches. Those statistics accurately reflected the ease of his 79-minute victory.
The world No. 1 had reached his 18th consecutive major quarterfinal, a streak that began at Wimbledon in 2009. (It stands as the longest current streak in tennis, no other player have compiled more than eight.) Nobody has kept him on the court for two hours in New York yet, something that might change in a quarterfinal against two-time US Open semifinalist Mikhail Youzhny. Coming off a draining five-set comeback against Lleyton Hewitt, Youzhny faces a daunting challenge against the brutal efficiency of a man seeking his seventh straight US Open semifinal.