Don't Laugh at the Djoker: The Men's Quarterfinals at Wimbledon

The Wimbledon men's quarterfinals produced three relatively straightforward matches and one thriller. At the end of the day, though, a semifinal lineup crystallized around three major champions in the top eight and one rising star.
The top dog: Three years ago, Tomas Berdych had defeated Novak Djokovic in a Wimbledon semifinal. Earning his revenge in a quarterfinal rematch, the world No. 1 dispatched Berdych to reach this year's semifinals without losing a set. Djokovic stayed poised under pressure when the match hung very much in the balance during the first two sets, sneaking away with a tight tiebreak in the first set and erasing a double-break deficit in the second. Usually at his least impressive on grass, he has produced a calmer, more polished brand of tennis at Wimbledon than he has at any other tournament this season, including his Australian Open title run. Djokovic has not lost a set en route to a fourth straight Wimbledon semifinal, showing no signs of a hangover from his epic Roland Garros loss to Rafael Nadal. Another of his former grass nemeses awaits the only former Wimbledon champion in either draw.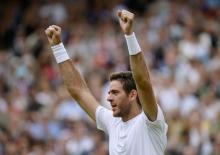 The Tower of Tandil: Like Djokovic, Juan Martin Del Potro probably would rate grass his least favorite surface. That rating may change after a tournament in which he too has reached the semifinals without losing a set. Granted, Del Potro has not faced a murderer's row of opponents. His first four victims all came from outside the top 20, and world No. 4 David Ferrer limped into their quarterfinal with an ankle injury. On the other hand, Del Potro also has nursed a significant knee injury, which flared up again today. One would not know it from his efficient march through the draw, losing serve only twice. Del Potro's quarterfinal victory reversed an equally convincing defeat to the Spaniard at Wimbledon last year, setting up a rematch of the bronze-medal match that he won from Djokovic at the 2012 Olympics. He also defeated the world No. 1 at Indian Wells this spring.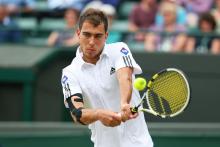 The party crasher: When Jerzy Janowicz reached the final at the Paris Masters 1000 last fall, I felt skeptical. What happens at that tournament filled with fluke upsets and one-hit wonders usually has little influence on the future. At Wimbledon, Janowicz has dispelled much of that skepticism, reaching his first major semifinal just eight months after bursting into the spotlight. Persistent skeptics will note that Janowicz faced as comfortable a pre-semifinal draw as anyone ever can expect at a major. The only top-30 opponent whom he has defeated here, Nicolas Almagro, never has shone on grass. But the Pole looked far from a raw novice in demolishing compatriot Lukas Kubot. Janowicz wore the mantle of the favorite well, a more difficult task than wearing the mantle of the underdog. He will don the latter again on Friday in a match when he can swing freely with nothing to lose.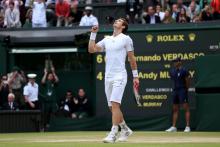 The home hope: British hearts fluttered during Andy Murray's quarterfinal against the unseeded Fernando Verdasco. And not from the sight of the handsome Spaniard, a player much more talented than his current ranking. Verdasco had defeated Murray four years ago at the Australian Open, and he edged within a set of repeating the feat before a shocked Centre Court crowd. Exhorting their man to the end, they received their reward when Murray rallied to fight another day. He has not lost a fifth set at Wimbledon since his first appearance in 2005, excelling at all majors in that area because of his superb fitness. But Murray did concede the position of tournament favorite to Djokovic, who had shared the status with him through four rounds. He needs to rediscover crisper form against Janowicz to enter a second straight Wimbledon final with the momentum necessary to break the British curse.