Dominika Cibulkova Embraces The Underdog's Role

For every marquee name in tennis, there is an underdog across the net looking to make her mark on the court and the crowd that comes to watch. Some are natural underdogs, with a compelling story that endears spectators to her side.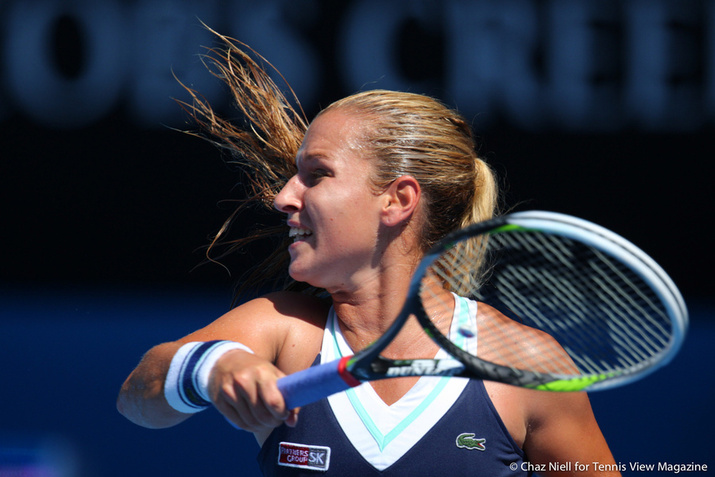 Others make their hay compensating for a glaring flaw. From Elena Dementieva's service woes to Angelique Kerber's unorthodox shot production, some of the most memorable WTA matches in the last decade are tales of David and Goliath. Those that end with David's improbable triumph undoubtedly receive the most attention. Suddenly, the underdog is Queen for a Day. She is interviewed exhaustively. She is praised as an unlikely success story, or dismissed as the beneficiary of a favorite's off day.
Either way, the proverbial day in the sun is usually short. A loss in the next round fuels the fan's contempt for the inconsistent underdog and causes commentators to shrug their shoulders. Thus, the curtain falls on the underdog until she rises again, just when the memory of the last upset is beginning to fade, to bust a bracket and become front-page news once more.
Because an underdog can't keep winning; if she did, surely the roles would reverse and she who was once overlooked can no longer be ignored. Take perennial underdog Sabine Lisicki, who, after upsetting both finalists from the year before, stepped onto Centre Court of her first Wimbledon final as the overwhelming favorite. Under the now harsh light of expectation, the big-serving German froze, allowing an even bigger underdog in the form of Marion Bartoli to sweep to her maiden Grand Slam title.
Slovakia's Dominika Cibulkova finds herself in a narrative blend of both Lisicki and good friend Bartoli. With wins over former champion Maria Sharapova, next week's top-10 debutante debutante Simona Halep and Victoria Azarenka's conqueror Agnieszka Radwanska, the diminutive Slovak has (quite convincingly) taken a Lisickiesque number of scalps en route to her first major final. Against any other player in the decimated top half of the draw, Cibulkova could have been expected to win by a large margin. Against three-time Australian Open finalist Li Na, however, she will step onto Rod Laver Arena as the underdog once more.
She likely would not prefer it any other way.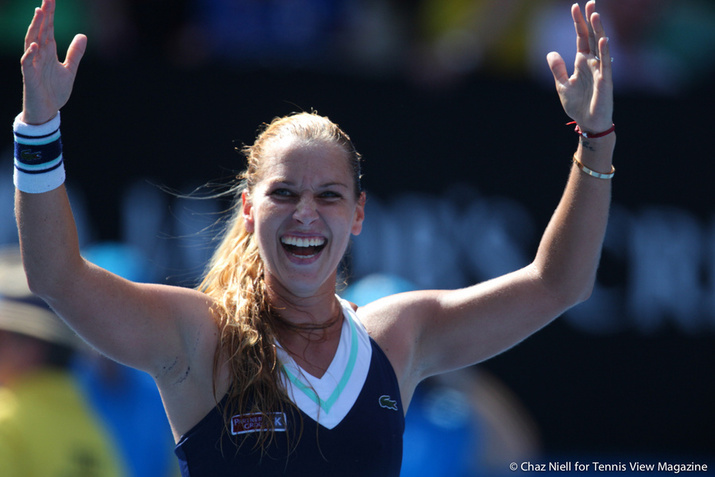 Standing at a generous 5'3", Cibulkova is often portrayed as a literal David to the Goliaths who sit atop the WTA rankings. The 24-year-old is a classic case of maximized potential when she plays at her best, packing a mean punch to blend retriever-like defense with screaming offense. Against Radwanska, a player who had double-bageled her in one of their most recent encounters, Cibulkova stood tall as she hit winner after winner, showing off her reworked service motion to keep the Pole at bay.
But as much as Cibulkova's physical aspects peg her as an underdog, her mind has arguably been just as key in holding her back over the years. For every shocking upset she has pulled off, most of them on the game's biggest stages, there have been just as many she has let go due to nerves. Given the chance to end Victoria Azarenka's undefeated start to 2012, Cibulkova threw in multiple double faults mere points from the finish line, almost begging the Belarussian to wake up and take advantage.
In only her second major semifinal, as Cibulkova's lead over Radwanska looked more and more insurmountable, there were whispers about whether the Slovak could close. They grew louder as the No. 5 seed got within one break of evening the match. Perhaps even at that stage, Cibulkova could discern the notion that, given her dubious track record, she wasn't supposed to win. Even at 6-1, 4-2, she was still the underdog. Whatever it was, she was able to stay loose enough to allow Radwanska to complete her implosion in the face of Cibulkova's all-out assault, clinching a spot in the finals.
Now Li Na, a player with all the firepower Radwanska lacks, a player whom Cibulkova has never beaten in four matches, stands between the energetic Slovak and her first Grand Slam title. Yet, for Cibulkova, nothing has really changed. All the attention is on the magnanimous Chinese woman, who has swept through a comparatively easy draw with a heretofore unseen grace and calm. Free from exterior pressures, Cibulkova is allowed business as usual, even for the biggest match of her career.
The stakes have only gotten higher in the last week, and Cibulkova has responded by playing better and better with every match. But still, if she is the favorite for anything, it is to hold the runner-up trophy.
In that respect, Cibulkova has everyone right where she wants them.