Doing Just Enough: Novak Djokovic Overcomes Mid-Match Lull to Reach Semis

Not since 2006 had anyone stopped Novak Djokovic before the semifinals at the US Open. While he has won four of his six major titles in Australia, the Serb has produced deep runs most consistently in New York. The draw had opened for Djokovic this year in a section that had looked initially daunting. Rather than squaring off against Juan Martin Del Potro in a quarterfinal, he faced an opponent who never had defeated him on outdoor courts in Mikhail Youzhny.
The Russian 21st seed had reached two US Open semifinals himself, marking his best performances at any of the majors. Youzhny had upset Tommy Haas to reach the second week and battled back from the brink of defeat not once but twice against Lleyton Hewitt in the fourth round. Trailing by two sets to one and 1-4 in the fourth, he won six straight games. Trailing 2-5, 15-30, he swept the last five games of the match.
Those valiant efforts suggested that Youzhny would compete sturdily despite the long odds against him. The quarterfinal would showcase contrasting styles of backhands with Djokovic's streamlined two-hander pitted against Youzhny's elegant one-hander. For the Russian to challenge the Serb, he would need a strong first-serve percentage and an aggressive mindset of plowing into the forecourt whenever opportunity knocked. Very few men can hit through Djokovic from the baseline in a best-of-five match, and Youzhny is not one of them. By contrast, his success against the Serb in their matches on indoor hard courts showed that faster courts allow him to take time away from this opponent effectively.
Youzhny lost no time in making his presence felt with crisp returning in the opening game. Only with a 23-shot rally did Djokovic save an early break point. Ominously clad in a black shirt, the world No. 1 showcased his improved net skills by catching Youzhny leaning the wrong direction. An early chance missed, the underdog dropped his own service game with a handful of routine errors. Deep returns by Djokovic contributed to Youzhny's woes as well.
An entertaining exchange unfolded in the fourth game, when Djokovic twice lobbed his opponent and forced the Russian to cover a vast amount of territory to win the point. Part of the Serb's plan seemed to lie in wearing down his challenger by making rallies as long and physical as possible. Still, the atmosphere lacked much intensity in the early stages because of Youzhny's slow start. Once he planted himself on the scoreboard, he pumped his fist with relief.
Youzhny began to settle into the rallies more comfortably once he realized that Djokovic would not overwhelm him from the outset. His passing shots continued to misfire by small margins, though, as the Serb cruised through his next several service games. So did Youzhny, forcing the top seed to serve for the first set. A few careless mishits on groundstrokes took Djokovic to deuce in that situation after two set points had slipped away. But Youzhny continued to spurn chances to break, while the Serb found the first serves that he needed to secure the set.
The second set began with a cat-and-mouse exchange near the net as Djokovic tracked down a fine drop shot from the Russian with an unanswerable, smartly angled drop shot of his own. That point summed up much of a match in which the world No. 1 seemed a step and a thought ahead of his opponent. Youzhny could not keep his nose in front early in that second set, allowing Djokovic to settle into cruise control by donating a break with listless errors.
The Serb still did not find his best form for any sustained period, following impressive displays of his explosive movement with uncharacteristic blunders. No urgency did he feel, which was understandable in view of Youzhny's erratic play. No help did he need, either, but the net cord indulged him all the same when it permitted one of his forehands to trickle across it for an insurance break.
Break points continued to come and go on the Djokovic serve as he seemed reluctant to stamp out the last flickers of resistance. He still finished out the second set 6-2 as Youzhny looked tactically befuddled and unable to do more than rally passively from the baseline. That strategy proved less disastrous than it might have had the Serb produced crisper tennis, but even a below-par Djokovic hung on in those exchanges longer than the Russian.
To Youzhny's credit, he did not wave the white flag in the third set despite trailing by two sets. Much as he had against Hewitt, he raised his level with his back to the wall and finally punished Djokovic for his profligacy in service games. Youzhny also began to measure his groundstrokes more precisely, striking them closer to the lines. When he led 4-2 40-0, the errors that had bedeviled him earlier in the match crept back as he surrendered five straight points.
With the set back on serve, Djokovic still could not harness his game well enough to reach the finish line. He faltered in the eighth game wth groundstrokes sprayed nonchalantly off the mark, and a double fault handed Youzhny a chance to serve for the set. Aided by the world No. 1, the 21st seed survived a tense game that he finished in style with a service winner.
While the momentum lay squarely in the Russian's corner, the Serb knew that he still led by two sets to one. But much work remained to do against an opponent who now brought more confidence to their baseline exchanges. Djokovic had opened the door with his own fallibility, so the burden now rested on him to sharpen his groundstrokes. He lost no time in doing so, earning an immediate break in the fourth set as Youzhny reverted to his former inconsistency. The veteran had no more comebacks left in him after his impressive spurt in the third set. With his fourth bagel of the tournament, Djokovic booked his berth in the final weekend.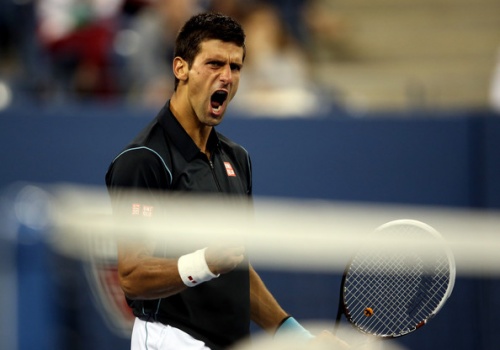 Following the end of the US Open Primetime night sessions, the men's semifinal lineups have taken form. While world No. 2 Rafael Nadal will face Richard Gasquet on Saturday, world No. 1 Djokovic will meet Wawrinka in a rematch of their thriller at the Australian Open in January. Nadal has won all 10 of his matches against Gasquet, and Djokovic has won his last 11 matches against Wawrinka. Considering that history, the top two men in the world look set to collide in the US Open final for the third time in four years.