Djokovic Wins Wimbledon Crown

On Sunday at Wimbledon, on a sun-drenched Centre Court, in the men's singles final, Serbian Novak Djokovic defeated Australian Nick Kyrgios 4-6, 6-3, 6-4, 7-6 (3) in three hours and one minute.
Djokovic, who is 35 years old, is now a seven-time Wimbledon champion, equaling William Renshaw and Pete Sampras in second place on the all-time list for most titles here. Only eight-time Wimbledon champion Roger Federer is ahead of him.
This is Djokovic's fourth straight Wimbledon title. He has featured in eight of the previous 11 finals at the All England Club and 11 of the past 15 Grand Slams that he has contested.
This is his 21st Grand Slam title. He is now just ahead of Federer, who has 20, and just behind Rafael Nadal, who has 22.
In the first set, Kyrgios, who is known as having the best serve on tour, served extremely well, hitting seven aces. He played his service games quickly, walking immediately back to the line to serve the next point.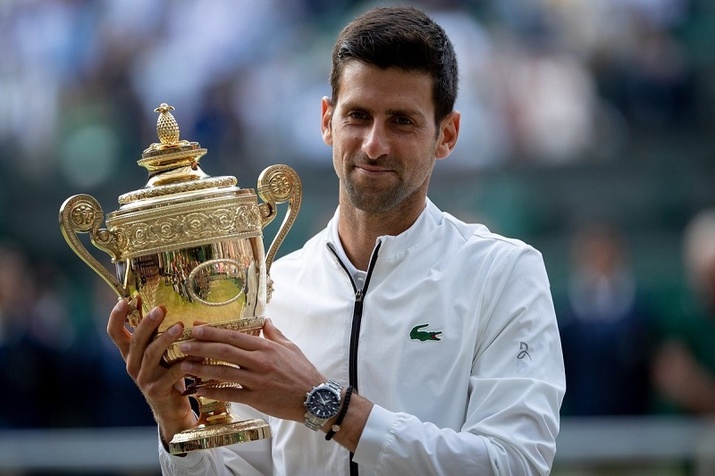 The 27-year-old Australian varied his pace and spin, giving Djokovic a different ball each time, disrupting his rhythm. He also played a lot down the middle, taking away the angles from Djokovic.
At 2-all, Djokovic double-faulted to give Kyrgios the break. Though the Australian had played a great game, hitting a magnificent half-volley from the baseline, showing his fantastic feel.
Djokovic is the best returner in the game, but he was not able to put enough returns in the court to break back. Kyrgios dominated the longer rallies and played a near-perfect set.
In the second set, Djokovic improved his level, moving Kyrgios from side to side, often finishing with a dropshot or his signature backhand down the line.
Kyrgios began to slow down and then to lose his composure, chattering at his player box. All of this just highlighted how mentally strong Djokovic is.
By the third set, it felt like Djokovic had taken full control. And though the fourth set went to a tiebreaker, Kyrgios made four straight errors to give Djokovic a 6-1 lead.
In his post-match press conference, Djokovic said: "I mean, obviously over the moon with joy and happiness of experiencing this moment once again. I've said it many times, this tournament is extra special for me because it has been the first tournament that I've ever watched as a kid that got me to start playing tennis."
Djokovic gave his analysis: "Well, I think from the baseline I didn't miss much in those three sets. It was part of the strategy obviously playing somebody who is so talented and flashy as Nick, who has one of the best, if not the best, serve that we have in the game. Just so difficult to read his serve. I mean, first and second.
"He puts constant pressure on his opponents when he's cruising through his service games. That's actually what was happening. Return was serving me quite well throughout my career. But, yeah, it was frustrating at times today, just seeing balls pass by, having to deal with I guess more work on my service games because he was constantly on the line putting pressure.
"But I felt the ball really well from back of the court. I thought I served well at the moments. I think I could have served better, particularly second serves.
"But again, it's the Wimbledon finals against a player that was never there, has nothing really to lose. We all know what he's capable of. Plus I lost to him twice when we played against each other.
"All these things were kind of there present. But I think in the end of the day I managed everything pretty well."