Djokovic Wins US Open Crown

Novak Djokovic of Serbia is the champion of the 2018 US Open, defeating Juan Martin del Potro of Argentina 6-3, 7-6 (4), 6-3.
Under a closed roof in Arthur Ashe Stadium, before the players even took the court, you could hear the crowd chanting "Del-po, Del-po" and singing "Olé, olé, olé, olé, Del-po, Del-po."
Djokovic seemed willing to battle the whole crowd. A great sportsman and player, Djokovic seems to expect the average tennis fan to understand the game in a pure way, the way he does. At one point, he told the crowd to be quiet.
But the partisan crowd did not rattle him. If anything, they seemed to inspire him. Djokovic is always tough with a fighting spirit. He grew up in a war-torn nation, practicing in an empty swimming pool that had been turned into a makeshift tennis court.
It was a long three sets. Djokovic needed three hours and fifteen minutes to win, even though his winning was never in real doubt. Djokovic just did everything better. From the baseline, he was a human backboard, consistent on both wings, and he blocked back returns with depth and pace.
Djokovic is the best mover on tour. He has the grit to make you play one more ball. You may win the point, but you have to hit one more time extra. This took its toll on del Potro, who is 6'6", and used to scoring a lot of free points with his big serve and big forehand. But he couldn't get them because Djokovic returned so many balls.
Tactically, Djokovic was more creative with his spins and variety of shots. He came to the net 37 times to del Potro's 17 and volleyed with near-perfect precision. He won championship point on an overhead smash.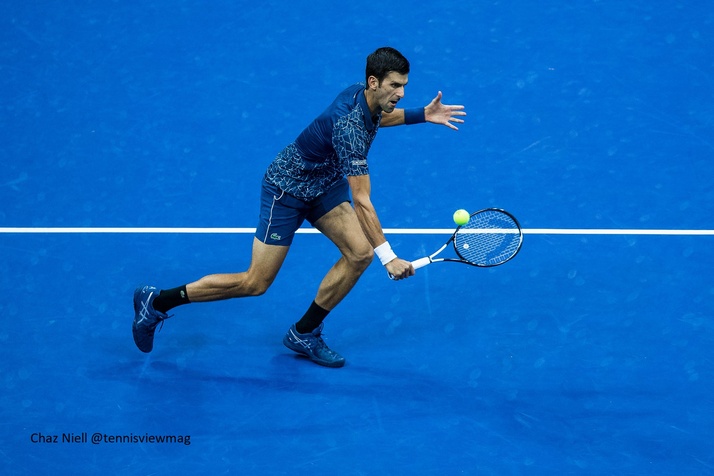 In the first set at 4-3, they were on serve with del Potro serving and up 40-love. Djokovic was able to come back and then break after a long backhand-to-backhand rally when del Potro missed on a forehand.
In the middle of the second set, del Potro broke and led 4-3 with the momentum and the crowd. But then Djokovic was able to hold serve in an intense twenty-minute game when del Potro had three chances to break.
In the third set, del Potro was down a break and was able to break back to 3-all. But still, you never felt that del Potro had an advantage in the match. Djokovic was always in control.
This was Djokovic's second major of the year—he won Wimbledon in July—and his 14th overall, tying the record with Pete Sampras. Earlier in the season, Djokovic struggled with injury, having surgery on his right elbow, but he's had quite a turnaround since he reunited with his old coach Marian Vajda. This victory opens up the possibility that he could go on another grand-slam winning streak, like when he won four in 2015-16. Djokovic is only 31. Let's say he stays on this upswing and wins two slams a year. He could certainly catch Rafael Nadal who has 17 and Roger Federer who has 20.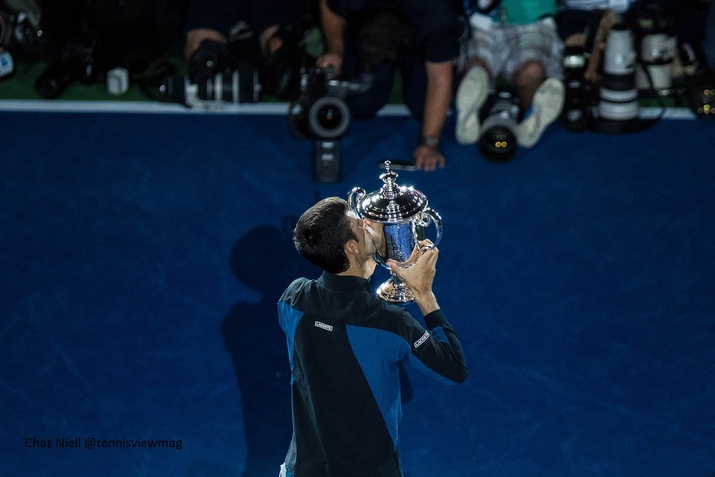 As for del Potro, who is at his highest ranking of world No. 3, this tournament has been a success, making the finals again after nine years and four wrist surgeries. "I'm very motivated to keep trying to win these titles," he said. But to compete with Federer, Nadal, and Djokovic, he will have to keep adding shots to his game, perhaps coming to the net more as Djokovic did.
At his press conference after the match, del Potro said he'd been crying straight until this moment, but that Djokovic deserved to take the trophy. He said that he'd had his chances in the second set and that he had to take risks, that it was the only way to beat this kind of player. "My mistakes were because the level of Novak."