Djokovic, Thiem Set Up Semifinal Clash In Paris

For much of the first set of Alexander Zverev's quarterfinal with Novak Djokovic, the German held the upper hand. As the long, taxing rallies extended and both men frantically inhaled air between points, Zverev won the extended rallies and punched out points with slick backhand winners. He pushed Djokovic's service games throughout, generating break points and making his presence felt, and he broke Djokovic's serve right on time, moving up 5-4 30-15
But then it was over. Two points away from losing the first set, Djokovic stepped into and began to dictate, surgically moving the ball from side to side. Zverev couldn't keep up - he bailed himself out with meek dropshots and was dragged off the court. Djokovic took the first set in a run of 6 consecutive games, conceded only four games for the remainder of the match and watched as Zverev double-faulted twice on set point, ultimately falling 7-5 6-2 6-2.
While Zverev can be self-critical and radiate his frustration, it was a reflection of the effect Novak Djokovic has on his opponents that today the German was resigned in defeat.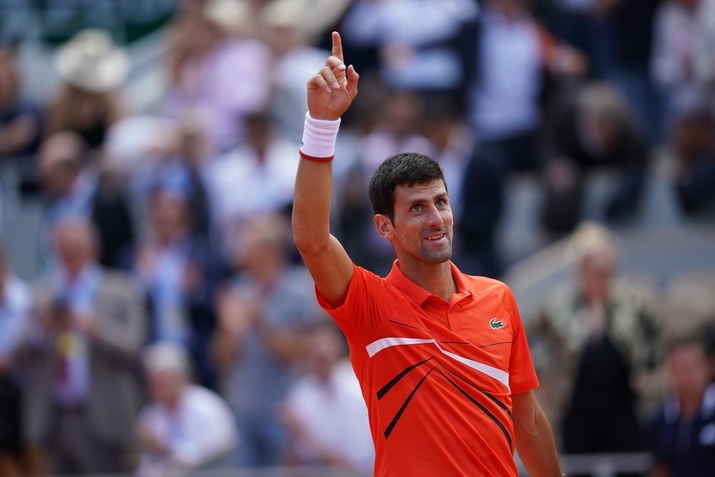 "I had a few 15-40s," said Zverev afterward, shrugging. "Had a lot of breakpoints. You know, really thought that the first set should have gone my way. And then played three really bad games from there on. You know, then once he's in control, he's very tough to beat. He's World No. 1 for a reason."
Djokovic has also won 26 successive slam matches for a reason and he has delivered them throughout this tournament through a series of slick, easy wins. It probably won't remain that way. Half an hour earlier, Dominic Thiem secured his spot in his fourth consecutive Roland Garros semi-final in similarly clinical form, easing past Karen Khachanov 6-2 6-4 6-2 on Court Suzanne Lenglen
After tight early battles against American wildcard Tommy Paul and Alexander Bublik, and a press room kerfuffle with Serena Williams, Thiem's form has improved as the tournament has endured. He seems more used to navigating these lengthy tournaments, more capable of ensuring that he is playing his best tennis when it matters towards the end.
"I think every match I got better and better," he said. "First two opponents were very tough because they also didn't give any rhythm, and they didn't have anything to lose. So, these were two very tough matches. From the third round on, it got a lot better. And for sure the match against Gaël and also today was very good. I'm happy with the way I'm playing."
For all his consistency at the French Open and the seeming certainty with which most people proclaim that he will one day win this tournament, Thiem will have to go through two of the three greatest players of all time in the final two rounds to win the French Open. It seems like an absurd task, and it is a fact that he is well aware of.
"That's what I always said. I mean, it's incredibly difficult to win a Grand Slam," said Thiem. "Because especially for us players who didn't have one yet, because if everything goes quite normal, we have to beat two players with 15 or more Grand Slams. So, I think everybody can imagine how difficult this is."
It is no less of a challenge for the world number one as he chases a second stint of holding all four slams at once. Djokovic will have to go through the third best clay-courter in the world today, the greatest clay-courter of all time or else the most successful male player in history. Nothing onward will be achieved with any measure of ease, but history beckons.
"The presence I think of history-making is stronger than ever right now in my career," he said. "I think the longer I play or the further I go, I guess, in my career, the sense of history-making is only getting stronger. That's one of the greatest motivations I have, obviously. I think there is no better way to make history of the sport than to win slams and play your best in the biggest events, and obviously try to stay No. 1 as long as you can. I mean, those are, results-wise, the pinnacle achievements that you can have in our sport."