Djokovic Rolls Into Australian Open Semifinals

In the quarterfinals of the Australian Open, Novak Djokovic dismantled Andrey Rublev 6-1, 6-2, 6-4 in two hours and four minutes.
This makes the tenth time that Djokovic has reached the Australian Open semifinals. He is bidding to win his tenth title here and extend his all-time record for most Australian Open men's singles titles.
He is also bidding to win his 22nd Grand Slam title and equal Nadal's most Grand Slam men's singles titles.
Against Rublev, Djokovic broke at 2-1 and ran away with the first set, only losing one game. Rublev, who often shows his emotions, looked frustrated, bewildered, exasperated.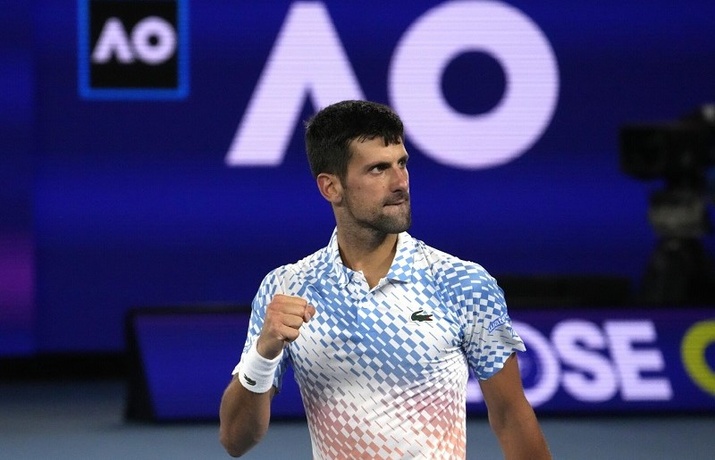 AP Photo/Ng Han Guan
The second set was slightly better for Rublev, as he held serve twice before being broken. There were two very close games on Djokovic's serve, but he was able to hold, playing his best in the important moments.
In the third set, Rublev was broken in the first game, and another Djokovic victory seemed inevitable. To his credit, Rublev did fight until the end, playing him more closely and not dropping serve again.
Rublev, whose forehand is the hardest on tour, hit some impressive winners. And he's an incredible player, No. 6 in the world. But his game is too one-dimensional.
Djokovic is a complete player. His backhand, especially, is exquisite. His precise serve turns and jumps. In the match, he struck 14 aces. He volleyed extremely well. He hit amazing lobs, deft dropshots. There were no weaknesses in his game.
Djokovic is very good at exposing his opponent's weaknesses. Thus, he was able to expose Rublev's backhand.
And he's so mentally tough. He shuts the door on people, he doesn't let you back in. Whenever it looked like Rublev had a chance to get back into the match, Djokovic just did not allow it.
In his on-court interview, Djokovic said: "I would rank it [this win] as No. 2 [this year], but very close to the performance of two nights ago [against Alex de Minaur].
"I cannot be happier with my tennis. Honestly, I've been playing very solid from back of the court, and I really love playing in these conditions and this court. I've said it many times. I love playing here. Definitely, it's the most special court for me.
Djokovic said of the breezy conditions: "When you have a strong wind at your back, maybe for the people watching in the stands or on TV, they don't see much of a difference, but for us players, it makes a huge difference."
Of Rublev, Djokovic said: "The scoreline in the first two sets doesn't speak the truth or reality of the match, there were some really close games that we had. Andrey is a great opponent, is a great player, I have tons of respect for him. One of the biggest forehands, one of the quickest players on the tour."
"If I have to sum it up," Djokovic said, "all the important shots and the important moments, I found my best tennis."
Djokovic will next face American Tommy Paul, who is playing in his first major semifinal. It will be their first meeting.
"Obviously, he doesn't have much to lose," Djokovic said, "first time in the semifinals of a Grand Slam.
"He's been playing some terrific tennis in the last 12 to 15 months.
"I've got to be ready for that match obviously mentally, not approach it anyway differently than I have the last couple of matches.
"If I play this way, I think I have a good chance to go through."