Djokovic Rallies To Reach Wimbledon Semifinals

Three-time defending champion Novak Djokovic of Serbia is into the Wimbledon semifinals for the eleventh time, beating Jannik Sinner of Italy on Centre Court in five sets: 5-7, 2-6, 6-3, 6-2, 6-2.
Djokovic is bidding to win his seventh Wimbledon title and equal William Renshaw and Pete Sampras in second place on the all-time list for the most Wimbledon men's singles titles won. Roger Federer (eight Wimbledon titles), Renshaw, and Sampras are the only men to have won more Wimbledon singles titles than Djokovic.
Djokovic is also bidding to win his fourth consecutive Wimbledon title and become the fourth man in the Open Era to record a streak of four consecutive Wimbledon titles—after Federer, Sampras, and Bjorn Borg.
Djokovic, the 35-year-old top seed, said of his comeback win: "Well, exciting match to be a part of. Not that exciting for me the first two sets. But, you know, after that, I kind of played a new match, to be honest.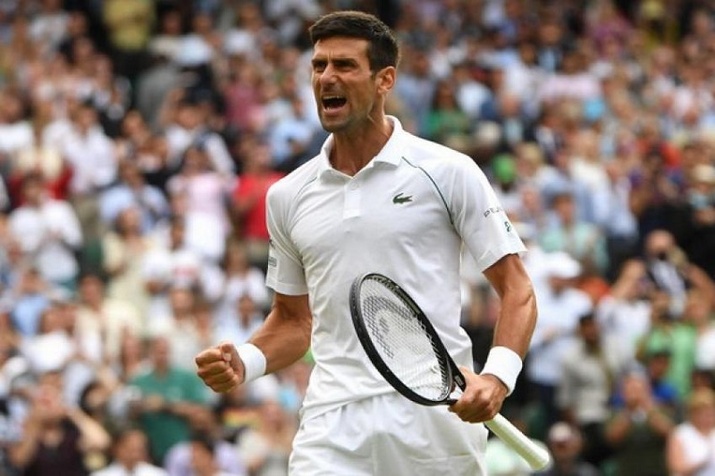 "From the start of the third, I played three really very solid, very high-quality tennis sets. From the very beginning of the third when I broke his serve early I felt, you know, that I found my rhythm and tempo on the shots.
"It was two different kind of matches," Djokovic said. "And I felt completely different from the start of the third."
Djokovic summed up how he played: "Well, I thought I started very well, was 4-1 up and break point for double break. He served well. I was playing against the wind and just played a very bad game, two double faults, two missed dropshots to lose the serve 4-3, and just momentum shifted to his side.
"I started doubting my shots. He started believing in himself more. He just had a better, I guess, mentality on the court. He had confidence to step in and dictate the play. I was not staying in the rallies. I was missing, I was too passive, and it happens. You know, on this level that particularly on grass everything happens very fast.
"So if you're not also serving well, as I was not serving well at all from the end of the first and the entire second set, he was reading my serves, he was attacking my serves. So I was really in a defense mode, to be honest. Just not much positive happening for me in terms of my game.
"And then, but, you know, I always believed that I could come back. I know that, you know, experience that I have could eventually prevail in these kind of situations. You know, I didn't have any physical injuries or anything like that. It was just a matter of momentum shift. I felt that beginning of the third set is crucial, you know, to start well, try to break his serve early. That's what happened."
Sinner, the 20-year-old tenth seed, said: "It was a tough match, knowing that before. I was playing well, and he raised his level during fourth, and I think the fifth I played in the right way, just I missed the final shots.
"Yeah, I think I can be proud of what I have done here. Hopefully can give me a lot of confidence for the rest."
Next up for Djokovic is Cameron Norrie, who, in front of his home crowd, on Court No. 1, the second biggest show court, defeated David Goffin in five sets to become just the fourth British man in the Open Era to reach the semifinals of Wimbledon.