Djokovic Overcomes Wildcard To Advance At Wimbledon

World No. 1 and defending champion Novak Djokovic hit 25 aces in his 4-6, 6-1, 6-2, 6-2 victory over British 19-year-old wildcard Jack Draper.
Djokovic won in two hours in the first match on Centre Court in two years.
It was Djokovic's personal best with aces at a match at Wimbledon. At the 2021 Australian Open, in a second-round match, his best was 26.
Draper, who's a lefty and six foot four, recently had two big wins (Bublik and Sinner) on the grass at Queen's and made an impressive Wimbledon debut.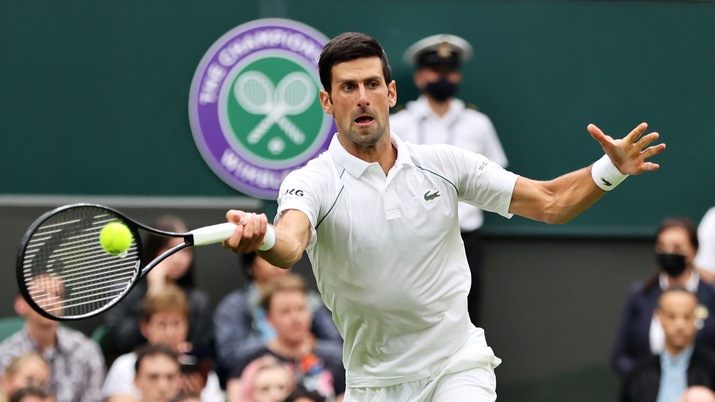 It was the first match on Centre Court in 700 days. And Draper was playing the biggest match of his life.
In the first set, Draper was magnificent. He was aggressive with his serve, winning 84% of first serve points. There was only one break of serve, and it happened early.
At 1-all, Draper broke at 30. Both men held the rest of the set, though Djokovic held more easily. Draper saved seven of seven break points, while Djokovic saved one of two.
At 5-4, 40-15, Draper took the set with a massive serve down the T that was unreturnable.
The crowd was elated. Draper, if he does nothing else, had taken the first set in the opening match at Wimbledon from perhaps the greatest player of all time.
The only issue for Djokovic was that he was slipping on the new lush green grass.
"To be honest, I don't recall falling this many times on the court," Djokovic said, with a slight laugh, in his on-court interview.
"Well, quite slippery, I don't know whether it's because the roof is closed or it's raining quite a lot last few days.
"Obviously, a huge honor to walk onto this court. For me, the most special court, always dreamed of playing in Wimbledon, winning Wimbledon one day when I was a kid growing up in Serbia.
"So I try not to take anything for granted every time I step onto this court. You feel the history, you feel the tradition.
"Obviously, completely different from clay. I've had an amazing Roland-Garros. Very pleased with that. Hopefully I'm going to work on my movement and slide a bit less maybe on grass."
The crowd laughed. Djokovic continued, laughing along. "Because it seems to be not working as well on this surface."
Though Draper continued playing well with incredible aces and angles, Djokovic, after finding his footing, ran away with the next three sets.
Afterward, Draper received a standing ovation. As he left, he took one last look back at Centre Court. You could imagine the memory he was making. He would never forget this moment.
It was an amazing moment for all of us: the lucky, giddy fans who were there; those watching Wimbledon on screens around the globe; and for Djokovic, too.
When asked how he felt to be back on Centre Court with a victory and fans, Djokovic said: "It feels great seeing everyone and being back, probably the most special, most sacred tennis court in the world."