Djokovic Overcomes Slow Start To Advance At Wimbledon

On opening day at Wimbledon, in the opening match on Centre Court, under a closed roof because of rain, top seed Novak Djokovic of Serbia, who has won the tournament six times, defeated Soonwoo Kwon of Korea 6-3, 3-6, 6-3, 6-4 in two hours and 27 minutes.
At this year's Championships, there are no ranking points, the ATP's and WTA's response to Wimbledon not allowing Russian and Belarusian players to compete. This means that Djokovic will not be able to defend 2,000  points from being last year's champion and will lose his No. 1 ranking, even if he wins the title this year.
In his press conference after the match, Djokovic said: "It's always very unique match to play as the defending champion, first on the grass. Other than this year that Wimbledon made a change so you could practice before the tournament starts, it was always coming out on the untouched grass. It's really a unique and special feeling in our sport.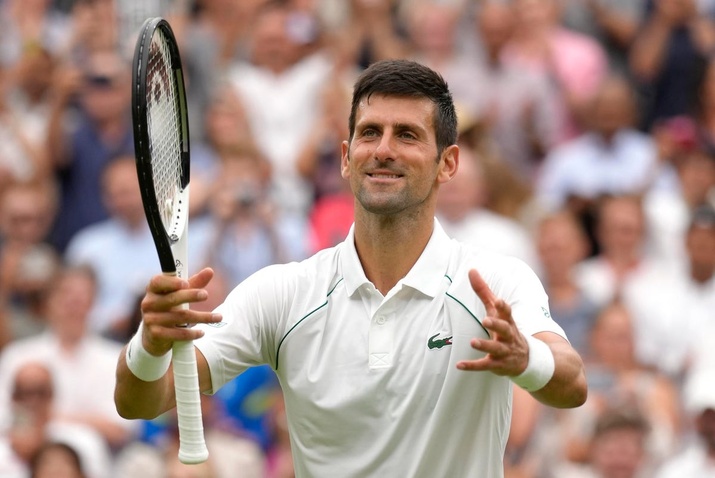 ASSOCIATED PRESS
"Yeah, it was nice to be back. I think it was a good win against a player who is very talented. He has a lot of quality from both forehand and backhand corner. I did not start or did not play at my best, but I think when I needed to find the right shots, I did. I think serve got me out of trouble in some decisive moments. I know I can do better."
Djokovic added: "I'm pleased with the win today against an opponent that I felt was feeling the ball pretty well from the baseline. It was really difficult to get past him the ball. He was always there. He was playing flat. Just ball was coming fast and low. He really made me work for the win."
When asked how he was received by crowd, Djokovic said: "I was very pleasantly surprised, I mean, in a positive way. I felt support. Of course, the crowd was engaged in the match. They supported both players. I thought they were very fair to me.
"I enjoyed my time very much on the court."
Djokovic said of his recent headline-making past: "So this post-Australian period of next several months was challenging emotionally for me because of a lot of different factors.
"In terms of my motivation on the court, fulfilling my everyday chores, trying to win more titles and be one of the contenders for more Grand Slams, it hasn't changed much, to be honest. I try to keep it together with the team in such way where we stick to the routines that we know that work for us.
"But, of course, the sensation coming back on the court with everything that happened post-Australia, particularly first few tournaments, was different. It was a different feel. Not very pleasant to me.
"Right now, I don't feel the traces of that, so to say, any more. I move on. I play tournament by tournament. I try to make the most out of experience.
"As for my results here in Wimbledon, I mean, I'm blessed to have these results because—I've said this before—Wimbledon is my favorite tournament, the dream tournament. Childhood dreams were realized here in 2011. I will never forget that. It will always have a special place in my heart.
"Of course, every time I step out there on the court, there is this goose bumps type of feeling, butterflies in the stomach, because of the significance in my life and in my career."