Djokovic Overcomes Norrie To Reach Wimbledon Final

Top seed and three-time defending champion Novak Djokovic had to come back from a set down to defeat hometown hope Cameron Norrie, the ninth seed.
The 35-year-old Serb defeated the 26-year-old Brit 2-6, 6-3 6-2, 6-4 in two hours and 35 minutes in front of a rapturous Centre Court crowd.
"Look, it's never pleasant to have the whole stadium cheering for your opponent," Djokovic said. "Of course, it's something that I expected coming into the match."
Djokovic explained: "But I felt like I was maintaining my focus pretty well considering. I sat down, wasn't playing well, feeling well, but somehow I managed to turn the match around."
In the first set, Djokovic made a lot of mistakes and struggled to find his rhythm. But in the second set, the momentum shifted. Djokovic took control, raising his level, moving Norrie around the court.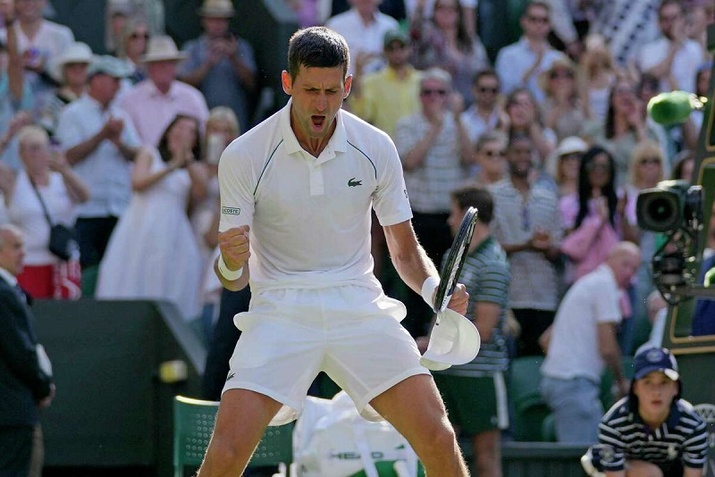 Associated Press
For the match, Djokovic won five of 14 break points, and Norrie won three of four break points.
Djokovic hit 38 winners and 28 unforced errors. Norrie hit 33 winners and 36 unforced errors.
"It was not easy to close out the match for me," Djokovic said. "Even though I was a break up in the fourth, I felt like I was constantly being chased by him from early in the set when I made that break. I felt a lot of pressure to serve it out.
"But I did serve well. I think when you serve well, it's a big relief in these kind of circumstances, these kind of matches. It helps a lot playing on grass."
Djokovic struck 13 aces and only one double fault. He won 82% of points on his first serve.
Norrie, a lefty, struck seven aces and three double faults. He won 71% of points on his first serve.
On Sunday, Djokovic will play Nick Kyrgios who advanced to the final after Rafael Nadal withdrew from the tournament with an abdominal injury.
Djokovic said of 27-year-old Kyrgios, who has beaten him both times they've played: "I mean, his motion for the serve is so fluid and just very quick. He can hit any angle really. He tosses it forward so he can come in, serve and volley. He puts himself in a great position to be aggressive or to stay back. But he's always one meter in front of the baseline.
"Yeah, it's tough to read his serve. I haven't practiced with him or played with him since the last time I lost to him in, what was it, '17 I think.
"On grass I would assume it's even tougher to read his serve and to return because he has so many free points. You could see that throughout this tournament, as well. He just puts additional pressure on your serve. He moves well. He's got great hands. So very complete player.
"I guess it's going to be a game of small margins. I hope I can be at the desired level, then really it's a mental game in the end, who stays tougher and calmer in the decisive moments."