The Djokovic-Murray Show Continues

If there was anything that came out of the men's final at the Australian Open, it's the idea that there'll only be more championship matchups for Novak Djokovic and Andy Murray in 2013—and beyond.
Things have fallen in place for this to become the dominant rivalry in the men's game, with the potential to equal or surpass some of the recent great ones, such as McEnroe-Lendl, Agassi-Sampras or even the recent standard bearer, Federer-Nadal.
For one, as he's proven time and again over the course of the past few seasons, Djokovic isn't going anywhere. Back in 2011, it seemed as if the Serb would never lose a match, winning three Grand Slam singles titles in the process. With an enormous amount of points to defend in 2012, Djokovic performed quite admirably and managed to finish the year in the top spot, despite losing the No. 1 ranking to a resurgent Roger Federer for a spell.
Now, coming off his third Australian Open title in a row, Djokovic has further distanced himself from the pack.
But that pack appears to be led by Murray right now, who defeated Djokovic for his first Major title at last year's U. S. Open. That win got the "best player to never win a Slam" title off Murray's shoulders and should be enough to free the Scot to capture more of pro tennis' most prestigious titles.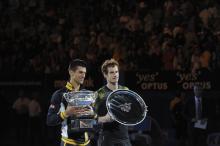 Based on the fact that they've played back-to-back Major finals on hard courts, they've proven they're the players to beat on the surface. And both of them have impressive grass-court credentials: Djokovic having won Wimbledon in 2011 and Murray making the finals at the tournament last year, then following that up with Olympic Gold at the same venue.
It's not only the three Slams that could be a battleground for the two: Six of the ATP Masters 1000 tournaments are played on faster surfaces.
Of course, a lot of players will have something to say about Djokovic and Murray running away with the game's top tournaments, perhaps none more so than Roger Federer and Rafael Nadal. But those two, who dominated the tour for most of the past 10 years, find themselves in different places right now.
For Federer, it's now coming out on the other side of big matches against Murray as seen in their near-classic semifinal at the Aussie—Murray's first win over the Swiss legend in a Slam.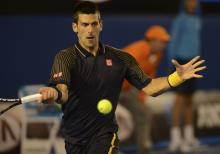 As for Nadal, despite owning convincing records against both Djokovic and Murray, his primary concern can't be catching up with them right now. Rather, it has to be working out the rust upon his return and ensuring that he stays as healthy as possible.
Aside from Federer and Nadal, it's hard to envision other players in the top 10 mounting a sufficient-enough challenge. David Ferrer, who just matched his career-high No. 4 ranking, has been thoroughly dominated by the '13 Australian finalists the past couple of seasons. Tomas Berdych is 1-12 against Djokovic. Juan Martin del Potro is a combined 3-12 against the two.

Given the fact that they're both in their primes with playing styles suited to today's game—a heavy emphasis on solid defense, strong returns and heavy groundstrokes—the stage appears to be set for Djokovic and Murray to be doing battle all year long, following in the footsteps of the game's greatest rivalries.
It could end up as one to surpass them all.
Photography: Tennisclix.com/Gillian Elliott