Djokovic Makes History, Wins French Open Championship

Novak Djokovic, the 36-year-old Serbian, is the winner of the 2023 French Open. He defeated 24-year old Norwegian Casper Ruud in straight sets: 7-6 (1), 6-3, 7-5.
This was Ruud's third Grand Slam final in his last five events going back to Roland Garros last year.
Djokovic, who is the third seed, will return to world No. 1 on Monday in the ATP Rankings.
Djokovic is the first man in history to win each Grand Slam tournament at least three times. Margaret Court, Stefanie Graf, and Serena Williams have accomplished the feat in women's tennis.
At 36 years, 20 days, he is the oldest man to capture his third Roland Garros title, eclipsing Rafael Nadal (36 years, 2 days) as the oldest champion.
And perhaps the most important history, Djokovic now holds the record for Grand Slam singles titles in men's tennis at twenty-three and ties Serena Williams. Margaret Court holds the record overall at twenty-four titles.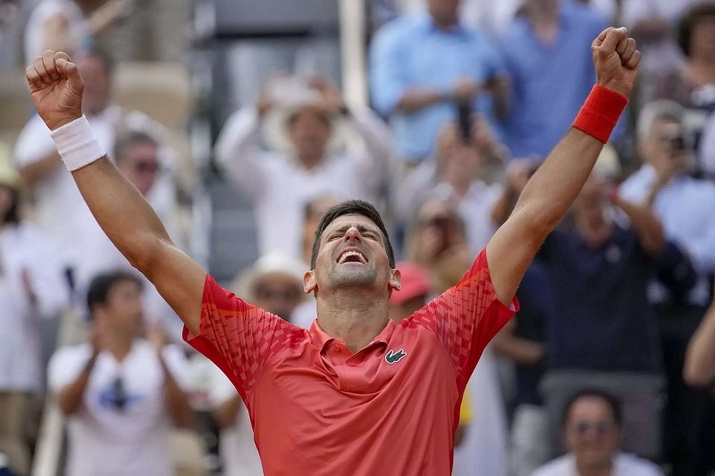 Before the match on Sunday, Djokovic said: "Pressure is always on my shoulders, so it's not going to be different. But it's part of my sport, part of my life, all that I do. I think that having pressure is a privilege. But it's a source of motivation, as well. Great motivation to play well and to reach Sunday.
"Before the tournament I was saying that of course for me Roland Garros is a Grand Slam, and it's the most important tournament on this surface. So, I was well-prepared so that I would be in this position so that I would be ready for this battle, battle to win this other Grand Slam title.
"I hope that I'll play my best tennis level on Sunday. The only thing I can say now is that I'm very focused. History is always something that's hovering over me, but I'm very happy to be in this position to write history of this sport, but I'm just thinking about winning the next match."
After a slow start, where he got down a break, he certainly played his best level, a phenomenal level. He played a flawless tiebreaker to take the first set.
In the second set, Djokovic was relentless. He got up an early break, leading 4-1. Ruud was able to hold, but Djokovic kept his intensity to close out the set.
In the final set, Djokovic remained relentless, putting pressure on Ruud's serve in every one of his service games. At 5-all, Djokovic broke at love with a brilliant backhand crosscourt winner to go up 6-5. In his service game, Djokovic was up 40-love. He hit a huge serve out wide, made the overhead, but missed a forehand wide. He was human after all. He smiled a wry smile.
At 40-15, his second championship point, he won with a big forehand wide. He fell to the red clay on his back, his arms and legs outstretched, savoring the moment. He excitedly got up, raised his arms in victory.
It was an amazing, history-making performance, and a wonderful scene at the end, as his went to hug his coach and his family—his wife, his kids, his parents. "I'm beyond fortunate in my life to win 23 times," Djokovic said. "It's an incredible feeling."
For the match, Djokovic's first serve percentage was an impressive 73%. He struck 11 aces and one double fault. In all, he hit 52 winners and 31 unforced errors.
French tennis star Yannick Noah presented the trophy, and Djokovic, in his speech, spoke in French first, then English, thanking everyone in his always gracious way. He said: "Be in the present moment. Forget about what happened in the past. If you want a better future, you create it. Take the means in your hands, believe it, create it." And then he added in the most typical way and as if he is already planning the next one: "See you next year."