Djokovic, Federer Charge Into Indian Wells Rematch

While some matches hinge on whether one playing style prevails over another, others simply revolve around whether one player executes better than another. This second dynamic would define the two men's semifinals at the BNP Paribas Open, both of which featured pairs of competitors with roughly parallel approaches to the game.
One of the cornerstone ATP rivalries, Novak Djokovic and Andy Murray wield many of the same weapons: the two best backhands in the game, arguably the two best returns of serve, and suffocating court coverage built upon unsurpassed movement and fitness. Other areas of the game separated them, however. Whereas Murray earns more free points with his first serve, his second serve is a much more vulnerable shot than Djokovic's second delivery. And, while the Serb is much less comfortable at the net than at the baseline, the Scot's success on grass reveals his skill with volleys.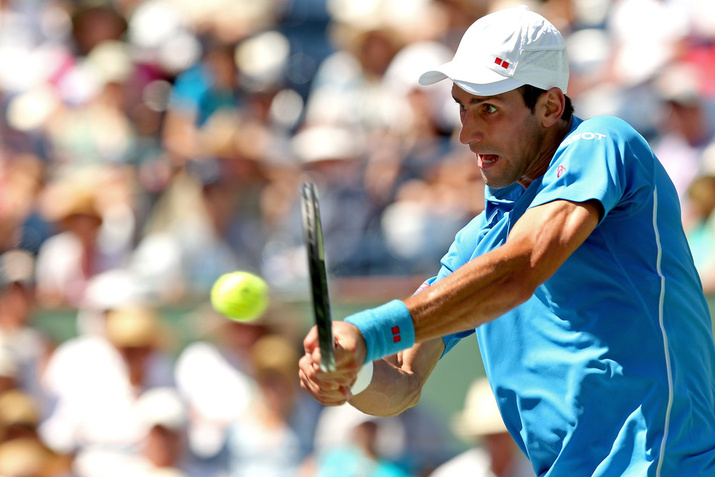 Djokovic had not lost to Murray since their historic final at Wimbledon in 2013, which ended a 77-year title drought for British men at their home major. Eight successive victories on hard courts, including the Australian Open final in January, had placed this matchup squarely in the control of the world No. 1. Most of those had come after Murray's back surgery in late 2013, though, since when the world No. 4 has only gradually regrouped. Even during that stretch, they had played many tightly contested sets. Crucial hard-court victories over Djokovic in finals at Miami, Cincinnati, and the US Open in earlier years also gave Murray plenty of reason for confidence.
He started this match in erratic form, however, dropping serve in his first service game as Djokovic simply played consistently from the baseline and waited for miscues. Serving at barely 40 percent in the first set, the world No. 4 gave one of the best returners in the world plenty of looks at second serves and paid the price. Murray was constantly under pressure on serve, and the rest of his game seemed to suffer from it. Misfiring on groundstrokes as well, he fell behind 5-1 in less than half an hour.
Not quite able to take the bit between his teeth and run away with the set, Djokovic donated a casual service game with a double fault and two ill-advised drop shots. Murray also showcased his explosive movement by tracking down a drop shot-lob combination. But the delight of his fans would be short-lived. The Scot dropped his own serve at love with four unforced errors, three off his normally trustworthy backhand.
With the first set securely in his grasp, Djokovic had history in his favor. He had won all 12 of his meetings with Murray in which he had claimed the opening frame, and this match would prove no different. Missing his first serve on his first five service points of the second set, the world No. 4 double-faulted twice en route to conceding the early break. To the delight of the numerous, vocal Serbian fans in the upper bowl, their man lost no time in consolidating his advantage and soon pressed to the edge of a double break.
The Scot stood firm there, producing his most compelling tennis of the match as he opened his shoulders and swung more freely on his groundstrokes. His rise in form soon led him to double break point on the Serb's serve as he threatened to climb back into the match. It was too little, too late. Snuffing out Murray's last chance with a pair of service winners, Djokovic escaped and would not face another break point. He did squander his first three match points, two on Murray's serve, but his overall play was too solid and consistent to let his commanding lead evaporate. Djokovic delivered his most resounding victory over this rival since 2008, advancing 6-2 6-3 in just 88 minutes to his fifth Indian Wells final. He has not dropped a set in the tournament as he looks to become the first man to defend in the desert since 2006.
The champion who achieved that feat most recently soon took the court against Milos Raonic in a battle of massive serves. Each man had been broken only once in four matches, and Federer not at all during his three afternoon outings. The first 10 games of the match saw only a solitary break point, which Raonic saved with an ace. Federer, who faced no situation more serious than deuce, glided along the baseline with the fluidity and precision of a fencer. The 33-year-old Swiss champion stabbed back one Raonic laser after another, finding sufficient depth to force the Canadian to hit extra shots.
A day after his three-hour upset of Rafael Nadal, the sixth seed showed few signs of fatigue in the early stages. He struggled to generate pace on neutral balls, though, and he missed two makeable short balls in the 11th game as he struggled to set his feet. After fighting to take the game to deuce, Raonic surrendered his serve with a pair of relatively meek errors. This crossroads was where fatigue, perhaps mental as much as physical, seemed to affect his game.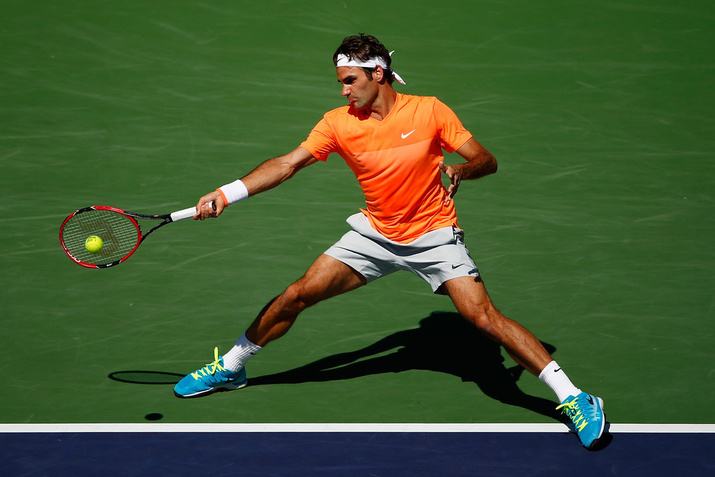 While his winning percentage when claiming the first set is not quite as lofty as Djokovic's record, Federer has established himself as a remorseless front-runner throughout his career. He closed out the set at love with a series of unanswerable serves and rode the momentum to a quick break in the second set. It proved to be all that the Swiss legend would require. Saving a single break point in that set, he stayed unbroken for the third consecutive match and captured a berth in a record sixth Indian Wells final. Tomorrow will mark the first occasion in the tournament's four-decade history that the same two men contested consecutive finals there.
Federer solved Djokovic in straight sets at Dubai last month to secure his second title of the year, but the Serb got the better of the Swiss in a classic epic in last year's title match at Indian Wells. Both men thus may have revenge on their minds when they enter Sunday's final, which should be a worthy conclusion to a dramatic tournament.