Djokovic Dominates Nadal For Australian Open Title

Across tens of years, thousands of drills and millions of struck balls, tennis players come to learn the core truths of their sport. They are taught that offense elicits short balls. They learn that an opponent's masterful returning usually belies a weaker serve. When a backhand sears across the court, it normally means that the stroke to target is the forehand. The first unwritten rule of tennis is that every player has a weakness, no matter how small or fractional at the highest level, and that you just have to find it.
When Novak Djokovic and Rafael Nadal stepped to the Rod Laver Arena's baseline to contest their 53rd record match, Djokovic roared out of the blocks, breaking Nadal in his opening service game and rolling through 13 of the first 14 points. What seemed like a blip, the first blood in a long battle, proved to be a simple reflection of the Serb's. Djokovic finished the first set with absurd stats - he landed 78% of returns in despite the bulk of the pre-match whispers speculating on Nadal's new serve. He served at 71% first serve, with 12 winners and 3 unforced errors. He lost one point on return.
Throughout the match, Nadal was forced to reckon with pressure and control that no other player could ever dream of creating. Djokovic's returns landed down at Nadal's feet, as they so often do, but he served even better, conceding only 13 points on his serve. He produced one of the great backhand performances of his career, taking the ball early and incessantly pounding it at the Spaniard's forehand, but his forehand finished with one more winner and one fewer error. His court positioning was so aggressive, his contact point so early, yet even when Nadal managed to drag him on the run, he comfortably deflected his defensive shots.
By the end of Djokovic's 6-3 6-2 6-3 mauling of Nadal, he had accrued 34 winners and 9 unforced errors. His serve, return, forehand, backhand and defense to offense were all operating at 100%. The performance was less described in select standout moments and more summed up by the constant, suffocating pressure that Djokovic pressed from every part of the court and every aspect of the game for 2 hours and 4 minutes.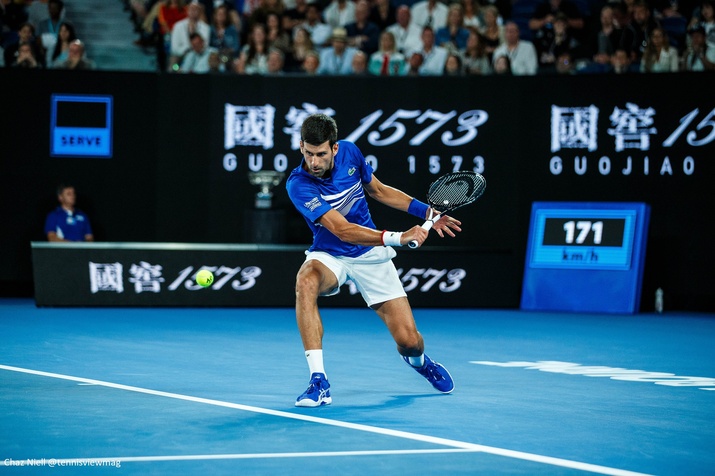 "I make more mistakes because he pushed more," said Nadal. "That's all. Is not about being more nervous. I have been normal nerves, like final of Grand Slam. But the things started so quick (snapping fingers). He was pushing me to every ball. What on other days have been a serve and a ball that I can have in offensive position, today have been in defensive position. That's not nerves. That's things that happened quicker than what happened the previous days.
For Djokovic, the victory was a moment to reflect on the past 12 months, in which he had elbow surgery after the 2018 Australian Open and then struggled badly until June. "I'm a true believer in visualization," he said. "I do that a lot. I think that I had to do that more than ever in my life 12 months ago after the surgery because I wasn't playing well, I wasn't feeling good on the court, I was questioning everything, I was doubting whether I will be able to play everyone on this level because I didn't know to what extent the operation of my elbow would affect my game. It was a huge learning curve for me, just the whole process was very special."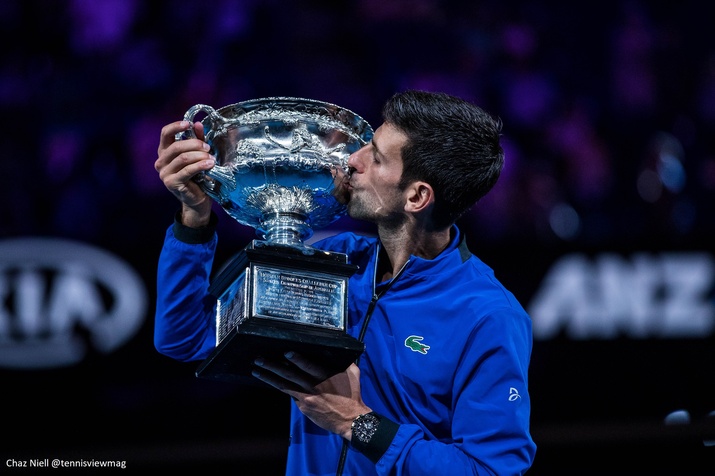 He continued. "I embraced the journey. I am very grateful to go through it. I would never change anything if I could turn back the time because things are just the way they should be. But, yes, 12 months ago it was highly unlikely I would be holding three slams. I just have to be conscious of that and understand that I'm blessed."
In his triumph, Djokovic secured his 15th slam title and a 7th US Open. He leapfrogged Pete Sampras to attain the third highest slam count in history. He now holds three Grand Slam titles and will peer to the French Open as he looks to hold all four again for the second time. And beyond all of that, he belied the rules of tennis by showing that he is the most complete player that the sport has ever seen.