Djokovic Continues To Roll At Roland Garros

On a sunny, windy day in Paris, on Court Philippe-Chatrier, third seed Novak Djokovic, who has won the title twice, survived 29th seed Alejandro Davidovich Fokina 7-6(4), 7-6(5), 6-2 in three hours and 36 minutes.
From the beginning, the match was a battle, and the atmosphere was electric. There were chants from the crowd of "Novak, Novak" and Foki, Foki." There were bass drums and trumpets and trombones.
The stats of the match tell the story.
Djokovic struck one ace and six double faults, and Davidovich Fokina struck three aces and two double faults. Djokovic won 65% of his first serve points. Davidovich Fokina won 51% of his first serve points.
Djokovic won seven of 17 break points. Davidovich Fokina won five of eight break points.
Djokovic hit 13 forehand winners and eight backhand winners. Davidovich Fokina hit 11 forehand winners and 13 backhand winners.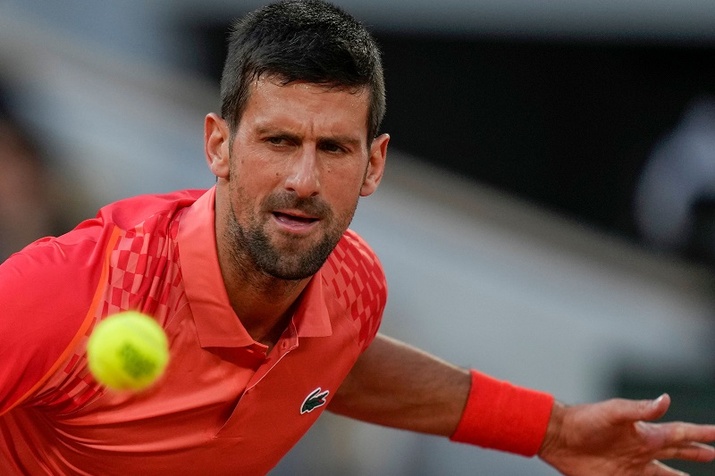 (Thibault Camus/AP)
)Djokovic hit 18 unforced forehand errors and 12 unforced backhand errors. Davidovich Fokina hit 25 unforced forehand winners and 23 unforced backhand errors.
At the end of the second set, Djokovic celebrated as though he'd just won a major. In his press conference, he said: "Well, it was extremely tough for various reasons. First, you know, three hours for two sets, I don't remember when I played last time three hours, two sets. Maybe against Nadal in one of our matches.
"But, I mean, this was looking like if I lost one of the first two sets, it was looking like it was going to go four, five hours. It was just a kind of a day and conditions that were I think very challenging for both players physically. Lots of exchanges. Serve was really not an advantage for either of us.
"Really, I mean, it was cat and mouse every single point, trying to outsmart your opponent. We were doing a lot of running. Not just left, right, but forward and backward, especially when he was playing from that end where he is playing against the wind he was dropshotting a lot.
"He was making me work for every point. Yeah, I just have to be, in the end of the day when I draw a line, very content to win this match in three sets.
"Maybe it was, I would say, more deservable and probably more fair, I guess, if you see the kind of a match it was today that this match went at least in four sets, because he was serving for it in the first. He had his chances also in the second. I had my chances. We both had chances. We both had kind of up-and-down.
"You know, at one point I lost completely my second serve. I had three double faults in one game, handed off the break when I was a break up.
"Weird things happening, to be honest today. But yeah, that's Grand Slam tennis, you know, for us playing best-of-five in the slowest surface in sport. I think I heard a lot of players, I actually talked with a lot of players, we all think that the balls are slower than they were in previous years.
"So that makes it even more difficult to make a winner, you know, so you've got to work more for every point. It prolongs the duration of the match, exerts more energy.
"But in the end of the day, it was a straight-set win. I'm really glad that I managed to kind of gear up in the third, and now basically focuses on recovery and trying to get ready for the next one.
Djokovic said of his play so far in the tournament: "You know, it's normal that during the tournament, regardless of the history that I have or experience or whatever, that I have my doubts. You know, we all have our doubts. It's important to understand what are your strengths, as well, and focus on those, you know, and deal as you said, you know, deal with what you have at the moment.
"You know, I'm happy with where I am at the moment with my game. Can it be better? Certainly. Certainly.
"You know, I still didn't drop a set. I did play quite a few tiebreaks. But, you know, look, it's important to keep going. I have been in this situation really a lot of times in my career, so entering the second week, the matches, you have to expect that the matches are only going to get tougher.
"But if they don't get tougher, then it's great, but I have to be ready for it."