Djokovic Continues Hot Streak, Wins Shanghai Title

Novak Djokovic continued his scintillating play to win the Shanghai Masters for the fourth time, outlasting his doppelgänger Borna Coric 6-3, 6-4 in one hour and 36 minutes. The 31-year-old Serbian has been somewhat of a mentor to the 21-year-old Croatian. They've practiced together, and they have a very similar game: great movement, great groundstrokes (with a similarly sublime backhand down the line). They both have underrated serves and are excellent returners. They both like stalking the baseline, taking the ball early, and finishing points at the net.
But Djokovic is just better at everything. In fact, he is playing better than anyone on tour right now. He's on an 18-match winning streak. On Monday, he will become world No. 2, which is remarkable, considering he was ranked world No. 22 in May. Djokovic has returned to his best form since reuniting with coach Marián Vajda, winning Wimbledon, the US Open, and now his 32nd Masters 1000 title.
Djokovic has dominated in Asia throughout his career. He is beloved in China, having won six times in Beijing and now five in Shanghai. "Maybe I was Chinese in the past life," said Djokovic. "I wouldn't be surprised, to be honest, with the way I feel here and the way I communicate and have relationship with the people."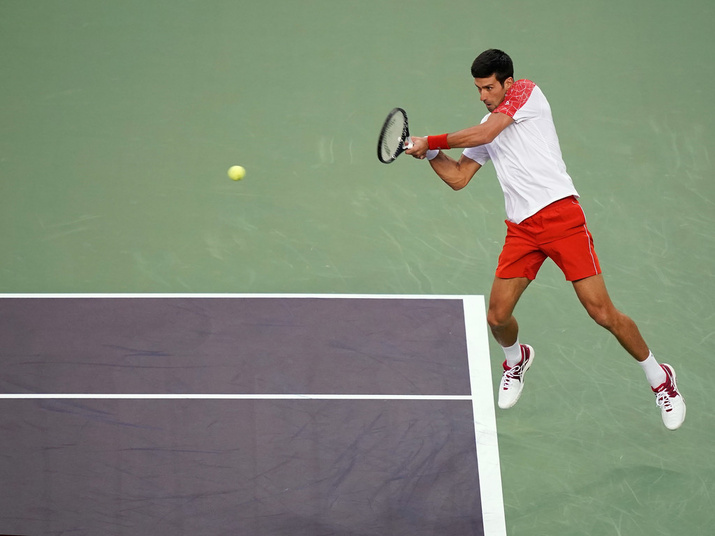 Djokovic won the coin toss and elected to serve and why not? He hadn't dropped serve the entire tournament, serving with accuracy and efficiency. He held easily, even serving an ace on game point. Coric also held and served an ace for one-all. Djokovic then held at love, hitting his spots with uncanny consistency. You could hear the oohs and aahs from the crowd. Novak was dialed in.
Coric, who thrives on a big stage—he's had wins over three of the Big Four, beating Federer for the second time this year in the semifinal—was also serving well and held at love. Djokovic then held at love. The score was 2-3 with Coric serving. Djokovic won a couple of rallies, finding the Coric forehand, his weaker side, and had an opening with 0-30. But Coric battled back to 40-30, then Djokovic finished a point at the net for deuce. Then Coric finished a point at the net for ad-in. It felt like you were watching mirror images, the way they moved, the way they defended and attacked. Finally, it was ad-out, the first break point of the match. And this was where you felt Djokovic straitjacketing Coric. Djokovic got the break and consolidated for 5-2, then Coric held at love, then Djokovic held at love to take the set.
In the second set, Coric managed to hold the first game, but it lasted 12 minutes and 25 seconds. Then Djokovic held at love in a game that lasted 73 seconds. Coric only had one break chance in the match, which happened at 3-2, after he hit a ferocious forehand crosscourt that set up a blistering backhand down the line. But he got a bit nervy and missed a forehand. Djokovic then hit two great serves to hold, now leading 4-2. Still, it felt like Coric was putting pressure on Djokovic, and he was able to hold in the next game.
Djokovic won the first point of his next service game by hitting his signature shot, a laser-like backhand down the line. He held at love for 5-3. In the final game, Coric was serving and got down triple championship point. He saved two of them, showing his fighting spirit, with a perfect lob and a terrific inside-out forehand. Djokovic then missed an overhead smash, and it was back to deuce. Coric was able to hold, finishing game point at the net. Djokovic was now serving at 5-4 and quickly got up 40-love. On his fourth championship point, after an intense rally, Coric sailed a backhand long, giving Djokovic the title.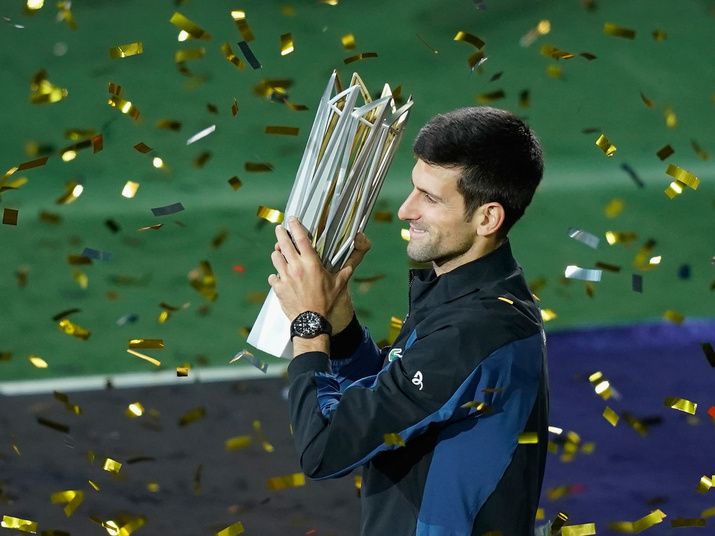 Coric had worked hard to keep up with Djokovic, but each time he'd made inroads, Djokovic raised his level. Djokovic has called Coric a hard worker. When asked about this in press, Coric said, "That's how I work. At the end of the day, I really do like that feeling. I like the practice. I like to suffer, in a way, you know."
When asked about his friendship with Djokovic, Coric said, "I was looking up to him since I was really, really young. But we are friends, but on the court we are going to try to win. So it's like that always, you know."