Djokovic Continues To Cruise At Roland Garros

Moments after a fourth straight light workout in front of capacity crowds in the city of love, Novak Djokovic sat back in his seat and smiled as he reflected on this blissful moment in his life. "I don't mind cruising along, to be honest," he said. "I have plenty of experience, I think, dealing with situations where you're facing break points or where it's tense. I have played plenty of, I think, tight matches in my career that I can rely on that experience. You know, I think it's good to be tested, you know, from that perspective, but at the same time, it's also good to cruise along and kind of conserve the energy for what's coming up."
It was difficult to argue. Novak Djokovic's route to the Roland Garros quarterfinals has been a long road stretching back far beyond this tournament. Five months ago, after his destruction of Rafael Nadal in the Australian Open final, an all-time great final performance that secured a third slam in a row, most could be forgiven for assuming that he would obliterate the field in similar ways.
Instead, Djokovic lost and lost. He went to Indian Wells and lost to Philipp Kohlschreiber in the second round. He was brushed aside by Roberto Bautista Agut in the third round of Miami. Throughout that period, his press conferences suggested that he had morphed into a politician as much as a tennis player. As the president of the ATP council, he was circled as the leader of the successful attempts to vote Chris Kermode out of his job after its first term and as one of the closest allies of Justin Gimelstob, convicted of attacking a man in the streets, and so he spent his time off the court defending himself. He said he was distracted.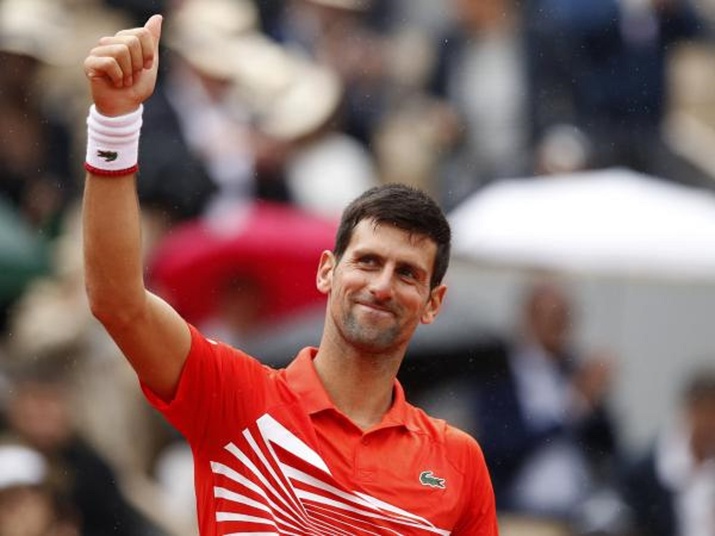 The expectation was that by the clay season Djokovic would recover, but in Monte Carlo, Djokovic fell again to Daniil Medvedev in a match filled with endless, exhausting rallies. Months earlier in Melbourne, the pair had played an identical match-up and the Serb was brought to his knees, but he rose to take an exhausting victory. After taking out the world number one on his least successful surface, Medvedev shrugged. His level was exactly the same, he said, but Djokovic's was gone.
Djokovic finally salvaged his form in Madrid, where he faced Dominic Thiem in the semifinals and dispatched the in-form player on clay in straight sets and then swept through to the title against Stefanos Tsitsipas, before reaching the Rome final the following week.
When the men's tournament was drawn, Djokovic's route through the tournament was forecast as difficult, but after four rounds his toughest sets have been a couple of 6-4 sets. He has not been pushed, but primarily because he has kept his opponents firmly at arm's length.
"I am satisfied so far with my game, said Djokovic. "I mean, I reached the quarterfinals and played as closest to my best tennis on clay as I think I can be at the moment. I'm really pleased with every aspect of my game. So, everything is coming together beautifully. I'm motivated to fight for the trophy, yes. I mean, that's why I'm here. But it's still a long way to go."
Djokovic's long way to the title and his fourth straight slam title will likely have to include wins over Alexander Zverev, Dominic Thiem and Rafael Nadal. After cruising along for four rounds, the path is suddenly extremely steep, and the roads ahead will be difficult. He knows this.